This article first appeared in The Edge Malaysia Weekly, on May 13, 2019 - May 19, 2019.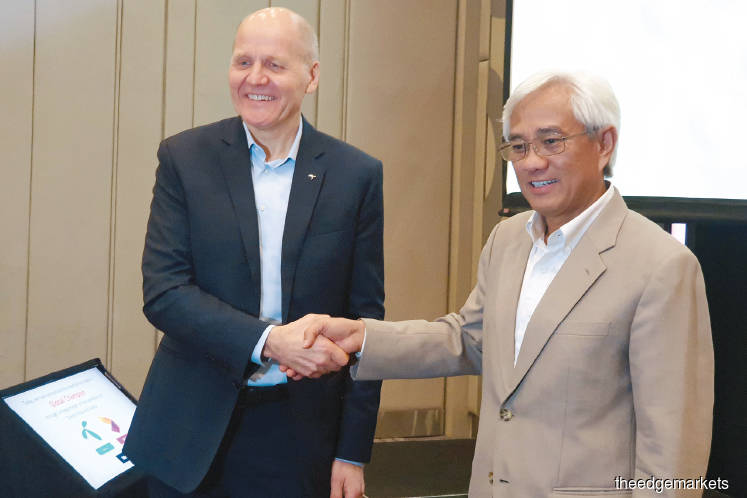 Telenor president and CEO Sigve Brekke with Jamaludin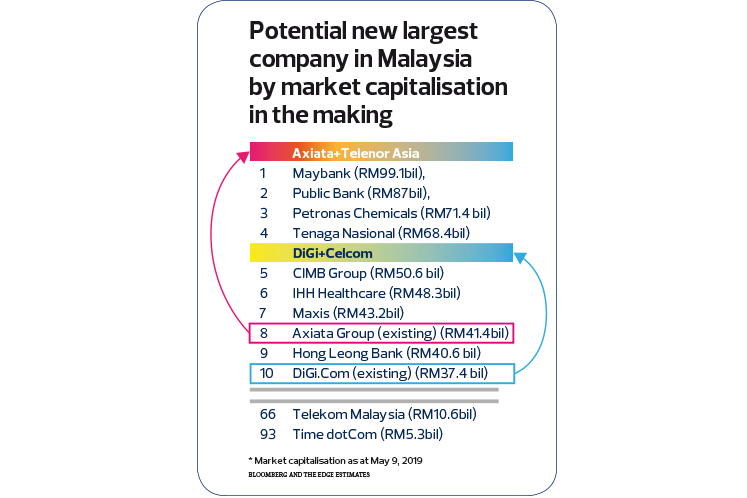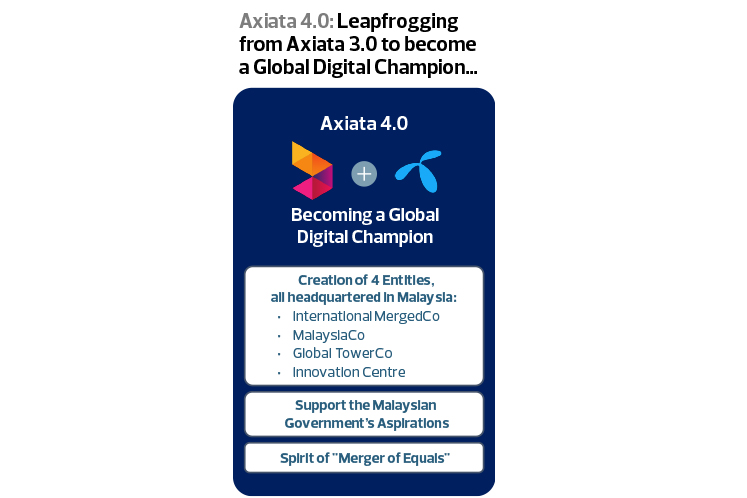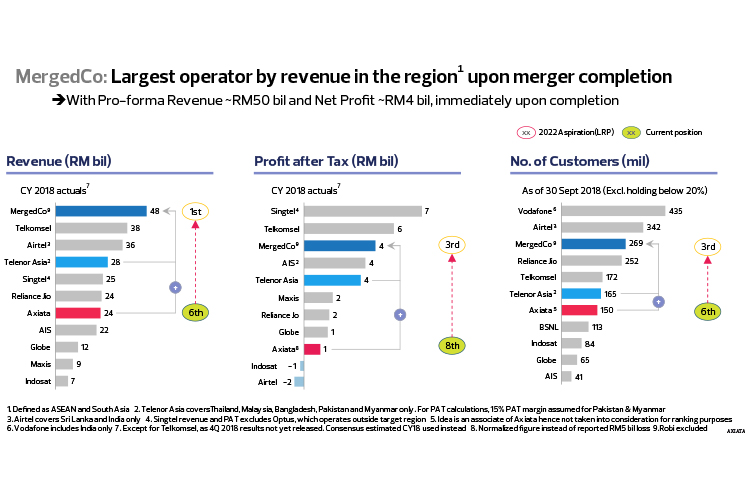 AXIATA Group Bhd president and group CEO Tan Sri Jamaludin Ibrahim had wanted to hear wedding bells among industry peers in several countries, including Malaysia, for at least three years now. Consolidation, he says, is long overdue for any player seeking sustainable growth amid digital disruption.
"The industry has come to a point where to be sustainable and profitable, we need to consolidate," Jamaludin tells The Edge, letting on that Axiata had explored various permutations with 13 players with consolidation in mind before arriving at the joint-announcement on May 6, confirming The Edge Financial Daily's cover story that morning.
"I was confident something would happen by 2017 but it was a lot harder than I thought. Practically every player was talking to each other but nothing [no deal]," he adds.
Yet the home-grown regional telecommunications champion's proposed mega merger with Norwegian Telenor Group's Asian assets came as a surprise to many as the narrative had been for in-country consolidation or its operating companies merging with a rival rather than the holding company marrying a sizeable regional group.
The scale of the intended "merger of equals" alone is nothing short of audacious — the combined pan-Asian group serves close to 300 million customers or about one-third of the population in nine countries: Malaysia (100% Celcom + 49% Digi), Thailand (42.65% Dtac), Indonesia (66.36% XL), Bangladesh (55.8% Grameenphone), Sri Lanka (83.3% Dialog), Cambodia (72.48% Smart), Telenor Myanmar, Telenor Pakistan and Nepal (80% Ncell).
While acknowledging that integration would not be easy, Jamaludin has this to say: "We've done that in Sri Lanka, Indonesia, Cambodia and Bangladesh and we've integrated them very nicely. So we're very experienced in consolidation and integration."
Axiata, which prefers having management control of its operating companies, is also ceding some control — taking only 43.5% equity interest in the so-called "MergedCo", the combined entity that will house most of Axiata's and Telenor Asia's combined telecoms and infrastructure assets. Telenor ASA will own 56.5% of MergedCo and have one more board seat than Axiata, which gets to appoint the chairman.
"Yes, I cannot deny, I lose a bit of control with 43.5% but in return, I get four things: a global champion, MergedCo, which will eventually be listed on Bursa Malaysia and another major stock exchange, a global TowerCo that is top five in the world [combining the towers of Telenor Asia with Axiata's edotco], the largest Malaysian operator and a regional innovation centre that can support the nation's digital agenda and global talent push. All four are based here in Kuala Lumpur," Jamaludin says, referring to the RM100 million investment per annum in the centre focusing on 5G, the Internet of Things, artificial intelligence and robotics.
"Do you want to be a big fish in a small pond or a medium fish in a big pond? We are already a regional champion and we can still build [organically] but alone, it would be very tough for us to be a global champion, which we will be from day one [upon the merger's completion]," he adds.
In an email reply, Telenor declines comment on whether it would be willing to accept an equalised 50:50 stake in MergedCo should that be a criterion to get the green light from the regulators here. Jamaludin says Axiata would need to pump in "a lot of money" to have an equal stake with Telenor in MergedCo.
"The 56.5% and 43.5% happened to be the relative value of the assets," he says, adding that both companies would not be able to consolidate MergedCo in their accounts if a 50:50 shareholding is insisted upon.
To be sure, the ratio is still subject to due diligence and there is no certainty the deal will go through. There is no binding agreement as yet with both parties working towards signing one by the end of the third quarter, if not within three months.
"If I can explain again, this is just a discussion. We expect to sign [an agreement] within the next three to six months. So, we have a long way to go. Assuming that we can sign and agree on an actual binding agreement, the completion will be six to nine months from there. If all goes well, the completion date is actually the third quarter of next year (2020)," Jamaludin says.
As it is, proforma figures for MergedCo are sizeable with revenue estimated at RM50 billion, Ebitda at RM20 billion and profit after tax at RM4 billion. That is excluding an upside of RM15 billion to RM20 billion (net present value over five years) as synergies are realised post-merger, the companies say. The cost savings from eliminating duplication and additional scale from an expanded balance sheet also provide greater financial muscle to further strengthen their foothold in Indonesia (XL) and Thailand (dtac) where the group is the No 2 and No 3 player in the market respectively.
The group would have six No 1 operators in the region, including in Malaysia where the intention is to merge Celcom Axiata Bhd with Digi.Com Bhd, which will remain separately listed and has a proforma revenue of RM14 billion and Ebitda of RM5 billion.
Digi, which was the 10th largest listed company on Bursa Malaysia by market capitalisation (RM37.4 billion) as at May 9, could potentially see its value rise above RM60 billion and be among the top five largest listed companies here once merging with Celcom, back-of-the-envelope calculations show. MergedCo, which is expected to own over 60% of the combined Digi and Celcom entity, could be even larger.
"When we list [MergedCo], we will be one of the largest or the largest market cap company in Malaysia," Jamaludin says, adding that investors can get exposure to MergedCo via Axiata pending its separate listing. Investors can also get exposure to MergedCo through Telenor ASA, which is listed on the Oslo Stock Exchange.
According to Jamaludin, a clear dividend policy for MergedCo will be among the key items to be agreed upon at the signing of the merger agreement to provide greater certainty to Axiata's investors in terms of dividend stream, given that the company would no longer have direct control over the assets in MergedCo, which will also house its tower company, edotco, that was last valued at US$2.1 billion.
"A dividend policy [for MergedCo] will be decided pre-signing," Jamaludin assures when asked about the certainty of cash flow for dividends for Axiata's shareholders, noting that Telenor also pays steady dividends.
Apart from 43.5% of MergedCo, Axiata will still directly hold 68.7% of Robi (Bangladesh's No 2 player), 8.15% of Vodafone-Idea in India as well as Axiata Digital Services Sdn Bhd, whose portfolio is valued at US$640 million following the strategic minority investment by Mitsui & Co Ltd. The stake in Idea is for sale at the right price.
As it is, both Axiata and Telenor have committed to running Robi professionally and separate from MergedCo. Should the merger be conditioned upon Robi being sold to cut the enlarged group's dominance in Bangladesh, Jamaludin says Axiata would have to comply but there is still no reason to do so because "Robi is doing very well". India's second largest operator, Bharti Airtel Ltd, owns 25% of Robi while NTT DoCoMo has the remaining 6.3%. Singapore Telecommunications Ltd, which owns about one-third of Bharti, does not have direct exposure in Bangladesh.
Jamaludin also does not dismiss the possibility of Axiata being liquidated once MergedCo is listed but notes again that it is still early days. The priority now is to get the best merger deal for all stakeholders, including finding common ground on strategy, business plan and the key management line-up — which will all be announced by the time an agreement for the merger is signed.
Why now, and not earlier or later?
"With Telenor, we have been talking to them for the last seven to eight years, in one shape or another, be it cooperation, joint investment, joint network, going together in other countries, but not to this extent … we have a very good relationship … We started [talks again] in the third quarter of last year. Frankly, the shape and form is very different from when we started," Jamaludin says, when pressed for a reason both parties decided to merge at this juncture and not after regulators had reviewed their commissioned industry studies and made clear their longer-term policy direction for the industry. "We think this is necessary. We are confident so long as decisions are fair and equitable."
While Jamaludin would not specifically say when talks with Telenor progressed to merge almost all of their Asian assets, the fact that Khazanah Nasional Bhd has Axiata under its commercial and not strategic pool of assets following its strategic review played a part.
"In a way, it is a good point. That's the cue that we take that we can do whatever is best commercially," he says, concurring that the deal would not have been considered had Axiata been in Khazanah's strategic pool of assets. "Despite creating four entities that Malaysia can be proud of, it was not an easy decision. We really had to search our soul to see if this is what we wanted … If someone is extremely sentimental about it, no deal in the world will make sense. If someone is sentimental about it but also commercially minded and weighs the two, you have a different answer."
Malaysian regulators' view may well make or break the deal. Half of the merger synergy savings is from Malaysia and a lot of it has to do with network consolidation. "Just combining the two companies [Celcom and Digi] has had a lot of benefits — network, distribution, IT — without reducing a single person. We [Telenor and Axiata] procure more than US$3 billion annually," Jamaludin says, noting that there is a commitment that there will not be any layoffs for 2,700 employees at Celcom and 1,700 employees at Digi.
At the time of writing, Communications and Multimedia Minister Gobind Singh Deo had yet to issue a statement on the tie-up.
MCMC chairman Al-Ishsal Ishak, meanwhile, says the commission "is always open to initiatives by industry players" including the proposed mega merger and will make a decision once it has all the facts, noting that the parties had yet to finalise negotiations.
"One of our roles is to ensure fair competition within the industry as well as to preserve consumer choice and rights. At the same time, MCMC remains focused on the National Fiberisation and Connectivity Plan, which will provide the rakyat with robust, pervasive, high quality and affordable digital connectivity to propel the nation towards sustainable development," Al-Ishsal says in a statement.
Jamaludin says the parties have a strong case: savings from duplication removal would allow the group the firepower to invest more to provide better services to customers. While a combined Celcom and Digi entity would be sizeable among mobile operators, he argues that the line between mobile and fixed will continue to blur.
"In the coming three to five years, you won't know who is doing what. If you look at the entire telecoms industry, we are only one-third … In terms of voice calls, only 50% are through operators… 70% of data traffic goes through WiFi and only 30% mobile. Let's say I decide to be a hero and increase prices by 20%, do you think I will survive? Users will say, thank you, I don't need you anymore [and go elsewhere]," he says, noting that consumers are not short of choice with three other mobile operators (Maxis, U Mobile, Yes), mobile offerings from Telekom Malaysia as well as those from 11 mobile virtual network operators (MVNOs) that provide services riding on other people's network.
"So anybody looking at this should look at the broader perspective of the communications industry in 2020 and not 2000," he says.
What if regulators deem otherwise or if the deal falls through?
"We have a good plan, even without this deal, to address the industry issue. We have spoken to 12 others … This is the best deal among all the considerations but we have other deals that are quite good too. You know the song, I will survive?"
If the deal goes through, the announcement itself may well nudge more industry players to relook at their own plans to gain scale and competitive advantage.