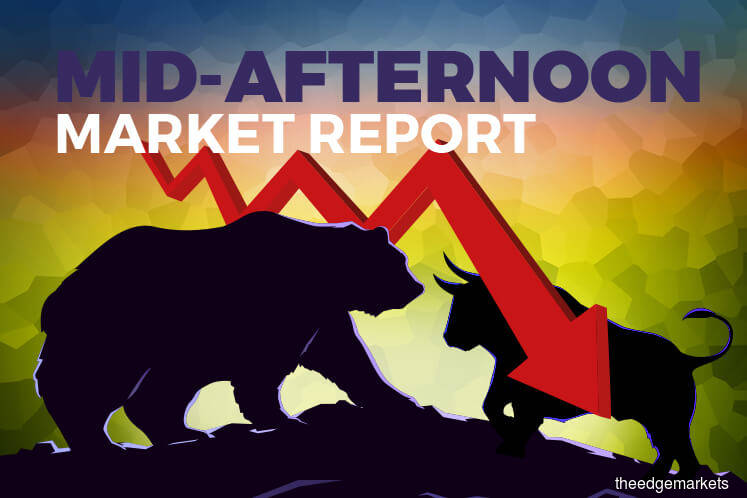 KUALA LUMPUR (May 2): Bursa Malaysia resumed the afternoon session lower with the benchmark index remaining in the negative territory, weighed down by profit-taking in selected index-linked counters.
At 3 pm, the benchmark FTSE Bursa Malaysia KLCI (FBM KLCI) shaved 0.42 per cent or 6.94 points weaker at 1,635.35 from Tuesday's close of 1,642.29.
After opening 0.17 of-a-point better at 1,642.46, the ​​local index ranged between 1,634.46 and 1,644.35 throughout the session.  
Market breadth was negative with losers outnumbered gainers 615 to 188, with 324 counters unchanged, 760 untraded and 18 others suspended.
Turnover stood at 1.79 billion shares worth RM1.06 billion.
Of the losers, United Plantation reduced 32 sen to RM26.38, Panasonic eased 22 sen to RM37.60, Genting Plantations erased 18 sen to RM10.34 and Digi fell 16 sen to RM4.44.
Among the heavyweights, Maybank added one sen to RM9.26, Public Bank gained six sen to RM22.56, Tenaga Nasional rose two sen to RM12.30 while Petronas Chemicals eased five sen to RM8.95.
Of the actively-traded stocks, Lambo Group was half-a-sen better at 10 sen, ARB added five sen to 58 sen, while Ekovest fell 7.5 sen to 80.5 sen and Bumi Armada reduced one sen to 22.5 sen.
For the gainers, Apollo Food improved 10 sen to RM3.95, Milux Corporation added 8.5 sen to 80 sen and Can-One added 17 sen to RM3.38.
The FBM Emas Index fell 73.51 points to 11,579.33, the FBMT 100 Index was 68.98 points weaker at 11,400.27 and the FBM Emas Shariah Index eased 103.56 points to 11,733.49.
The FBM 70 declined 170.45 points to 14,408.36, but the FBM Ace rose 8.81 points to 4,651.51.
Sector-wise, the Financial Services Index slid 21.54 points to 16,941.16, the Plantation Index fell 61.70 points to 7,218.97 and the Industrial Products & Services Index was 1.06 points easier at 168.87.