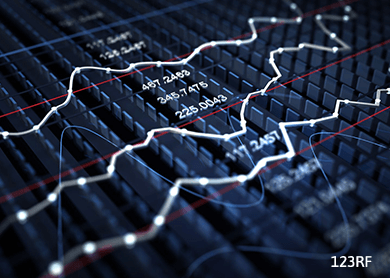 THE market found some support last week but was directionless as a weak ringgit, foreign institutions' selling and generally bearish performances in global markets continued to weigh down the local bourse.
The significantly lower trading volume indicates that the market is staying on the sidelines. 
The FBM KLCI failed to rebound above 1,760 points and hence market confidence remained weak. The KLCI declined 0.7% in a week to 1,729.05 points, but on very low trading volume as the market stayed mostly on the sidelines.
The average trading volume last week was only 1.4 billion shares compared with 1.9 billion shares in the previous week. The average trading value sharply declined from RM2.4 billion to RM1.6 billion. Foreign institutions' selling spree continued last week. From last Monday to last Friday, net selling from foreign institutions was RM926.1 million and local institutions net buying was RM989.7 million. Local retail net selling was RM63.6 million.
Decliners outpaced gainers two to one in the KLCI. Top gainers were Sime Darby Bhd (+3% from last Friday), Axiata Group Bhd (+1.6%) and Public Bank Bhd (+1.1%). Top three decliners in the index were SapuraKencana Petroleum Bhd (-6.2%), Telekom Malaysia Bhd (-5.7%) and PPB Group Bhd (-4.2%).
Markets in the Asian region were generally bearish except for China. China's Shanghai Stock Exchange Composite Index increased 4.1% in a week to 5,113.53 points, the highest in more than seven years. Hong Kong's Hang Seng Index declined 1.7% to 26,989.52 points, the lowest in two months. Japan's Nikkei 225 fell 2.2% to 20,096.3 points and Singapore's Straits Times Index declined 1.4% to 3,295.13 points, the lowest in five months. 
The United States and European markets declined last week and the US dollar was weaker. Last Thursday, the US Dow Jones Industrial Average fell 1.5% in week to 17,766.55, the lowest in two months. Germany's DAX Index declined 3.2% to 11,064.92 points, the lowest in nearly four months and London's FTSE 100 fell 2.2% in a week to a two-month low at 6,794.83 points. The US dollar index declined from 97.47 points a week ago to 95.72 points.
Major commodities were bearish last week. Commodity Exchange gold declined 1.3% in a week to US$1,172.90 (RM4,413.04) an ounce. WTI crude oil fell 3.3% in a week to US$58.26 per barrel. Crude palm oil on Bursa Malaysia traded sideways after two weeks of gains. The benchmark August futures contract price increased marginally higher to RM2,317 per tonne.
The KLCI found temporary support at 1,727 points on Monday. However, the index failed to rebound yesterday and closed near the support level. The trend remained bearish below the short- and long-term 30-day and 200-day moving averages. It remained below the Ichimoku Cloud indicator as well. The 30-day moving average fell below the 200-day moving average and the last time this happened was in October 2014 when the KLCI fell to as low as 1,674 points in December 2014.
Momentum indicators like the RSI and momentum oscillator started to increase last week, indicating that the bearish momentum has eased. The RSI indicator is at its oversold level and this may attract bargain hunters. The index has rebounded from the bottom bands of the Bollinger Bands indicator, but the bands are still expanding and this indicates that the momentum is still bearish.
The technical indicators show that the KLCI is oversold in the short term and technically, a rebound is expected. The outlook for the KLCI remains gloomy and although a rebound is expected, the index may be capped at 1,760 points. Failure to break above this level could send the index to the next support level at 1,675 points. While markets may be bearish, a weaker ringgit may pose opportunities for export-oriented companies such as furniture makers and technology manufacturers.
---
Benny Lee is chief market strategist for Jupiter Securities Sdn Bhd. Jupiter Securities is a participating broker in Bursa Malaysia. He can be contacted at [email protected]. The views expressed in the article are the opinions of the writer and should not be construed as investment advice. Please exercise your own judgement or seek professional advice for your investment decisions.
This article first appeared in The Edge Financial Daily, on June 10, 2015.