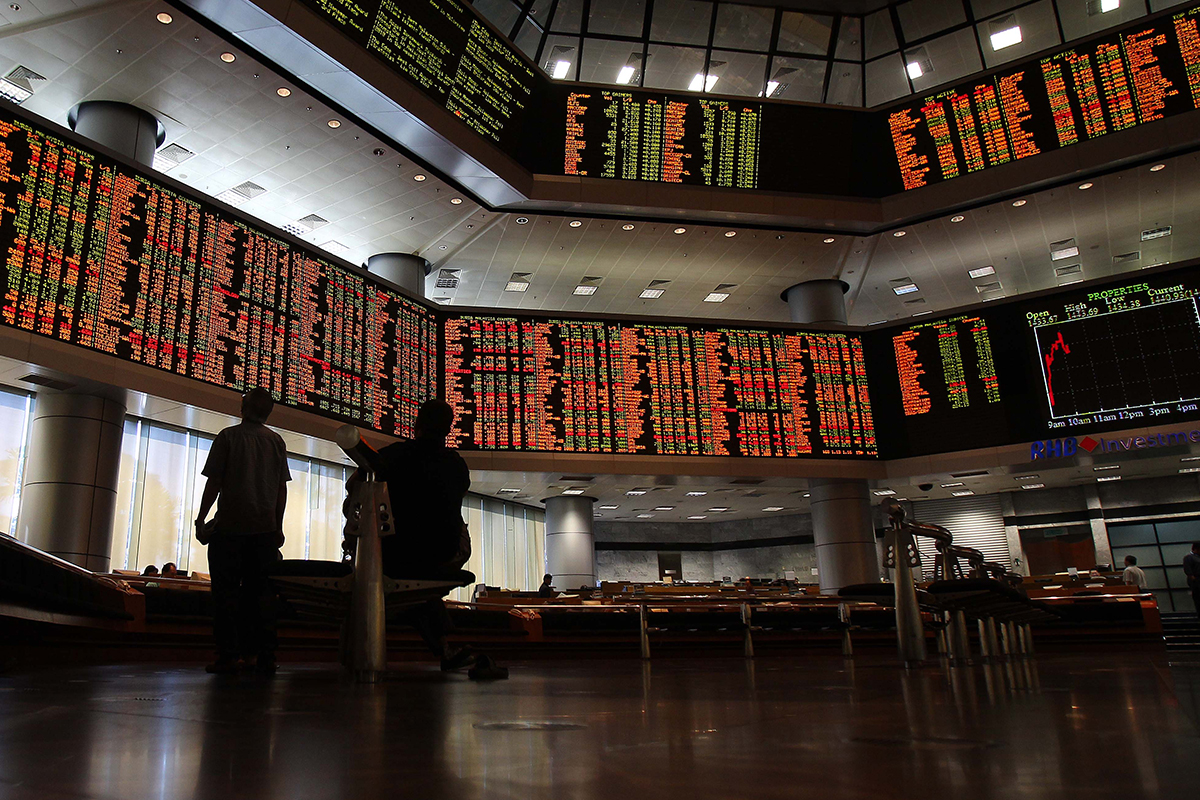 KUALA LUMPUR (Sept 2): Analysts are mixed on the year-end performance of Bursa Malaysia, with CGS-CIMB Research trimming its forecast for the FBM KLCI to 1,520 points at end-2020 from 1,550 points prior, while TA Securities maintained its less optimistic target of 1,450 points.
In a Sept 2 strategy note, CGS-CIMB said it based its lower forecast on an unchanged three-year moving average mean price-earnings (P/E) ratio of 16 times to reflect its earnings downgrade during the latest results season, the higher liquidity of the equity market which has led to more retail investor participation, as well as concerns over political uncertainty this year.
"Malaysia's prospective P/E premium over the region has narrowed to 9.3% (from 9.6% as at end-June 2010). We believe this could be due to weaker-than-expected results season in 2Q20, which led to some profit-taking activities in the Malaysian market," it added.
The research house believes the decline in KLCI's forecasted core net profit will widen to 16% from its earlier estimate of 11%, as it adjusted for lower earnings expected from several big caps such as Genting Bhd, Genting Malaysia Bhd, Tenaga Nasional Bhd (TNB), IHH Healthcare Bhd, and MISC Bhd.
Notably, its projections are even more pessimistic than the Bloomberg consensus, which forecast a 9% growth.
The research house is expecting a 25% growth in earnings for 2021, up from 21% forecast previously. Excluding bank constituents, it expects earnings per share to contract by 12.5% in 2020, followed by a 38.6% growth in 2021.
The research house has replaced Top Glove Corp Bhd and Yinson Holdings Bhd with Public Bank Bhd and Malaysian Pacific Industries Bhd as its top picks. TNB remains on the list, which also includes IJM Corp Bhd, KPJ Healthcare Bhd, Pentamaster Corp Bhd, Petronas Gas Bhd, and Ta Ann Holdings Bhd.
This revision reflects its view that investors are likely to rotate in the later part of the year to cyclical sectors, which will benefit from an economic recovery post-pandemic.
Meanwhile, TA Securities has maintained its FBM KLCI target at 1,450 points, based on a P/E of 16.2 times for 2021. It expected aggregate earnings for this year to contract by 22%.
However, this will likely be followed by a strong recovery of 36.5% in 2021, coming off a lower base and underpinned by the continuation of economic activities and cheaper funding cost.
"Driven by a pickup in the external sector and strong domestic spending, thanks to the positive spillover effects from the huge RM295 billion stimulus measures announced by the government to overcome the ill effects of Covid-19, there is a possibility for earnings to surpass expectations if the array of Covid-19 vaccines in final testing stages currently are very effective.
"With high chances for big ticket projects like MRT 3 and High Speed Rail kicking off soon and be an integral part of the 12th Malaysia Plan that will be announced in next January, anticipate a rerating in the construction and property stocks to add lustre to market sentiment next year. Better economic climate and visibility should augur well for private consumption and investment activities, translating into greater earnings next year," it said.
TA Securities' top property pick is S P Setia Bhd, given its cheap valuation for a dominant developer that has an array of properties located in key regions of Malaysia.
"The reintroduction of home ownership campaign, relaxation of restrictive measures like lifting of loan-to-value ratio on residential properties, removal of real property gain tax for residential property until end-2021 and cheaper financing bode well for the [property] sector," it added.
Meanwhile, the research house also favoured MPI and Unisem (M) Bhd in the technology sector, which it believes will benefit in the "new normal".
Stocks that are expected to benefit from lower input prices are Padini Holdings Bhd, Scientex Bhd and Johore Tin Bhd while counters that are expected to recover from the severe impact of the pandemic are Malaysia Airports Holdings Bhd, the Genting group and Berjaya Sports Toto Bhd.
Meanwhile, Serba Dinamik Holdings Bhd is favoured for its robust order book of RM18.5 billion, coupled with good fundamentals and diversified earnings as it expands its presence in the ICT sector.
Lastly, the research house also likes Sarawak-based construction company Cahya Mata Sarawak Bhd, as it expects state infrastructure projects to pick up ahead of the state election next year.
At 3.57pm today, the key benchmark index rose 10.98 points or 0.72% to 1,532.41. Since its March low of 1,219.72, it has rebounded 26%. However, it was down by 4% this year.  
Edited by Lam Jian Wyn