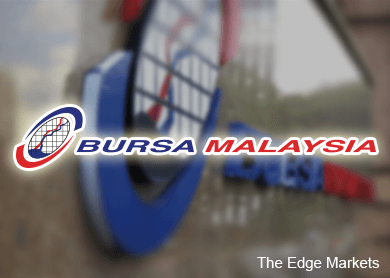 The market has been bearish in the past one week after the FBM KLCI's crucial support level at 1,680 points was breached. I mentioned last week that the next technical support level is at 1,540 points on higher trading volume. Is the index still falling towards this level? Let's see what the chart says.
The KLCI fell 3.5% in a week to 1,579.6 points yesterday. The market was weighed down by the weak ringgit and falling prices of commodities, especially crude oil. The ringgit declined to a fresh 17- year low. Banking, oil and gas, and plantation stocks dragged the market down.
Trading volume continued to increase as selling pressure built up momentum. The average trading volume in the past one week was 2.2 billion shares from 1.7 billion shares a week ago. The average trading value increased to RM2.2 billion compared with RM1.9 billion.
Net selling from foreign institutions intensified last week. From Monday to Friday last week, net selling by foreign institutions was RM1.42 billion, while net buying by local institutions was RM1.32 billion. Net buying by local retailers was RM0.1 billion.
Asian markets were generally bearish after China's devaluation of its yuan. China's Shanghai Stock Exchange Composite Index fell 4.6% in a week to 3,749.12 points yesterday.
Japan's Nikkei 225 index declined 0.8% to 20,554.47 points. Hong Kong's Hang Seng Index fell 4.2% to 23,474.97 points and Singapore's Straits Times Index declined 3.3% to 3,049.65 points, the lowest in two-and-a-half years.
The US market was firm but European markets declined. On Monday, the US Dow Jones Industrial Average declined only 0.4% in a week to 17,545.18 points. Germany's DAX Index fell 5.7% to 10,940.33 points and London's FTSE 100 declined 2.7% to 6,556 points from 6,736.22 points.
The US dollar weakened against major currencies as investors moved to safer investments such as gold. The US Dollar Index declined to 96.8 points from 97.2 points a week ago. Comex gold increased 1.2% in a week to US$1,117 (RM4,602.04) an ounce.
Crude oil price fell to its lowest in nearly four months. WTI crude oil fell 6.6% in a week to US$41.88 per barrel, the lowest in more than six years. Crude palm oil on Bursa Malaysia rose 0.9% in a week to RM2,058 per tonne on better demand prospect.
The KLCI broke below another technical support level at 1,600 points. I mentioned this in my last article (as shown on the chart) and this indicates that the trend remains bearish.
The rebound yesterday was weak and could probably be another dead cat bounce. Based on the Ichimoku indicator, we'd probably see some support only in two weeks' time, when the cloud is thin. Hence, there is still room for the index to fall and the next support level is at 1,540 points.
In the short term, the momentum of the index is strongly bearish as there are no signs of support, hence making 1,540 points possible for the index. Most indicators, including the RSI, MACD and Bollinger Bands on the chart, are indicating a strong bearish momentum.
However, the index is also oversold and we may expect some rebound as there may be some bargain hunting.
However, the market needs to rebound stronger to build up market confidence. If the index fails to climb above 1,630 points, then we may see a continuation of the downtrend.
Last week, I mentioned that we have to be prepared for a bigger correction. For this week, be prepared for further selling pressure if the index can't climb above 1,630 points as the next technical support level is at 1,540 points.
Benny Lee is chief market strategist for Jupiter Securities Sdn Bhd. Jupiter Securities is a participating broker in Bursa Malaysia. He can be contacted at [email protected]. The views expressed in the article are the opinions of the writer and should not be construed as investment advice. Please exercise your own judgement or seek professional advice for your investment decisions.
This article first appeared in digitaledge Daily, on August 19, 2015.