This article first appeared in The Edge Malaysia Weekly, on December 24, 2018 - December 30, 2018.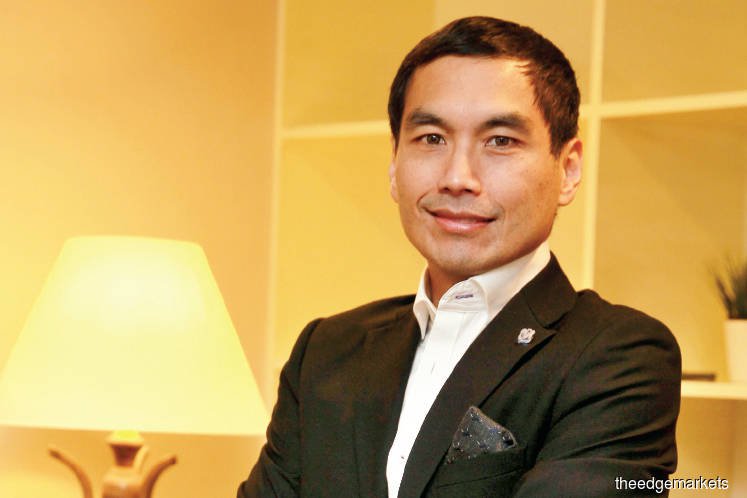 ANDREW Khoo Boo Yeow is not Tan Sri Khoo Kay Peng's only son, nor is he the eldest male offspring. But even when he was a young boy, it was already known among the family members and their close associates that Andrew would one day take over his father's empire.
Because he had his future mapped out, Andrew's summer holidays were not as fun as other rich men's children. He had to do internships in companies under Malayan United Industries Bhd (MUI), including checking in hotel guests at the front desk. "It was never actually stated that I would take over, but it was kind of talked about, given that I was put through internships at [MUI's] hotels in the US.
"I remember working at the front desk at our hotel in [South] Carolina while my brother was enjoying himself," Andrew recalls, laughing.
Low-profile tycoon Kay Peng announced his retirement at his 79th birthday party in late December last year but it was not publicised. He let Andrew take over as CEO of flagship MUI while he remained executive chairman. In other words, the reins were still in his hands.
Shortly before his 80th birthday this year, the tycoon relinquished his chairmanship to Andrew as well. Many say it signifies the passing of the baton to his second son.
Kay Peng had spent four decades building MUI, transforming a small manufacturer of toothbrushes and carton boxes into a large multinational with businesses spanning hotels, department stores, property development, confectionery manufacturing and financial services.
According to Andrew, his father is still pretty much a banker at heart. He owned MUI Bank Bhd before selling it to Tan Sri Quek Leng Chan in the 1990s. The rest is history.
Andrew says he is grateful to his father for entrusting him with carrying on MUI's legacy. He is the only one among the tycoon's five children who is involved in the family business.
"I think it was thrust upon me … my time had come to take over the reins at MUI. Even if I were not ready, sometimes you just have to sink or swim when in that position. To be honest, I felt I was ready. I have been prepared for this role."
Andrew holds a degree in law and a Master of Arts from Cambridge University, a Master of Business Administration from Seattle Pacific University, the US, as well as a Bachelor of Arts in political science and economics from the University of Victoria, Canada.
Instead of saying Andrew has big shoes to fill, perhaps we should say he has a big task ahead of him, which is to give a new lease of life to the group and make it a leading light on the corporate scene again.
Andrew says his father understands that business needs to be done a different manner today. For instance, while Kay Peng, who used to spend long hours in the office, has instilled the value of "working hard" in his son, Andrew says he does it in a slightly different style.
"Working hard is important, but so is working efficiently, as well as getting to the root of issues and problems," he tells The Edge.
"My father recognises that it requires a different skillset to do business today, otherwise, he would not have let go [of his empire]. He is supportive of what I am doing.
"Sometimes, you need to let the next generation take things forward. Every generation will have its own experiences and challenges," he adds.
If Andrew succeeds in implementing all his plans, his would not just be a story of a son who made his father proud, but of also one of a leader who brought life back to an almost forgotten empire. 
Save by subscribing to us for your print and/or digital copy.
P/S: The Edge is also available on Apple's AppStore and Androids' Google Play.