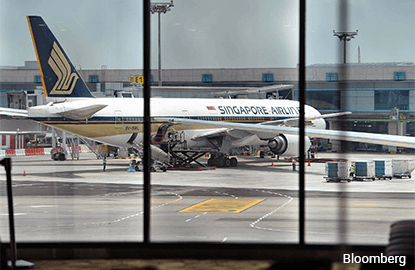 SINGAPORE (Aug 2): OCBC is downgrading its "buy" call on Singapore Airlines (SIA) to "hold" with a lower fair value of S$11.56 from S$12 previously, anticipating a challenging outlook on weakening yields for Singapore's flag carrier.
Despite a 180% surge in earnings for 1Q17 to S$257 million, SIA cautioned that operating conditions for the parent airline "remains challenging amid economic weakness and geopolitical concerns in some markets."
Revenue fell 2.1% y-o-y to S$3.65 billion as its parent airline recorded a 3.7% and 1.7% decline in passenger yield and carriage, respectively, but this was partially offset by growth in operations from the group's subsidiaries, Scoot and SilkAir.
(See: SIA posts strong 1Q earnings growth, but cautions challenges ahead)
In a Tuesday report, lead analyst Eugene Chua says that looking at the industry environment ahead, even cheaper jet fuel prices alone may not be enough to sustain earnings for SIA.
Aside from industry-wide deteriorating yields, the research house also expects increase in expenses with capacity growth in Scoot and SilkAir, as well as increasing capex with new cabin products in CY17.
There is also a potential delay in SIA's impending delivery of A350s, says Chua.
As of March 2016, SIA has 67 Airbus A350-900s on firm order, including seven of an ultra-long-range variant which will be delivered in 2018, for use on non-stop services between Singapore and points in the US.
(See: SIA to launch A350-900 services to Amsterdam from May)
"Brexit made global economic outlook more uncertain, and so is air travel demand, even as GBP and EUR depreciates against other major currencies," Chua opines. The analyst believes the silver lining is SIA's low cost carriers (LCCs), where yield pressures are less severe.
"Even so, we think Scoot's growth will not be enough to offset yield weakness in parent airline and SilkAir," warns Chua.
As at 1:15pm, shares of SIA are trading 3.71% lower at S$10.64.