This article first appeared in The Edge Financial Daily, on February 20, 2019.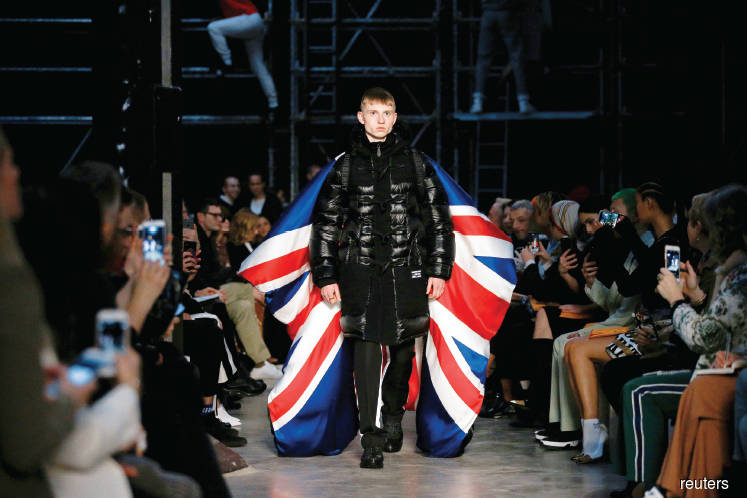 Brexit has sparked a bitter debate within the UK, pitting class against class, cosmopolitan cities against rural enclaves, and Europhiles versus sceptics. Now, the country's top fashion house has to find a way to sell that divided culture to the world.
Burberry Group plc designer Riccardo Tisci answered that question on Sunday with a show full of contrasts that reflect Britain's fractured mood. Displayed in two distinct venues, the collection was split into a line-up of hip streetwear looks inspired by 1990s youth culture, followed by a series of pleated skirts, blazers, and camel coats for shoppers still attached to the brand's buttoned-up heritage of trench coats and scarves.
"Burberry represents a lifestyle and pretty much a country," Tisci said backstage after the show at the Tate Modern museum in London. The divergent parts of the collection "all stem from the same mood, but they are talking to different publics".
UK retailers are preparing for a nasty shock from Brexit, as a potential exit from the European Union without a deal raises concerns about border delays, tariffs and shortages. As an exporter, Burberry has been spared much of the pain of UK shoppers' weak morale, but its goal of joining the top ranks in luxury have put pressure squarely on Tisci, the brand's first new designer after Christopher Bailey's 17-year reign.
The event highlighted the first autumn-winter collection since Burberry hired Tisci, the former Givenchy designer whose mix of athletic wear and red-carpet couture saw estimated sales grow sixfold during his tenure at the LVMH-owned luxury brand. His mandate is to bring high-fashion credibility that will attract new shoppers and wean Burberry off stores whose discounting was seen as undermining the brand.
London-listed Burberry is an anomaly in a fashion world where most houses are either part of a large conglomerate, family-controlled or privately held. To compete head-on with luxury players like Prada SpA and Kering SA's Gucci, Tisci has to recruit a new generation of well-heeled shoppers to his sneakers and logo tracksuits while retaining buyers of its US$2,000 (RM8,180) trench coats and US$400 scarves.
Initial signs
Products from his debut show in September are just beginning to arrive in stores. The company has pointed out positive trends: more wholesale orders from high-fashion vendors and interest from social media, where Instagram and China's WeChat are key luxury battlegrounds.
"The initial signs are encouraging, but the backdrop of the luxury market might not be as supportive as was a year ago," said Rogerio Fujimori, luxury analyst at RBC. While shares are up 27% since Tisci was appointed last March, they are down from an August peak as investors worry about how a slowing Chinese economy will impact luxury spending.
At the Sunday show, Tisci showed pink hoodies, flashy puffers trimmed with faux fur, and hiking-inspired sneakers followed by lady-like silk blouses, Savile Row suiting, and cashmere capes. "He has the cool club look as well as the elevated lady, really pinning down how she dresses," said Elizabeth von der Goltz, global buying director at Richemont's Net-a-Porter site.
Guests at the show were split into two spaces — with some seeing the show from a crude arena with concrete and scaffolding while others filtered into a more formal space with the polished wooden pews. Tisci said he wanted to see how presenting the same collection in different environments might impact response. While he declined to give his views on Brexit, his choice of presentation could have been a response to the UK's split personality.
"We live in a time when we're being injected with images every day" that influence interpretation of events, Tisci said. With the broad-ranging collection, "we try to bring everyone under the same umbrella". — Bloomberg