This article first appeared in The Edge Malaysia Weekly, on June 10, 2019 - June 16, 2019.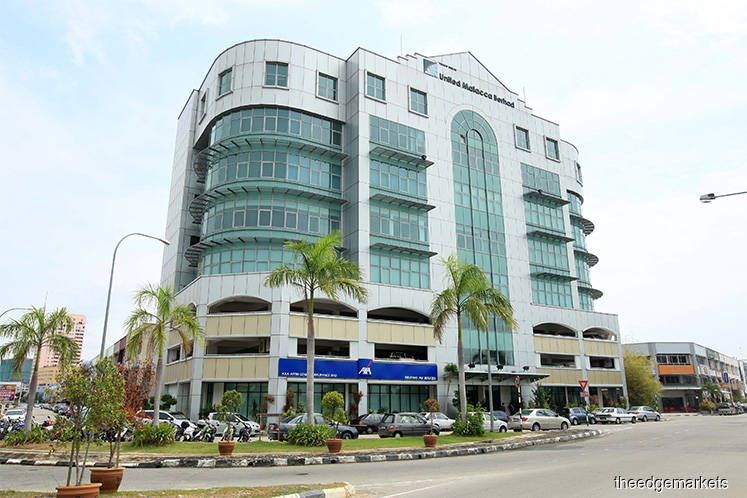 FAR East Holdings Bhd, its substantial shareholder — the Prosper group — and companies related to them have accumulated as much as 16.85% in plantation company United Malacca Bhd (UMB), filings with Bursa Malaysia indicate.
Prosper group, which is controlled by the Tee family, has a 23.73% stake in Far East Holdings. Far East Holdings' largest shareholder is state-controlled Perbadanan Kemajuan Pertanian Negeri Pahang with a 25.18% stake.
With 16.85% equity interest, Prosper and its related companies are now the largest shareholders in UMB, surpassing Oversea-Chinese Banking Corp Ltd, which has a 14.11% stake in the plantation company, held largely via Great Eastern Life Assurance (M) Bhd.
Prosper Palm Oil Mill Sdn Bhd surfaced as a substantial shareholder in UMB in July 2018, and in June this year, accumulated 10.64% equity interest in UMB. Another company, Cheekah-Kemayan Plantations Sdn Bhd, surfaced in end-March with a 6.21% stake in the plantation outfit. A CTOS Lite Report indicates that Prosper Palm Oil is 60% controlled by Winners Acres Sdn Bhd and 40% by Far East Holdings.
Winners Acres is 45.44% controlled by Sri Sisek Sdn Bhd, 32.05% is held by Lipis Jaya Plantations Sdn Bhd and 22.51% by Mergeboom (M) Sdn Bhd. Winners Acres' directors are Tee Kim Tee @ Tee Ching Tee, Man Foh @ Chan Man Foh, Datuk Seri Tee Lip Sin, Tee Lip Hian and Tee Cheng Hua.
Checks on CTOS reveal that Sri Sisek and Lipis Jaya Plantations are owned by members of the Tee family while Mergeboom has about 50 shareholders, with the Tee family and people believed to be linked to them holding some 50% of the private company's stock.
Cheekah-Kemayan Plantations is wholly owned by Phosphate Resources Ltd, an Australia-based company with phosphate mining assets on Christmas Island.
According to Phosphate Resources' website, Cheekah-Kemayan "comprises a 4,060-acre palm oil estate with a 50-tonne-per-hour mill. At present, the mill crushes some 180,000 tonnes of fruit per annum from the estate and surrounding estates … The mill and estate are operated on behalf of the company by contract managers from the Prosper group".
While it is not clear who the shareholders of Phosphate Resources are, its executive director is Lip Sin, a member of the Tee family.
Far East Holdings' and the Prosper group's plans for UMB are not clear. It has sold a few plantation assets and in January,  announced the sale of 1,021.06ha of plantations in Melaka and Negeri Sembilan for RM175.14 million cash to Huat Lai Resources Bhd.
Prior to the sale to Huat Lai, UMB owned and managed 49,223ha of palm oil estates in Malaysia and Kalimantan, Indonesia.
For its nine months ended January (9MFY2019), UMB suffered a net loss of RM28.21 million on RM147.31 million in revenue. For the corresponding period a year ago, the plantation company raked in RM21.78 million in net profit from RM215.92 million in sales.
As at end-January this year, UMB had retained earnings of RM1.27 billion. During the period under review, the company had cash and bank balances of RM52.99 million and short and long-term debt commitments of RM140.36 million and RM51.46 million respectively.
UMB says the loss was a result of "low fresh fruit bunch yield from Malaysian and Indonesian operations, lower average prices of crude palm oil and palm kernel by 21% and 34% respectively, as well as the impact of young matured palms (Malaysia; 2,184ha and Indonesia; 3,384ha) with a high unit cost of production. In addition, pre-tax loss in the current period was due to a net foreign exchange loss of RM3.06 million as well as higher interest expenses."
UMB's stock ended trading last Friday at RM5.17, translating into a market capitalisation of RM1.08 billion. Since August last year, its shares have shed almost 20% of their value. At the current levels, UMB is trading close to its 52-week low of RM5.12 on Dec 20 last year.
UMB has a long history. It was founded in 1910 by businessman Tun Tan Cheng Lock, who was the first president of the Malaysian Chinese Association. Tan's granddaughter, Datin Paduka Tan Siok Choo, has been on the board of UMB since 1988, and the company's chairman since 2011.
Far East Holdings, meanwhile, has 14 estates spanning 16,140.57ha and two palm oil mills — Kilang Kosfarm Sdn Bhd and Wujud Wawasan Sdn Bhd — in Pahang. For the first three months of FY2019 ended March, Far East Holdings registered a net profit of RM7.88 million from RM91.20 million in sales. As at end-March, Far East Holdings had RM34.30 million in deposits, bank and cash balances, little in terms of liabilities and retained earnings of RM897.32 million.
Far East Holdings closed last Friday at RM2.53, giving the company a market value of RM1.6 billion.