This article first appeared in Personal Wealth, The Edge Malaysia Weekly, on October 1, 2018 - October 07, 2018.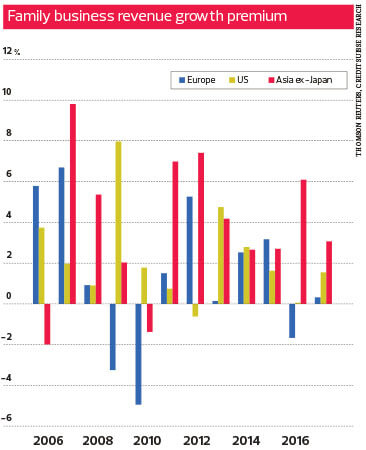 The old storyline of a patriarch fighting to keep his business within the family for generations may make for a good drama, but it may also underline a sound business strategy. After all, family-owned businesses have outperformed their non-family-owned counterparts in every sector and region since 2006, according to a report by the Credit Suisse Research Institute.
The "Credit Suisse Family 1000 in 2018" report illustrates how family-owned businesses demonstrate stronger revenue growth, higher margins, better cash flow returns and lower gearing compared with non-family-owned ones. For instance, family-owned businesses generated 190 basis points (bps) higher earnings before interest, taxes, depreciation and amortisation (Ebitda) margin last year on a sector-adjusted basis globally. The companies also had a lower gearing ratio of 22% last year compared with non-family-owned businesses.
This is particularly true for Asia-based family businesses, whose performances have surpassed those of other regions. Since 2006, family businesses in Asia ex-Japan delivered an outperformance of 4.2% in their annual average share price return compared with their non-family-owned counterparts.
These family-owned businesses also generated an annual average revenue growth of 19.5% over the last decade compared with 6.3% in North America and 7.4% in Europe. Malaysian family businesses recorded an annual average revenue growth of 14%.
"We believe this is down to the longer-term outlook of family-owned businesses relying less on external funding and investing more in R&D. Our research on a global scale suggests that family-owned companies with special voting right structures perform relatively in line with those with ordinary shares, contrary to the fears expressed by many investors," writes Eugène Klerk, head analyst of thematic investments at Credit Suisse and lead author of the report.
With less reliance on external funding, family businesses can have a longer-term investment focus and establish a smoother cash-flow profile. These companies are also less likely to distribute cash to investors through dividends and share buybacks. Instead, the cash is reinvested into the company as part of its long-term growth strategy.
One reason Asian family businesses are so successful is the companies are smaller. According to the author's analysis, small-cap family businesses globally have outperformed the large-cap ones by about 760bps per year since 2006.
In Asia ex-Japan, up to 54% of the family businesses reviewed in the report have market capitalisations of less than US$3 billion, compared with 42% in Europe and 45% in North America.
Asian family businesses are also much younger. Over 80% of Asia ex-Japan family- or founder-owned companies are in the first and second generation. By comparison, half of the Japanese family businesses are at least in the third generation and close to 30% of European family businesses are in the fifth generation or older. The returns of family businesses in the first or second generation are roughly 350bps more per year than the older businesses.
Of the top 30 best performing family- or founder-owned businesses in Asia ex-Japan, more than half are from India, followed by 33% from China. Malaysia is in third place with three companies on the top 30 list — Press Metal Aluminium Holdings Bhd (No 3), Hap Seng Consolidated Bhd (No 9) and Hartalega Holdings Bhd (No 26). Of the 30 companies, about 70% see revenue growth of more than 10% annually.
The report's conclusions were drawn from a global database of 1,015  family businesses that either have direct shareholding or voting rights by the founders or at least 20% of their descendants. The companies in the database have market
capitalisations of at least US$250 million. Asian ex-Japan family businesses represent 53% of the database, with China topping the chart, followed by India and Hong Kong.
The sectors represented are diverse. Technology, for instance, represents 45% of the Chinese family-owned businesses in the database while the financial sector represented more than 30% of the market capitalisation of family-owned businesses in Indonesia, Malaysia, Taiwan and Singapore.