This article first appeared in Enterprise, The Edge Malaysia Weekly, on September 9, 2019 - September 15, 2019.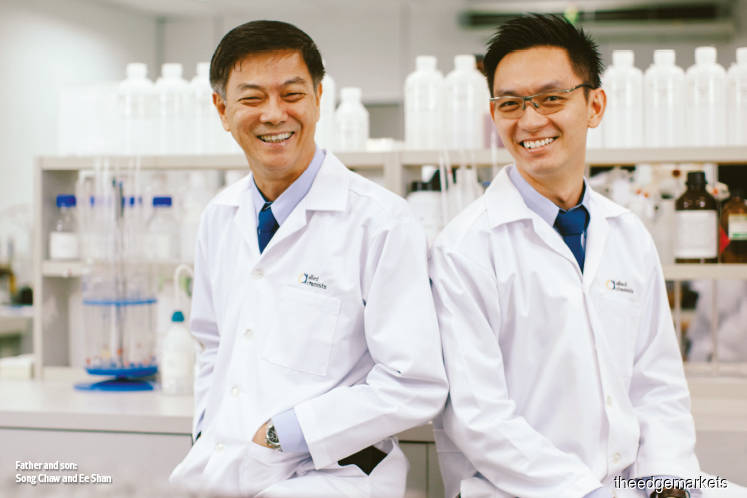 It was 1998 and Malaysia was in the throes of the Asian financial crisis. In Johor, three chemists were not happy with the way things were being done at the multinational corporation they were working for and decided to walk out.
There had been changes in management and the new people in charge did not seem to know what they wanted. One day, they asked the employees to do water testing. So, the company went full force into the job. But two months later, they decided to go back to palm oil testing. Then, it switched again.
"My dad is a very technical person. He likes things to be well planned and organised. So, he could not take this constant flip-flopping. Finally, he decided that he could do a better job and serve his customers well," Soh Ee Shan says about his father, Soh Song Chaw.
Soh's father specialised in laboratory testing while his two partners took care of the supply of chemicals. They had pooled their savings and borrowed money from friends and relatives. Between them, they had managed to raise RM100,000 at a time when banks were effectively not lending.
Because of the limited capital, the partners decided to focus on services for the palm oil industry. "They set up a very basic laboratory — just some glassware and chemicals," says Soh.
His father had been general manager at the previous company and had a good network of contacts in the industry. Keck Seng, a listed integrated palm oil production concern, gave the partners their first break.
"When a company exports refined palm oil, it needs to ensure that the oil is of a certain quality. If not, payment will not be made. So, we have to make sure that the quality meets the specifications before the oil is shipped overseas," says Soh.
Despite the financial crisis, the company turned a profit very quickly. Within six months, the partners made back their initial investment and paid off their creditors. Then, the company started to generate more profit and branched out into food testing, water testing and environmental testing. Today, it also does pharmaceutical testing.
However, Soh still finds it difficult to get his head around the fact that his ultra-conservative father, who was a technical rather than an entrepreneurial person, could leave a secure job at a multinational corporation and take a leap of faith during a financial crisis when he was 48 and had three children to put through school.
As Soh's father did not believe in the new-fangled notions of running a business, he did not have a vision or mission statement. He simply said, "We can serve the industry better."
In fact, until about six years ago, Allied Chemists Laboratory Sdn Bhd did not even have a sales team. "It was all word of mouth. That was how they did it. It is a bit of a miracle as far as I am concerned," says Soh.
"And my dad is usually a very practical person. But this leap was irrational. It was not the norm as far as he was concerned. It came out of nowhere!"
His father was not only practical but also very modest. Although he was running the company, he would not take a title higher than general manager. It took a lot of convincing by his son to promote himself to managing director so that Soh could assume the mantle of general manager. The clincher was that without the title, Soh would not have enough clout to speak to the partners and customers, which would make it hard to do business.
COMING OF AGE
Soh was 17 when his dad left his stable job to set up the company. When it prospered, he knew that one day, he would have to be a part of it. And this stuck in his craw. The thing was, he wanted to do something big — he just did not know what.
Soh did not have the makings of a rebel. An obedient son and a top student, he grew up in an environment that did not train him to make decisions. "During my time, whatever your teacher asked you, you just said, 'Yes'. You had to be obedient," he says.
"Since I did not know what to do, my father suggested that I study chemistry. I just said, okaylor. So, I studied chemistry and joined the company. It was not that I chose to, but felt that I had to at the time."
Being the eldest son, Soh felt he had no agency and that he was walking a path that had already been carved out for him. Everything in his life, from the schools he attended to his first job, seemed to have been decided for him.
For instance, Soh was offered a place at the National University of Singapore to do chemistry but had to turn it down because his degree would not be recognise based on the Chemists Act 1975. If he was going to join his father's company, it would be important that he was a registered chemist in Malaysia so he could sign off on the reports.
"That was why I chose to go to the University of Malaya for a three-year course — so I could get registered," says Soh.
Resentment built up in him and he found himself listless and depressed, dragging his feet to work every day and simply going through the motions.
"My brother and sister did not have this problem. They knew what they wanted and chose their own paths. My sister read law in the UK and my brother studied computer science in New Zealand. They could choose and were free to choose. They both knew what they wanted to do. As the eldest son, I felt that I was less free to choose," says Soh.
His parents reached out to him and asked, "If you do not want to do this, what do you want?" Soh could not answer. He felt trapped, but he could not imagine a way out. He continued to drift for seven years, being neither here nor there.
Finally, one day, his mother spoke to him. "She said, 'Son, what do you actually want? If you want something, both of us, your father and I, will support you. Do what you want. Do what makes you happy.'"
Her words gave him comfort. Soh realised that all along, he had chosen his own way. He decided to stop blaming his parents and figure out how to transform his job into something he actually wanted to do.
In other words, he grew up. "I realised I could not let things go on as they were. I could not just live my life 'cukup makan, boleh makan, itu saja' (doing the bare minimum to get by). I needed to make a choice. If I really wanted to stay and grow this company, then I would have to give it my all. Otherwise, I would need to quit."
PEOPLE PERSON
While his father was very much old school and by the book, Soh was more of a people person. He preferred the softer approach. If he was not doing what he wanted, he could recreate his job so that it was something he could thrive in.
"Deep down, I realised that even if the job in its present form did not suit me, I could definitely get something within the organisation that did. I realised that I loved coaching the staff. So, I found that maybe, in this small community, I could do something that both suited me and benefited others. That was what I chose to do. And since this was my choice, if things were hard, I would just have to endure it," he says.
Although Soh's approach was different from that of his father, it did not mean he was not results-oriented. "It just meant that when I looked at the results, I would always consider and be thoughtful of the human factor," he explains.
"Previously, we would say, 'Get the sales figures up to RM1 million.' And if you did not achieve that, we would want to know why.
"Today, if you did not achieve that, I would ask you what happened and how not achieving that made you feel. And you could say you felt sad or you felt that you were being belittled. And again, I would ask, what made you feel that way. This way, I could actually get to the heart of the problem.
"Employees do not purposely underperform. There is always a reason. So, I ask how I — as a leader in this company — can help. This makes them feel supported and I think this is a better way of management."
Soh did not study coaching formally. He read a lot of books and tried different things. But mostly, he went with his heart. "This is the difference — to actually listen to what a person feels and not just look at the results themselves. It is a longer process. The trick is learning to enjoy the process," he says.
How did his father react? "My dad did not say much, but he is a very results-oriented person. If you did not meet your targets, you would have to face him. So now, I let him ask me rather than the salesperson in question. Then, I explain to him what happened. As usual, we would talk about what we were going to do and how we can prevent this from happening again."
When Soh started reaching out, his staff responded. "I find that people are more open, even in expressing their feelings. I am trying to understand how they feel, what they are thinking, what I can do for them and what they can do for themselves," he says.
"Maybe there are certain things that I cannot see. So, I get them to enlighten me. I try to gather their energy, their ideas."
But how has this approach impacted the company's bottom line? "Well, if you look at our sales figures, this is our best-performing year," says Soh.
INVESTMENT DRIVE
Allied Chemists is on an investment drive, which has eaten into profit this year. For instance, it will be renovating its new headquarters in Johor Baru and equipping it with more high-end testing instruments. It expects to move from its 9,000 sq ft premises to its new 20,000 sq ft headquarters in the first quarter of next year.
Last year, the company made RM6 million in revenue. This year, it expects to see a significant jump to RM8 million or RM9 million.
The business is established and stable for the most part despite the fact that it has been expanding. "Most of the business we generate is what I call 'quality' business. It is really through word of mouth," says Soh.
"One of our biggest clients is Petroliam Nasional Bhd (Petronas). And these past few years, we have actually benefited a lot from the development of the Refinery and Petrochemical Integrated Development project in Pengerang, Johor. One of our big clients is Petronas' refineries. They send us samples and we analyse these for them."
Allied Chemists has several major projects. "We have a project in a Port Dickson power plant with a company called Toshiba Energy and with another company called Ishi Power. Both companies are setting up power plants for Tenaga Nasional Bhd and we are doing water testing for them to make sure that the water is clean enough to be fed into the boiler," says Soh.
Food testing is another of its core businesses. "In Johor alone, we cover about 70% of the food manufacturers," he says.
Surprisingly, the company is looking to expand beyond Malaysia rather than other parts of the country, even though it has a fledgling presence in Kuala Lumpur. That is why it started exhibiting at the Malaysian International Food and Beverage Trade Fair. "We got some business from the trade fair and those who visited our booth became our customers," says Soh.
He believes that tighter regulations on food, water and environmental safety will have a positive impact on the business. "Things will be stricter, and it is a good sign that the market needs us. There are so many issues. For instance, nowadays, people just throw away their unused medicines. Our rivers are contaminated with drugs. And pesticides are overused. They seep into the underground water and that is what we are drinking. So, food safety is a big concern."
But other than Kuala Lumpur, the company is not really looking to expand to the rest of Malaysia. Instead, Soh has set his sights on Southeast Asia. "We are looking at Thailand, Indonesia … nearby countries. We are already in Singapore. The idea is to have a presence in the whole region," he says.
One of the new innovations Soh has introduced in the company to bring it into the 21st century is search engine optimisation. This has generated a lot of international business for the company.
"People find us by googling us. They search using certain words to get to us. They then send samples to Malaysia for us to test," he adds.
In some ways, Soh is his father's son and conservative to the core. But in other ways, he has big dreams. "My vision is to be recognised regionally as the preferred partner in laboratory testing and industrial monitoring," he says.