This article first appeared in Enterprise, The Edge Malaysia Weekly, on August 14, 2017 - August 20, 2017.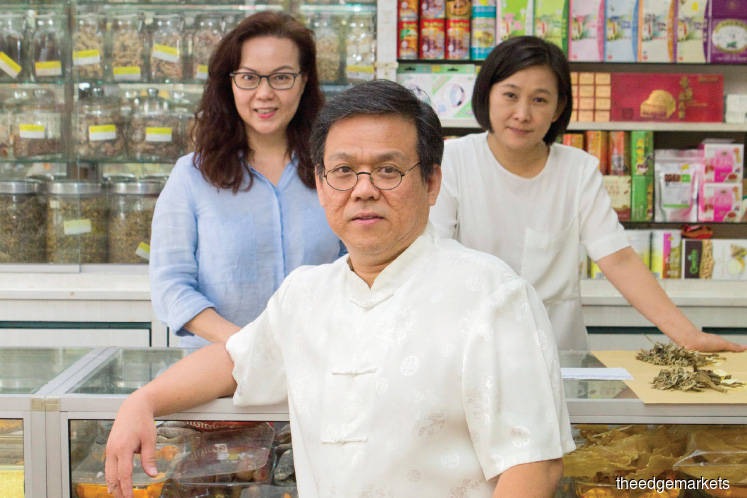 Ban Joo Trading Co looks like any other Chinese medicine store that doubles as a sundry shop. Tucked away in a dusty, traffic-jammed street in Lucky Garden, Bangsar, generations of patients have walked through its doors to see Ng Chuan Lee and later his son, Andrew Ng, a Chinese physician and acupuncturist.
The shop, packed with Chinese herbs, dried seafood, organic products and sundry goods, has a small room in which Andrew attends to patients. Outside the room, there are plastic chairs for those who are waiting their turn.
"My main task is to offer solutions to my patients. Sometimes, I use acupuncture to ease their pain. At other times, I offer a special mixture of herbs as medicine," says Andrew.
The 53-year-old, who took over from his father in the 1990s, is assisted by wife Tan Pit Yan and younger sister Ng Bee Hong. As he attends to the patients, the two women serve the customers and help sort out the patients' medical records.
Andrew prefers old-fashioned handwriting on small pieces of paper and refuses to digitise the medical records. That would double the workload and it is not effective, he says.
Ban Joo Trading was established in 1973 by Chuan Lee, who had three daughters and a son. He made it clear that his son would take over the business.
"I had been helping in the shop since I was a child. In the 1970s, when medical facilities were not as common as they are today, people would turn to Chinese medicine shops such as Ban Joo," Andrew recalls.
"As a child, I was not always willing to come to the shop because the work was tedious. However, in my teenage years, I came to understand that the business would become my responsibility later."
It was not an easy journey, though. Most Chinese medicine shops have a Baizi cabinet (literally translated as 100 cabinets) that stores all kinds of herbs. Andrew had to memorise the contents of each drawer.
"There were so many herbs in those drawers. I needed to remember how they smelt and tasted. I needed to learn how to classify them and check if they had been polluted. I also had to understand how to put the herbs together so they would have the best medicinal use," he says.
All this required tremendous effort on his part, but he managed to pull it off. In hindsight, he believes that he owes it all to his father, as the old man always led by example and demonstrated good values.
"My father passed away last month. Many of our customers came to the funeral to pay their last respects. It made me feel really warm inside. I thought it was quite an achievement. My father was well liked," says Andrew.
Chuan Lee arrived in Malaya from China's Fujian province with only the proverbial shirt on his back and grabbed every opportunity to support himself. He repaired bicycles, worked at a sundry shop and sold fish in the market.
"My grandfather in China was a medical practitioner without any professional qualifications. He was not trained systematically, but he knew how to use traditional herbs to treat some illnesses. Having grown up in such an environment, my father picked up a few tricks of the trade. So, when he was offered the opportunity to set up a Chinese medicine shop with a partner, he agreed immediately," says Andrew.
It did not take long for his father to open his own shop, he adds. However, as Chuan Lee did not have the necessary qualifications to offer traditional Chinese medicine (TCM) treatments, he kept the business lean and stuck to trading Chinese herbs and some sundry provisions.
"My father had good business sense and was very flexible about what the shop offered. In the 1970s, when he had just established Ban Joo Trading, he only sold herbs. Then, he started adding more sundry goods in the 1980s so that people could buy them when they came for the herbs," says Andrew.
"Vitamins were all the hype in the 1990s, so my father started carrying all kinds of vitamin products too. Later, as 2000 approached, supermarkets and hypermarkets mushroomed in every corner and our business took a hit."
However, Ban Joo Trading managed to survive and thrive because of how far-sighted the founder was. When Andrew completed Form Six in the late 1980s, his father advised him to take up studies in Chinese medicine so he could become a Chinese physician, which would add another layer to the business when he took over.
"My father had foreseen that a Chinese medicine shop would not be able to survive on its own because of the heavy competition. The only way for Ban Joo Trading to survive was to start offering value-added services," he says. And this is where the TCM element came in.
Andrew attended the Chinese Medical College of Malaysia for five years and practised TCM for two years before he could offer his services at Ban Joo Trading.
"My father always told me that when we do this kind of work, it is not just about the money. He would not charge some customers because he knew they could not afford it and I have followed in his footsteps," he says.
Chuan Lee also taught his son to be honest and grounded. If not, the business would suffer in the long run as people would distance themselves and look for alternatives.
These days not many children want to take over the family business as they consider it old-fashioned and too much hard work. But this was never an option for Andrew. He considered it both a duty and an honour to take over what his father had spent three decades building.
However, his 20-year-old daughter and 16-year-old son have not shown any interest in the business. "When I ask them to come to the shop, they always come up with reasons not to. As a father, I respect their choice. I will not force them to do what they do not enjoy," says Andrew.
This means the business will not have a successor when he retires. He acknowledges the fact, but also adds that he has no plans to retire yet. "I have just obtained my master's degree from the Guangzhou University of Chinese Medicine and I am currently doing the doctor of philosophy programme. I can use this knowledge to help my patients further," he laughs.
Andrew is not averse to looking for successors outside the family. One solution would be to take on apprentices. However, it would be challenging to find someone willing to invest the long hours it would take to study the properties of herbs, the way he did when he was a teenager.
Chuan Lee used to have apprentices. They were very hardworking and more interested in what they could learn rather than how much they were paid. They eventually set up their own businesses and managed to do quite well.
"It is difficult to find such people today, who are willing to learn about Chinese herbs and how to run a Chinese medicine shop. Most youngsters want short hours, high pay and great benefits with the least amount of responsibility possible. They will not want to manage a business that requires dealing with old people often," says Andrew.
However, he believes in destiny. If his successor is out there, he will find him. If not, he will just let it be.
Andrew thinks that TCM has a bright future as more people are willing to give it a try before opting for modern medical treatments. He takes pride in what he does for his patients.
"We can use our hands to feel if there is anything wrong with the patient's body. For example, if the patient is having stomach pain, I can put my hand on his stomach to feel if there is any abnormality and decide what to do next," he says.
"When we have no access to modern equipment, a Chinese physician and acupuncturist can rely on his hands and the surrounding environment to treat patients. He can look for herbs that can help with the patient's condition. Acupuncture needles are fairly easy to obtain. But if we do not have them, we can even use toothpicks."