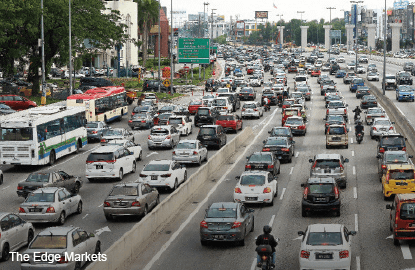 This article first appeared in The Edge Malaysia Weekly, on February 15 - 21, 2016.
The automotive industry is off to a poor start this year, with sales of passenger vehicles falling an estimated 14.8% in January to only 30,860 units, according to industry sources. The drop is substantially steeper than the 2.7% year-on-year contraction in passenger vehicle sales that the Malaysian Automotive Association has forecast for the entire year.
"The poor sales in January can be attributed to the aggressive sales that took place in November and December, when most of the carmakers were desperate to clear their inventories. As a result, most of the demand has already been soaked up," says an industry veteran.
"They [carmakers] were throwing rebates left and right, and giving all sorts of interest-free or instalment-free plans to entice buyers last year. On top of that, some, like Honda, indicated that they would increase prices [this year]. This pushed up December sales at the expense of this year's sales." 
Compared with December, when passenger car sales hit 61,132 units, sales almost halved month on month in January.
Proton was one of the hardest hit, with sales declining an estimated 20.3% to 6,720 units. In contrast, it moved 8,432 units in the same period last year. Proton, which is wholly owned by Tan Sri Syed Mokhtar Albukhary's DRB-Hicom Bhd, saw its market share fall to 21.8% in January from 23.3% a year ago. It is worth noting that, this is still higher than its market share of passenger vehicles in 2015, which was 17.3%.
But this does not put Proton on a firm financial footing. It simply means that the national carmaker has a relatively larger slice of a rapidly shrinking pie.
Other than Mazda, all the other mid-range Japanese marques saw a sharp fall in sales volume in January. Honda, Nissan and Toyota saw sales drop 42.3%, 38.7% and 14.9% res-
pectively. They are estimated to have sold 3,600, 1,710 and 1,660 passenger vehicles respectively, giving them market shares of 11.7%, 5.5% and 5.4%.
Bucking the trend, Mazda, which is distributed and retailed by Berjaya Auto Bhd, saw sales almost triple to an estimated 650 units during the same period.
Mercedes-Benz also continued its exceptional sales performance in 2015, booking a 112% y-o-y gain to 900 units sold in January. That is an impressive figure for the luxury brand, giving it a market share of nearly 3% and putting it in sixth position.
Note that Cycle & Carriage Bintang Bhd controls 49% of Mercedes-Benz Malaysia Sdn Bhd.
"There has been intense competition among the non-national players, particularly the Japanese. Toyota was the largest non-national make in Malaysia (by volume, including commercial vehicles), but last year, it was overtaken by Honda. Now, in terms of passenger vehicles, even Nissan has overtaken it," says the industry veteran.
Including commercial vehicles, Toyota's market share in 2015 was 14.1%.
The industry veteran points out that the intense competition has also put pressure on the national carmakers as well, especially Proton, whose mainstay is sedans in a price range that overlaps with those of the non-nationals.
"But due to affordability, they (national makes) are proving to be more resilient in a weak market — Perodua more so than Proton," adds the industry veteran.
Perusahaan Otomobil Kedua Sdn Bhd (Perodua) also bucked the trend, albeit at a smaller degree. Its sales rose a marginal 3% to 13,120 units. This extended the group's market share to almost 42.5% for the month, substantially higher than the 36.1% share of passenger vehicles it commanded in 2015.
Higher volumes, however, do not necessarily translate into stronger bottom lines. Perodua president and CEO Datuk Aminar Rashid Salleh points out that the depreciation of the ringgit has increased the cost of some imported parts, putting downward pressure on margins.
Unlike some of the foreign marques, however, Perodua has held prices steady and has not indicated any price hikes.
Instead, the ace up Perodua's sleeve may be the sedan that it has long been speculated to be working on. One interesting recent development is Toyota taking over full control of its formerly 51%-controlled subsidiary, Daihatsu Motor. Recall that Daihatsu Motor has been Perodua's technology partner since its inception.
Toyota will need time to digest the acquisition, but a wholly-owned Daihatsu could open up options for it to explore, with Perodua, to regain market share. This could include the latter's sedan that is rumoured to be launched in the second half of this year.
Of course, it would mean that Perodua will be competing directly with the loss-making national icon, Proton. Although there is no explicit restriction on Perodua from doing so, the two marques for the most part have not ventured into each other's territory. That was until Proton launched the Iriz in 2014 in an attempt to break Myvi's dominance in the affordable compact car segment.
Launching a sedan would be a calculated risk for Perodua and Toyota, since Proton has already invested heavily in its line-up of sedans. However, Perodua's new RM1.3 billion Rawang plant, which is operating at less than 70% capacity, is an already paid-for springboard to take on Proton.
Lastly, the government will be hard-pressed to continue protecting Proton, a private-sector company, especially from another local player that has found a way to make cars profitably.