This article first appeared in The Edge Financial Daily, on August 19, 2019.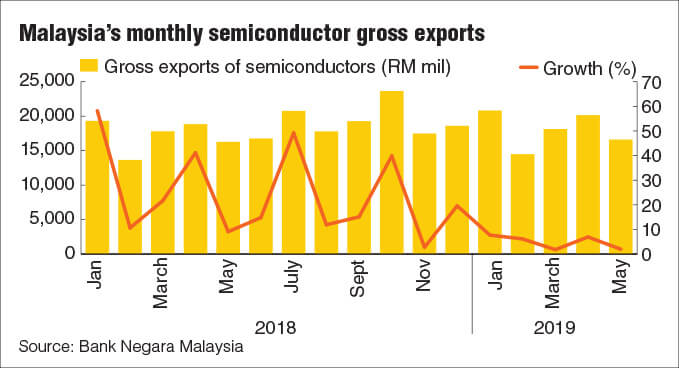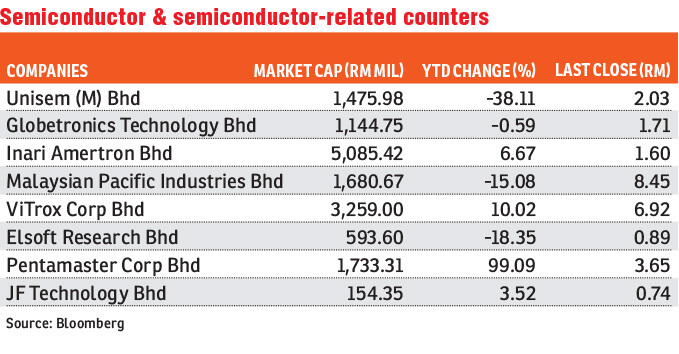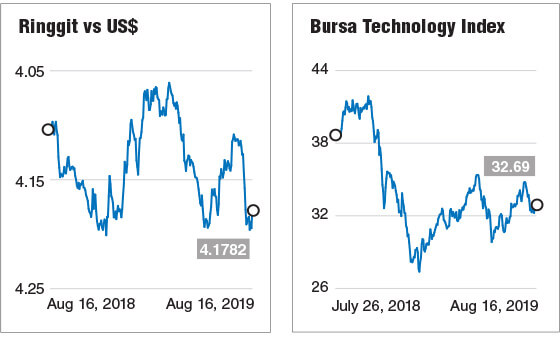 KUALA LUMPUR: Orders from Apple Inc have been a boon to semiconductor players, due to the popularity of the company's iPhone over the last decade, but with the declining sales of the smartphone, investors are wondering whether they should hold on to their investment in Malaysian semiconductor and semiconductor-related stocks.
Apple's fiscal results for the third quarter ended June 30, 2019 (3QFY19) showed that iPhone sales have dropped by 11.8% to US$25.99 billion, from US$29.47 billion a year earlier — the third consecutive quarter of decline.
Bank Negara Malaysia's latest data show that growth in gross exports of semiconductors has been on a declining trend this year (see chart).
Although the ringgit has weakened, which would aid exports, analysts opined that the net positive from currency would be small for semiconductor players.
MIDF head of research Mohd Redza Abdul Rahman said this is because semiconductor players are required to import wafers from overseas for assembly and test operations.
"Imports from Taiwan have been shrinking since April this year. TSMC (Taiwan Semiconductor Manufacturing Co Ltd), which is based in Taiwan, is the world largest chipmaker. To me, this looks like a leading indicator for the E&E (electrical and electronics) sector," he said when contacted by The Edge Financial Daily.
Year-to-date (YTD), the share prices of most outsourced assembly and test (OSAT) companies have performed negatively, except for Inari Amertron Bhd, which has gained 6.7%.
Unisem (M) Bhd has fallen by 38.1% since the beginning of the year, Malaysian Pacific Industries Bhd (MPI) fell 15.1%, and Globetronics Technology Bhd declined 0.6%.
However, among the three automated test equipment manufacturers, only Elsoft Research Bhd performed negatively, falling 18.4% YTD to 89 sen last Friday.
ViTrox Corp Bhd gained 10% to RM6.92 over this period, while Pentamaster Corp Bhd almost doubled to RM3.65.
The share price of high-performance test contacting solution provider JF Technology Bhd also grew 3.5% so far this year to 74 sen.
Phillip Capital Management Sdn Bhd chief investment officer Ang Kok Heng said that while certain semiconductor players may face short-term selldown in the near term, the industry's prospects remain bright with more technology advancement moving forward.
"Technology products' cycle is not long. People keep demanding better [specifications], meaning there are a lot of opportunities for semiconductor players," he said.
Ang noted that new technologies like 5G networks and artificial intelligence would require higher application of sensors and semiconductors, which would in turn boost orders for local players, especially those who are innovative enough to develop their own technology.
He said stocks like Pentamaster and ViTrox stand to benefit from orders driven by future technology advancement, while companies with higher exposure to Apple's order like MPI and Unisem have become investors' selling target.
Areca Capital Sdn Bhd chief executive officer Danny Wong concurred, saying that certain semiconductor companies have already started to see new orders in relation to the 5G network technology.
"We are bullish on certain stocks that are innovative in developing their own technology in preparation for future orders that are related to 5G. In fact, we believe some of them are already getting new orders related to 5G smartphones," he said.
Having said that, Malacca Securities Sdn Bhd head of research Victor Wan said the industry would take time to see 5G-related orders to pick up for semiconductor players.
"Demand [for 5G-related sensors and semiconductors] is still in its infancy, and will take time to pick up. Furthermore, the US has banned Huawei [Technologies Co Ltd], one of the leading lights on the 5G technology," he said.