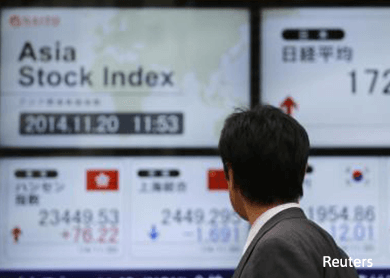 (Sept 1): All Southeast Asian stock markets ended weaker on Tuesday, led by Indonesia after surveys showed China's manufacturing sector was in the grip of its worst slump in several years, raising fresh fears about the health of the country's economy.
Speculation over a possible rate hike by the US Federal Reserve also weighed on sentiment after comments by Fed Vice Chairman Stanley Fischer heightened fears of a potential interest rate hike this month.
The Jakarta Composite Index (JCI) fell 2.2% to its lowest close since Aug 26 with financials leading the fall.  
Foreign investors sold a net $16.51 million worth shares.
Analysts said higher-than-expected core inflation dragged lower finance and consumer-related stocks, while slower-than-expected manufacturing data in China also dented sentiment for commodity-related shares.
An official survey on Tuesday showed activity in China's manufacturing sector contracted at its fastest pace in three years in August, reinforcing fears of a sharper slowdown in the world's second-largest economy despite a flurry of government support measures.
Shares in Thailand fell 1.5% to near one-week closing low led by energy shares. Foreign investors bought a net $24.55 million worth shares.
Singapore fell 1.3% to a one-week closing low, the Philippines and Malaysia were down 0.2% each, and Vietnam lost 0.4%.      
SOUTHEAST ASIAN STOCK MARKETS
Change on day
Market
Current
Prev Close
% Move
Singapore
2882.77
2921.44
-1.32
Kuala Lumpur
1609.21
1612.74
-0.22
Bangkok
1362.39
1382.41
-1.45
Jakarta
4412.46
4509.61
-2.15
Manila
7086.86
7098.81
-0.17
Ho Chi Minh
562.31
564.75
-0.43
Change on year
Market
Current
End 2014
% Move
Singapore
2882.77
3365.15
-14.33
Kuala Lumpur
1609.21
1761.25
-8.63
Bangkok
1362.39
1497.67
-9.03
Jakarta
4412.46
5226.95
-15.58
Manila
7086.86
7230.57
-1.99
Ho Chi Minh
562.31
545.63
+3.06
($1 = 14,095.0000 rupiah)
($1 = 35.7500 baht)