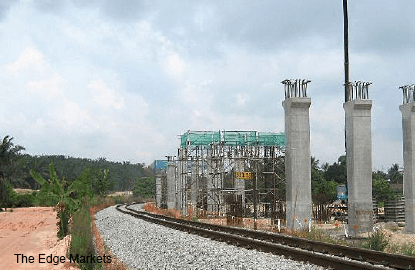 This article first appeared in digitaledge Weekly, on September 14 - 20, 2015.
Construction outfit Fajarbaru Builder Group Bhd is understood to be in talks with China Railway Construction Corp Ltd (CRCC) to play a role as the Chinese company's local partner in the RM8 billion double-tracking railway line, spanning almost 200km from Gemas to Johor Baru, sources say.
It is understood the two companies are looking to iron out a joint venture to undertake the construction soon.
"The negotiations have been progressing well. It looks good for Fajarbaru," says a source. If all goes well, a joint venture or similar agreement could be inked in a matter of weeks, he adds.
While talk of Fajarbaru (fundamental: 1.15; valuation: 1.80) bagging parts of this job has been circulating, digitaledge Weekly was not able to confirm rumours of the joint venture with the company.
CRCC's proposal to build the last stretch of the double-tracking project has gained traction as it is offering to fund the construction of the track, the source adds.
Considering CRCC is ranked  79th on Fortune's Global 500 list (based on revenue), and is a state-controlled company under the administration of the Assets Supervision and Administration Commission of the State Council of China, observers say it should have little difficulty funding such a project.
The company is publicly traded on the Shanghai and Hong Kong stock exchanges and has a market capitalisation of about US$27 billion. In contrast, Fajarbaru's fortunes have not been great.
For its financial year ended June 2015, Fajarbaru suffered a net loss of RM2.6 million from RM387.5 million in sales. As at end-June, Fajarbaru had cash and bank balances of RM56 million, and long-term and short-term debt commitments of RM33.3 million and RM16.5 million, respectively. At its close of 37 sen last Thursday, the company had a market capitalisation of RM125 million.
Fajarbaru's latest annual report for FY2014 shows that its largest shareholder is Datin Lai Mooi Far, who has a 11.4% stake, directly and via Big Victory Holdings Sdn Bhd, Bright Memory Sdn Bhd and Numina Gem Sdn Bhd. Executive chairman Tan Sri Kuan Peng Ching @ Kuan Peng Soon has 9.9% equity interest; followed by Winnie Lim Lee Chuen with 8.9% via Big Victory Holdings, Bright Memory and Numina Gem; Ho Shau Kian with 7.2% via Big Victory Holdings; and pilgrim fund Lembaga Tabung Haji with close to 5.6% in Fajarbaru.
It is noteworthy that Lai, Lim and Ho are not on the board of Fajarbaru.
Fajarbaru has experience in rail construction, having won light rail transit (LRT) jobs and a section of the double-tracking rail job in the past. 
In March 2011, Fajarbaru won a RM150 million contract from Prasarana Malaysia Bhd (then Syarikat Prasarana Negara Bhd) to build two LRT stations, while in January 2013, the company secured a RM289.4 million contract for the construction, completion, testing and commissioning of depot and traction power sub-stations at Kampung Kuala Sungai Baru, including civil works, external works and all other associated works for the extension of the Ampang LRT line. 
More recently, at end-March this year, Fajarbaru secured a RM109 million contract from Prasarana for the construction, completion, testing and commissioning of the remaining works for the Kelana Jaya LRT project.
Interestingly enough, Fajarbaru was a sub-contractor for Indian Railway Construction (Ircon), bagging a RM316 million job building the Tampin-Batang Melaka stretch of the Seremban to Gemas line. 
To recap, the double-tracking project was revived in 2007 after being scrapped in late 2003. The MMC-Gamuda consortium was given the mandate to build the 330km stretch from Ipoh to Padang Besar for RM12.5 billion, while Ircon was awarded the 95km stretch from Seremban to Gemas, for RM3.5 billion. 
However, a job of this magnitude — at RM8 billion — would be quite a game-changer for Fajarbaru. Its order book as at end last year stood at about RM500 million.
It also remains to be seen whether the job kicks off this time around.
More than four years ago, in January 2011, then transport minister Tan Sri Kong Cho Ha had said that the government had appointed two consultants to conduct studies on the Gemas-Johor Baru railway line, and was negotiating with Chinese consortiums to complete the final stretch of the double-tracking project.
Three Chinese companies were understood to be vying for the job after their names were put forward when former Chinese premier Wen Jiabao and an 118-member delegation visited Malaysia in April 2011 as part of a Malaysia-China Economic, Trade and Investment Forum.
The three companies put forward by the Chinese government were CRCC, China Railway Engineering Corp (CREC) and China Communication Construction Co (CCCC), each tying up with local companies.
It was reported that CRCC was partnering Tan Sri Lim Kang Hoo, who controls 32.4% of Ekovest Bhd, an engineering and construction outfit. CREC was said to be partnering prominent businessmen Tan Sri Desmond Lim Siew Choon, who controls Malton Bhd and Pavilion Real Estate Investment Trust among others, while CCCC tied up with Tan Sri Tan Kay Hock, who has 42.2% in George Kent (M) Bhd.
All three individuals were well connected, resulting in difficulty in awarding the large-scale contract, sources say.
In fact, the delay could be perceived to be much longer, considering the double-tracking project had its roots in the 1990s. 
In the late 1990s, China and India were slated to undertake the development of the entire stretch of the rail works for the double-tracking project linking Padang Besar and Johor Baru, estimated at RM40 plus billion then. Payment for the building of the railway track was to be made via crude palm oil.
However in late-2003, a consortium made up of Tan Sri Syed Mokhtar Albukhary's MMC Corp Bhd and construction giant Gamuda bagged the job at a much lower price tag of RM14.3 billion.
But under former premier Tun Abdullah Ahmad Badawi's administration, the double-tracking project was scrapped, but revived a few years later in 2007.
The MMC-Gamuda consortium was given the mandate to build the stretch from Ipoh to Padang Besar for RM12.5 billion, while Ircon bagged the Seremban-to-Gemas contract for RM3.5 billion. Now, potentially, CRCC and Fajarbaru could build the last stretch of the double-tracking project.
---
Note: The Edge Research's fundamental score reflects a company's profitability and balance sheet strength, calculated based on historical numbers. The valuation score determines if a stock is attractively valued or not, also based on historical numbers. A score of 3 suggests strong fundamentals and attractive valuations. Visit www.theedgemarkets.com for more details on a company's financial dashboard.