This article first appeared in The Edge Malaysia Weekly, on February 17, 2020 - February 23, 2020.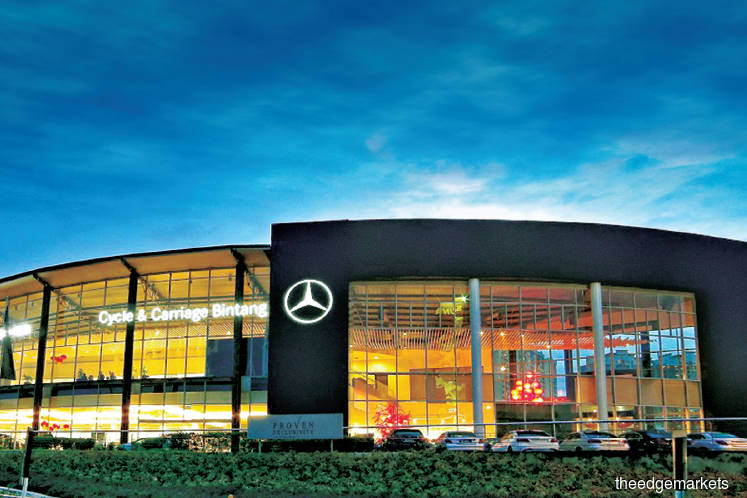 Going forward, it should be business as usual for C&C Bintang
SHAREHOLDER activism has scored a victory — minority shareholders of Cycle & Carriage Bintang Bhd have blocked the privatisation bid by controlling shareholder Jardine Cycle & Carriage Ltd.
In an extraordinary general meeting last Tuesday, the special resolution on the proposed selective capital reduction (SCR) and repayment exercise of RM2.20 per share was not carried as 13.18% of disinterested shares — rather, total voting shares — voted against the resolution. In order to be passed, the resolution must not be voted against by more than 10% of the votes attached to all the disinterested shares of the total voting shares of C&C Bintang.
Furthermore, based on the poll results, the number of disinterested shareholders who voted for the resolution stood at 46.22%, which is less than the minimum requirement of a simple majority in order for the resolution to pass.
The 57.94% in terms of value that voted for the resolution is also short of the required 75%.
In other words, it was a landslide victory for the minority shareholders of C&C Bintang, as Jardine CCL failed to meet any of the three requirements needed to take the company private.
This should not come as a surprise. The Edge reported on Jan 6, citing sources, that Muar Ban Lee Group Bhd (MBL) — a minority shareholder of C&C Bintang with a 1.02% stake as at Feb 28 last year — had on Dec 26 written to the company and expressed its intention to scuttle the privatisation bid.
The Johor-based MBL — a locally listed, family-owned palm kernel oil expeller manufacturer specialising in palm oil and oil seed crushing machinery — was also seeking more compensation, considering that the capital repayment sum was 18%, or 49 sen, below the company's net asset per share of RM2.69 as at Sept 30.
Indeed, independent adviser Affin Hwang Investment Bank Bhd had said in C&C Bintang's circular to shareholders that the privatisation deal was not fair, given that the equity value of the company — based on the realisable net asset value method — was about RM3.64 per share.
Nevertheless, the investment bank recommended that disinterested shareholders vote in favour of the SCR as it provided an exit opportunity for them to realise their investment, given that the offer price represented a premium over C&C Bintang's historical market prices.
Now that the privatisation deal has fallen through, what does it mean for the major and minority shareholders of C&C Bintang?
Will the Singapore-listed Jardine CCL — part of the British family-owned Asian conglomerate Jardine Matheson Holdings Ltd — come back with another offer next year?
More importantly, what does the future hold for C&C Bintang — the country's largest dealer of German premium marque Mercedes-Benz cars?
Respecting shareholders' decision
Asked to comment, a Jardine CCL spokesman tells The Edge in a brief statement via email that the group respects the views of the disinterested shareholders on the SCR and repayment exercise and their decision to maintain the listing status of C&C Bintang. "As a long-term shareholder, Jardine CCL remains committed to C&C Bintang as a listed entity. We continue to support management and the current strategy to strengthen the business in light of the challenging trading environment."
Likewise, C&C Bintang CEO Wilfrid Foo Tsu-Jin echoed that Jardine CCL, being a long-term investor, has reiterated its support for the company and its strategic direction.
"Share price movements are a result of market forces and external market conditions, which we cannot control. C&C Bintang will continue to prioritise investing in our sites, systems and people to address the challenging trading environment and to position ourselves for the future. A good example is the transformation of our Cycle & Carriage Mutiara Damansara Autohaus," he tells The Edge in an email reply.
Foo adds that C&C Bintang is the first to embody the brand new automotive retail concept that focuses on creating memorable moments with the Mercedes-Benz brand using a combination of personal contact and digital elements for sales and service.
"We are excited to bring this transformation to three more Cycle & Carriage Autohauses in Malaysia in 2020. Our focus remains on delivering exceptional journeys for our customers across Peninsular Malaysia," he says.
Commenting on the failed privatisation bid, Leinves PLT chief investment officer William Ng says the minority shareholders of C&C Bintang are generally satisfied with the outcome of the EGM, as many of them are of the view that Jardine CCL should have made a better offer.
"Although the management of C&C Bintang and the representative of Jardine CCL were trying hard to convince the disinterested shareholders that RM2.20 was the best offer, nobody seems to think that this was an exit opportunity that they could not afford to miss," he says.
Why didn't MBL make a U-turn?
Going forward, says Ng, it should be business as usual for C&C Bintang. However, he says investors should not be surprised if Jardine CCL were to come back and make another SCR offer 12 months later.
"To be fair, the present market environment is quite challenging, so the offeror has its own considerations as well. That probably explains why it refused to raise the SCR offer price, even though it knew MBL had a good chance to block the privatisation deal," he says.
"I do not think this is a case of Jardine CCL underestimating MBL. It was 50:50, so, both parties stood their ground. But the outcome of the EGM shows that MBL had successfully lobbied for support from other minority shareholders."
Ng goes on to say that MBL seems to have holding power as the company is trying to maximise the return on its investments in C&C Bintang. "If you think about it, when C&C Bintang's share price dropped to RM1.50 prior to the EGM, MBL could have mopped up more shares and then made a big U-turn by voting in favour of the SCR. By doing that, it could have made that 70 sen gain. But, obviously, it did not. That shows the desire of MBL to block the deal. It is looking at more than just that (70 sen gain)."
In a nutshell, Jardine CCL and MBL seem to have the patience to wait to see their goals achieved. They know exactly what they are doing and have refused to back down.
The privatisation of C&C Bintang may have failed this time but, on a positive note, more investors are now aware that the company's shares are undervalued.