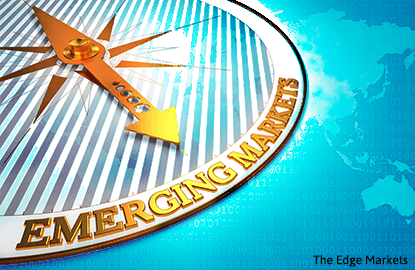 LONDON (Jan 23): Emerging stocks gained and Mexico's peso led a currencies rally on Monday as markets took a breather following Donald Trump's inauguration as US president, but Turkey's lira remained under pressure ahead of a crucial central bank meeting.
MSCI's emerging markets index snapped a two-day losing streak to rise 0.6%, lifted by bourses in Asia and gains in South Africa.
The gains came in the wake of the US dollar sliding broadly to touch its weakest level in six weeks after Trump struck a protectionist tone in his debut speech, sowing doubts on the upbeat outlook for the US economy which had been fuelled by his pledges of tax cuts and stimulus.
"The pressure remains on the US dollar, and that is causing a generarl positive sentiment towards emerging markets ... investors are starting to doubt just how much he will deliver," said Per Hammarlund, chief emerging markets strategist at SEB.
"It is just a temporary breather, it is unlikely to last. As we have sen before, he may be quiet for a short time or shift his focus to something else, but ... we will not see him backtrack on his suspicious attitude on trade with cheaper countries such as China and Mexico."
Mexico's peso, which had born the brunt of investor angst over Trump's policies, led the rally across currencies, gaining nearly 1% and trading at its strongest in 13-days. It had chalked up its biggest gains in more than two months on Friday after Trump did not mention the country directly in his inauguration speech.
South Africa's rand nearly matched those gains while Russia's rouble struggled 0.4% stronger despite oil prices reversing their initial gains and falling 1%.
Turkey's lira remained the exception however, weakening as much as 0.5% as investors showed nerves ahead of a central bank meeting on Tuesday widely seen as a major credibility test in the face of a tumbling currency.
Fifteen out of 18 economists polled by Reuters expect the central bank to increase its benchmark repo rate, with nine of them forecasting an increase of 50 basis points.
"The lira has stabilised in the last few days ... There is a substantial risk that the central bank will not hike at all," said Hammarlund. "The problem is: It will then just be a matter of time before there will be another run on the lira."
Israel's central bank is expected to keep interest rates at a record low of 0.1% for the 23rd month in a row when it announces it decision later in the day.