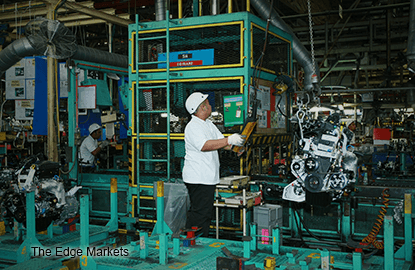 This article first appeared in The Edge Financial Daily, on November 3, 2015.
KUALA LUMPUR: Production at Malaysian manufacturers contracted for the seventh successive month in October, the joint-longest sequence of declines in the series history, according to the latest survey data by Nikkei Inc and Markit Economics.
The Nikkei Malaysia Purchasing Managers' Index (PMI) for October fell slightly to 48.1 from 48.3 in September, indicating a further worsening in manufacturing conditions in Malaysia.
The PMI is based on data compiled from monthly replies to questionnaires sent to purchasing executives in around 450 manufacturing companies. Any figure greater than 50 indicates overall improvement of sector operating conditions.
The manufacturing sector is divided into the following eight broad categories: basic metals, chemicals and plastics, electrical and optical, food and drink, mechanical engineering, textiles and clothing, timber and paper and transport.
"Around 12% of panellists noted a decrease in output, in comparison to only 6% that recorded an expansion." said Nikkei and Markit in a joint report yesterday.
"A reduction in sales and challenging economic conditions were cited as the main factors behind the decline in production." they added. 
Output was matched by a marked decline in total new orders, which declined at the sharpest rate in over three years in October, and at the second-quickest rate since the survey began in July 2012.
"Almost 13% of survey respondents recorded lower new orders, more than over three times the proportion of panellists that noted an expansion. Data suggested that the reduction in total new orders was mainly driven by a fall in domestic demand, as new export orders rose during the month." said Nikkei and Markit. 
Reflecting falls in production and new orders, buying activity was reduced as manufacturers drew on existing inventories instead of purchasing new items.
Panellists also mentioned unstable economic conditions as a factor behind the latest fall in purchasing activity. The rate of contraction was moderate, but one that was sharper than the average over the year so far. 
Despite worsening manufacturing conditions, Nikkei and Markit noted that employment levels increased at the fastest rate in nearly three years in October.
Panellists mentioned hiring extra staff due to new product developments.
"On the other hand, buying activity decreased as firms mentioned a lack of demand and falling production." they said.
On the price front, prices charged by Malaysian manufacturers increased for the eighth consecutive month in October.
According to panellists, unfavourable exchange rates driving up input costs and an increase in sales tax led manufacturers to raise their selling prices. Furthermore, the rate of increase was the joint-sharpest in the series history to date.