This article first appeared in The Edge Malaysia Weekly, on June 22, 2020 - June 28, 2020.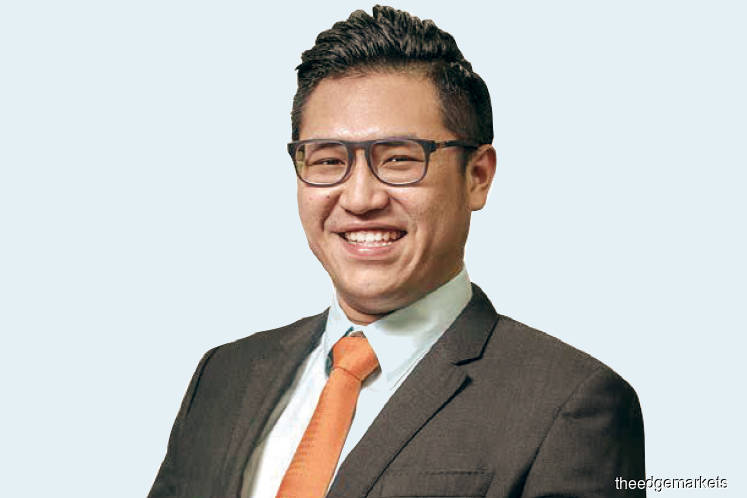 PENANG-BASED, family-run polyvinyl chloride (PVC) sheeting manufacturer Tek Seng Holdings Bhd, which was hit by the suspension of its photovoltaic solar business two years ago, is now back on the radar screen of investors, thanks to the strong demand for personal protective equipment (PPE).
Its polypropylene (PP) non-woven manufacturing business is booked up to August as orders surged. The non-woven fabric is used for the manufacturing of face masks and protective gowns.
"For the PP non-woven segment, the revenue contribution was 25% last year. In the first quarter of this year (ended March 31), it made up about 30%. For 2Q, we're looking at 70%," Tek Seng executive director Loh Eng Chun tells The Edge in an interview.
Due to resilient demand, average selling prices (ASPs) of PP non-woven fabric have also gone up substantially.
"It should be looking quite strong for now. PP non-woven prices shot up close to 300% in April and May and we are looking at 200% from June to August. Overall, we are seeing a price surge of over 200%," Eng Chun says, adding that net profit margin has doubled to 15% from the 6% to 8% seen before the Covid-19 pandemic.
With that, Tek Seng, which has been running at full capacity of 300 tonnes per month, will double its production capacity when new machinery comes on stream in 3Q.
The company has set aside RM20 million in capital expenditure to increase production capacity. It is on the lookout for a parcel in Bukit Mertajam, Penang, to build a plant for the non-woven business.
For the PVC sheeting segment, which is traditionally Tek Seng's major revenue contributor, Eng Chun foresees flat performance this year due to the global lockdowns in the wake of the Covid-19 pandemic.
"Although demand from the retail side is still favourably strong, it is a bit slow from the industrial side as the sectors that we supply to are facing declining sales."
As for the solar segment, one of the factory buildings of subsidiary TS Solartech Sdn Bhd, which made solar panels, has been rented out. However, the company continues to generate income from solar energy arising from the solar panel installed.
"We have been renting out the second building since last year, so the rental and solar income contribute close to RM500,000," says Eng Chun.
He adds that the closure is temporary and there are no plans to shut the factory permanently.
Recall that the suspension of its photovoltaic production activities was due to intense competition and excess inventory in the supply chain.
Tek Seng was in the red in 2018 and 2019 with net losses of RM48.69 million and RM16.25 million, owing to impairment losses on property, plant and equipment amounting to RM76.61 million and RM44.13 million respectively.
This year, the company is set to turn around after net profit for the first quarter leapt more than nine times to RM4.61 million from RM476,000 in the previous corresponding period.
"We have already written off all the losses last year, so from now on, we should be seeing quite good numbers from that segment," Eng Chun stresses.
Last year, its revenue fell 6.2% to RM172.6 million from RM184.01 million a year ago.
The company is looking to declare dividends again after it stopped paying for two years due to the losses incurred. The last dividend payout was in 2017, amounting to 2 sen per share.
"We had been paying dividends since our listing [in 2004] until two years ago, when we were hit by the impairment losses," Eng Chun explains.
As at end-March, the company had cash and cash equivalents of RM47.07 million and long-term debt of RM20 million, giving it net cash of RM27.1 million.
On the impact of raw material prices, Eng Chun says prices of PVC resin will remain low for the PVC segment, but will be offset by lower demand. "So, you can't take advantage of lower prices now, unless there is a change in market sentiment."
For the PP non-woven segment, while prices of polypropylene resin have increased, it could be offset by the increase in ASPs, he notes.
Tek Seng's non-woven fabric is mainly for the domestic market while 60% of its PVC products are exported.
"Our buyers are mainly medical and mask players and almost all local mask players are our clients now. We are also shifting a bit to the export markets and we do sell to North America and Europe," says Eng Chun.
Shares of Tek Seng closed half a sen or 0.9% higher at 55 sen last Thursday, giving it a market capitalisation of RM198.4 million. Year to date (YTD), the stock has gained 96.4%.
Prior to the pandemic, its share price had mostly been trading at 11.5 sen to 31 sen.
Its closest peer, Oceancash Pacific Bhd, has seen its share price shoot up 42.5% YTD while trading at a PER of 11.9 times.
Oceancash manufactures and trades air-through bonded non-woven and thermal bonded non-woven fabric, which is widely used in disposable hygiene products.
Tek Seng was founded by the late Loh Phah Seng @ Loh Boon Teik. The management of the business was passed to his eldest son Loh Kok Beng, who is currently the executive chairman, in 1989. Eng Chun is Kok Beng's son.
Kok Beng's brother, Loh Kok Cheng, is managing director of Tek Seng.
Currently, the Loh family has a 42.42% stake in the company.