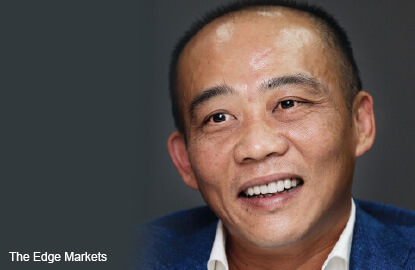 This article first appeared in
The Edge Malaysia Weekly
, on November 21-27, 2016.
TWENTY-five years ago, when brothers Tan Soo Kuok and Tan Lee Kock decided to follow in the footsteps of their father, Tan Hua Teck, and venture into the biscuit-making business, he told them, "You don't need to use my money, [but] use my name."
Soo Kuok, who is now the chairman of Munchy Food Industries Sdn Bhd (Munchy's), managed to get doors opened for them by doing just that.
He says it was easier to deal with suppliers and customers, and even get loans from banks when his father's name was mentioned.
Munchy's products are currently sold in more than 50 countries, and has the lion's share (22%) of the local market. "We consider ourselves the largest homegrown biscuit brand in Malaysia. We are 100% Malaysian-owned," says Soo Kuok.
In the financial year ended Dec 31, 2015 (FY2015), Munchy's posted a net profit of RM41.34 million — almost 10 times more than the RM4.78 million it achieved in FY2011. Revenue expanded to RM283.68 million from RM217.74 million four years back.
Munchy's started with a second-hand single-line wafer stick machine, which the brothers purchased for RM80,000 and spent a month fixing.
Initially, the company only made wafer products, but in 1998, the brothers decided to produce biscuits. Their other brothers, in the meantime, also joined the business.
Although the timing was not good as it was then the onset of the Asian financial crisis, it did not stop the brothers' expansion plan. When Malaysia was at the trough of the economic downturn, Soo Kuok introduced new products and expanded distribution channels.
As other companies were reducing headcount to cut operating costs, he did the opposite by hiring more talent.
To reward the employees for their hard work, he and his brothers took up personal loans to pay them bonuses. By doing that, they put the company in a good position to ride the  economic recovery.
When the economy started growing again, the new products gained traction and the employees reciprocated by delivering better results, thus driving growth.
Munchy's started off in a small rented factory, but as business grew, the brothers sought for land to build a new factory with more
capacity. They eventually settled for a tract on the hill located between Batu Pahat and Yong Peng.
Munchy's has grown by leaps and bounds in the past two decades and boasts several well-known brands under its belt.
Soo Kuok, a nominee for the Master Entrepreneur Category of the Ernst & Young Entrepreneur of the Year 2016 Malaysia award, tells The Edge that he is never obsessed with pushing sale volume to fuel earnings growth. To him, product quality is crucial to ensure customer satisfaction.
He knows no one likes to consume biscuits made over a year ago. Hence, his strategy is to ensure "just in time" production. He reorganised Munchy's by closely monitoring the sales and production volume,taking almost two years to find the balance between supply and demand.
The company rarely offers discounts to promote sales. Soo Kuok explains that if a business keeps on doing that, consumers will only buy its products when discounts are offered.
On financial management, he says cash flow is most important for a business and a company needs to ensure sustainable cash flow even during tough times.
During the economic slowdown in 2008, Munchy's took action early, before the crisis struck.
"When it's good, think about what will happen when it's bad," he says. He urges businesses to be more alert about market conditions and be prepared for the worst. He believes that all businesses need to have cash reserves to prepare for the unexpected.
With strong demand for Munchy's products in China, the company invested in a factory in 2011 that cost US$12 million. Soo Kuok says the acquisition of the factory was to cater for the markets in China and other Asian countries.
Earlier this year, Munchy's invested in a manufacturing plant in Jakarta, Indonesia, through a joint venture with two big companies — Indonesia's Alpha Group and Japan's Mitsubishi Corp.
Moving forward, Munchy's will be introducing a new bakery product — croissants — in March next year, using technology from Europe.
Last year, the company underwent a restructuring exercise. Double-V Series Sdn Bhd, the Tan brothers' holding company, currently owns a 70% stake in Munchy's with the remaining 30% held by fund investor Tap Crunch Sdn Bhd.
Asked if there are plans for a listing, Soo Kuok says there is none for now, but will go for it when the need arises.