This article first appeared in The Edge Malaysia Weekly, on June 28, 2021 - July 04, 2021.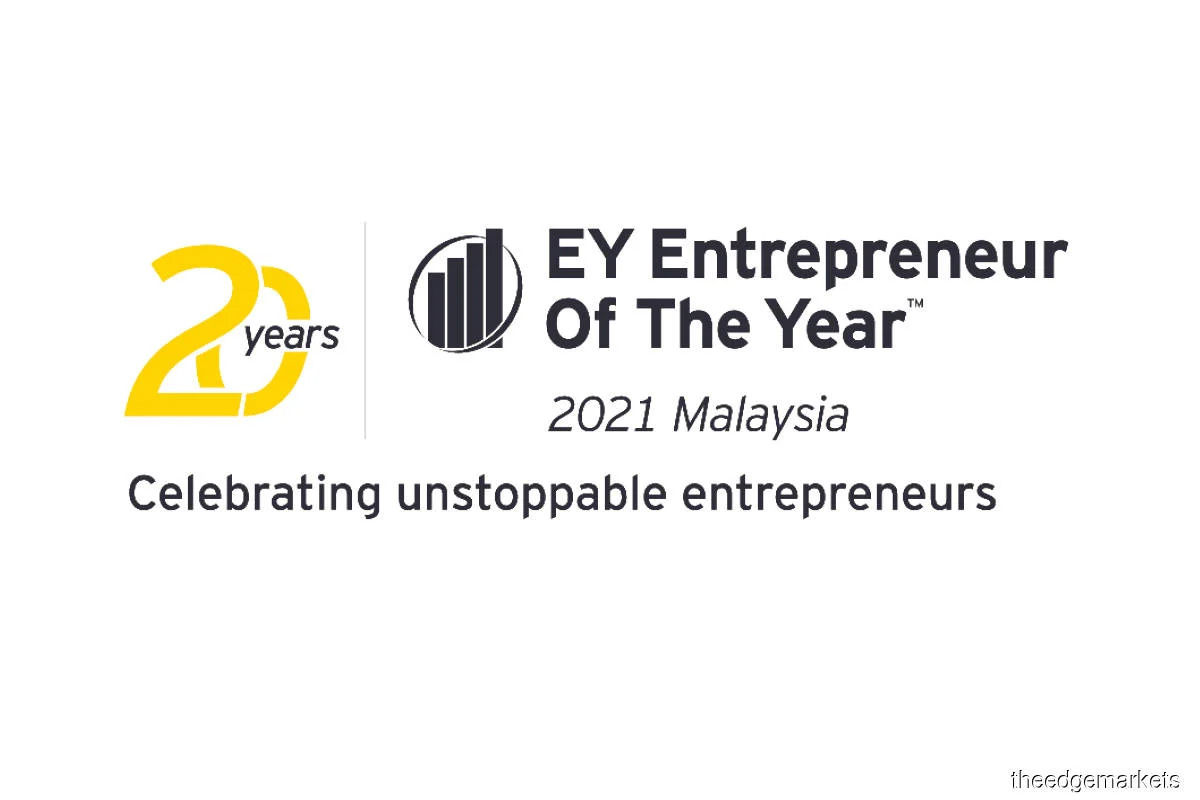 AN entrepreneur's success is measured by more than being in the black. It is also about being adaptive to change, answerable to stakeholders and driving responsible governance as a global citizen. In a two-part Q&A ahead of the next call for nominees for the annual EY Entrepreneur Of The Year Awards Malaysia, five alumni members of this prestigious global event give their take on the nature of doing business in these unprecedented times, and all say responding positively to change has been key to their success.
Question:
1. With environmental, social and governance (ESG) issues more important to consumers, how can entrepreneurs adjust their growth strategy to ensure all stakeholders' needs are served?
2. How have entrepreneurs accelerated the adoption of digitalisation and where do you most see the impact of this change?
3. Bearing in mind the challenges of the last one year, what do you think is the most important quality that entrepreneurs need to have in navigating the future?
Kamarul A Muhamed
Founder and CEO, Aerodyne Group
EY Entrepreneur Of The Year 2020 Malaysia
1. There is a growing emphasis on ESG, and companies should grow with it. Rather than seeing it as tasks to check off a box, it should be understood as core to business processes and decisions. With that shift in mindset, each staff will realise the role they play in making the company more sound in ESG aspects. It is in Aerodyne's DNA to do the right thing and do things right, and it is about making a commitment to integrate ESG priorities and practices into our core strategies.
2.  In the past year, we saw how it was not necessarily the management or the strategy team that led digital transformation initiatives. Because of the pandemic, companies had no choice but to adapt quickly, which made us realise that digitalisation is a good thing. In fact, it is the only way forward. This is aligned with our third DT solution — digital transformation, where we facilitate companies in integrating digital technologies into all areas of their businesses, changing how they operate and deliver to customers.
3. The future is for expert generalists who are masters at connecting the dots. It is important for entrepreneurs to be resilient in challenging situations and to continuously innovate. I'm proud to have a leadership line-up in the company made up of people who are visionaries, who have been unstoppable in the face of adversity. For example, the silver lining of the pandemic was the birth of Agrimor, our precision agriculture solution; as well as our next-generation drone in a nest system for security and surveillance operations — which was only made possible because our people were willing to adapt quickly to continuously create value.
Chiau Haw Choon
Group MD, Chin Hin Group Bhd
EY Entrepreneur Of The Year 2017 Malaysia
1. We are guided by our sustainability principles and approaches, which help us create long-term value for our stakeholders. It is an ongoing journey.
2. We started our digital transformation programme at the end of 2019 with a three-year roadmap. However, the pandemic accelerated our digital transformation and shortened our journey from three years to one year. It impacted our entire operations, from administration to production, CRM (customer relationship management), warehousing and logistics. We re-engineered our processes and eliminated many of our manual and paper-based transactions with the deployment of RPA (robotic process automation). This translated into cost savings and improved our operational efficiencies. We have invested more than RM2 million and will continue to invest further. Through our improved CRM, we are now better at mapping out all our customers across the group and have clearer visibility on adding value to these customers and generating leads to grow our business.
3. Emotional management is key. There is so much uncertainty around us, so having the clarity of mind to know what to prioritise during a crisis is critical. When an entrepreneur has the ability to remain calm and hopeful, it sends a clear message to the entire organisation and builds up the confidence of the team to overcome any crisis. The ability to identify opportunities is another critical factor for growth and success. A few months ago, we acquired Signature International Bhd. It gave us an opportunity to penetrate the Home & Living segment and brings us closer to the end-consumer.
Tan Sri Datuk AK Nathan
Executive chairman, Eversendai Corp Bhd
EY Entrepreneur Of The Year 2008 Malaysia
1. With a clear understanding, accept the sudden change with positive thinking. We must brainstorm to restrategise the business plan, with clear communication with management and all stakeholders to keep commitments without compromising on the business' fundamental values. Constant dialogue sessions to develop trust and confidence are of utmost importance.
2. Digitalisation has become part of the current lifestyle and companies that do not change accordingly will be left behind or vanish. Entrepreneurs understand this clearly and have taken action to innovate. Digitalisation is developing and changing rapidly and, at times, it is mind-boggling. We will see further huge impact in media, printed materials, travel, banking, industries at large, management, moneyless (economy) and so on.
3. Learn from yesterday, appreciate today, strive for a better tomorrow. Today's business world is getting tougher and tougher, so most important is to survive during these very challenging and unprecedented times. We must adapt and rejuvenate with belief, self-confidence, the right attitude and never give up — have a positive mindset to handle adverse external factors with focus, perseverance, persistence and resilience. Never give up after failures and setbacks and do not regret any decisions made but learn from mistakes. Always be positive and tell yourself: I can do it, I can make it happen.
Fiona Rebecca Limus
MD, CompuMed Services Sdn Bhd
EY Woman Entrepreneur Of The Year 2020 Malaysia
1. ESG issues are not at odds with growth. At CompuMed, we hold dear to the philosophy of "focus on creating value for people and everything else will follow". We have practised corporate social responsibility through non-discriminatory hiring; expanded employee protections; claim process digitalisation for improved accountability, transparency and governance; below-market-value, white-labelled system sales to support government B40 projects; and Covid-19 screening and infection control assistance to organisations.
2. Entrepreneurs have always been at the forefront of innovation, including leveraging digital technology to create impactful solutions and improve business performance. Digital transformation across all industries has been accelerated by the Covid-19 pandemic and has proven instrumental in the battle against Covid-19. I believe the greatest impact of the digital economy is the promotion of inclusive growth. Digitally enabled job and entrepreneurship opportunities are more accessible to traditionally under-represented groups such as women and ethnic minorities.
3. There is no playbook to this pandemic, and we have witnessed how innovative entrepreneurs have managed to get ahead of the pandemic crisis by building coronavirus-inspired solutions or reinventing their business models to capture new opportunities and adapt to the dramatic shifts. The business landscape will continue to evolve rapidly in the post-Covid future, and an innovative mindset will be key to navigating the economic and geopolitical volatility and meeting new challenges.
Datuk Dr Omar Abd Hami
Deputy chairman and corporate adviser, Avisena Holdings Sdn Bhd
Top nominee in Master category of EY Entrepreneur Of The Year 2019 Malaysia
1. At the heart of the ESG equation in the private healthcare sector is how the private hospitals take affordability, quality care and price transparency into account. Year after year, consumers face the challenges of rising medical costs, which make health insurance increasingly unaffordable. We need to move towards more automation, technology and streamlining of bureaucracy. Digitally enabled healthcare platforms such as telemedicine and home healthcare are helping to lower the total cost of care through fewer visits to specialist outpatient clinics and emergency rooms.
2. The Covid-19 crisis has obviously accelerated the shift to digital. Telemedicine will definitely have a strong impact on the future of healthcare.  With emerging technologies such as telemedicine, the Internet of Medical Things (IoMT) or remote monitoring tools, and electronic medical records (EMR), home healthcare is becoming more efficient and effective. Studies have suggested that 70% of healthcare needs can be met through home care. On this note, Avisena has embarked on the telemedicine and home healthcare initiatives through its subsidiary TrueCare2U Sdn Bhd.
3.  We must be able to lead a new paradigm shift by transforming our company by going digital. And we must always embrace an agile and lean operating model built around the customers in our businesses. We need to quickly rethink customer journeys and accelerate the development of digital solutions, the use of more automation and technology.  
Are you an unstoppable entrepreneur, or do you know of an unstoppable entrepreneur?
Nominate an unstoppable entrepreneur at ey.com/my/eoy. Nominations close on August 27, 2021.
For enquiries, write to [email protected] or call (03) 7495 8132./ (03) 2388 7120.
The Edge is the media partner of EY Entrepreneur Of The Year Malaysia 2021