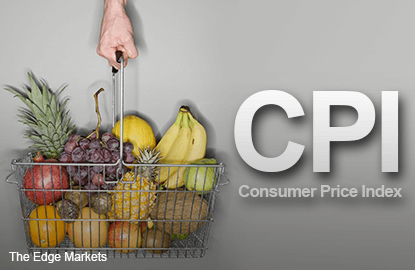 This article first appeared in
The Edge Financial Daily
, on February 24, 2017.
KUALA LUMPUR: Malaysia's inflationary pressure is expected to intensify in 2017, due mainly to external risks on the weaker ringgit and potential bullish oil prices, according to economists.
The Department of Statistics announced January's inflation on Wednesday, as measured by the consumer price index (CPI), was at 3.2%. It hit the highest level in 11 months, due mainly to increases in transport cost on higher petrol prices.
This has caused economists to revise their inflation targets, with most raising their targets based primarily on foreseeable oil price recovery.
Kenanga Investment Bank increased its inflation target for the first quarter of 2017 to 4.1% from 2.2% previously.
"With oil prices likely to be sustained at US$55 (RM244.75) per barrel, but not likely to exceed US$57 per barrel from US shale production, we expect inflation from the transportation sub-index to be sustained, further fuelling inflation for 2017," it said in its research report yesterday.
Transportation prices spiked 8.3% year-on-year (y-o-y), following a mild 0.6% y-o-y decline in December 2016. This was in line with Kenanga's projection for the sector, as it noted Opec's move to limit oil prices started to show more of an impact in Malaysia's inflation numbers.
"Along with a steady rise in global growth as well as domestic demand, we will not be surprised if the full-year CPI exceeds 4% in 2017," it said.
It also noted that the current price spike is largely attributable to supply-side factors rather than demand consideration. Hence, it believes Bank Negara Malaysia (BNM) will likely keep the overnight policy rate (OPR) at present level to be supportive of the current economic growth momentum.
Though AmInvestment Bank Research kept its inflation forecast for the year to average around 2.6%, it is expecting inflationary pressure to intensify in 2017 — with the bulk of it coming from a weaker ringgit, firmer commodity and crude oil prices and the removal of cooking oil subsidies.
Reiterating its ringgit to US dollar projection at 4.48 for the full-year average, it said in a report its interest rate outlook "remains at 3% for 2017, with a low 30% probability for a rate hike sometime [in the] fourth quarter of 2017."
CIMB IB Research, on the other hand, raised its inflation target to 2.8% for 2017, from 2.5%, after imputing stronger-than-anticipated energy inflation.
It also noted that headway for monetary policy easing has shrunk as implied real interest rates declined to 20 basis points (bps).
"The policy space to reduce interest rates, amid rising external risks, including uncertainty in the outlook of US trade and monetary policy, has narrowed.
"Factoring in these developments, we revise our call for one 25bps cut in the OPR in the May/July meeting, and expect BNM to hold the OPR at 3% for the rest of 2017," it said in a note to investors.
Nonetheless, despite potential headwinds, it believes core inflation levels will remain relatively stable.
"The core measure of inflation, which removes the most volatile items, that is fresh food and administered goods and services, rose 2.3% y-o-y in January [+2.1% y-o-y in December] ... The Price Control and Anti Profiteering Regulations 2016, which came into effect 1 Jan, 2017, is likely to keep core inflation in check," said CIMB IB Research.