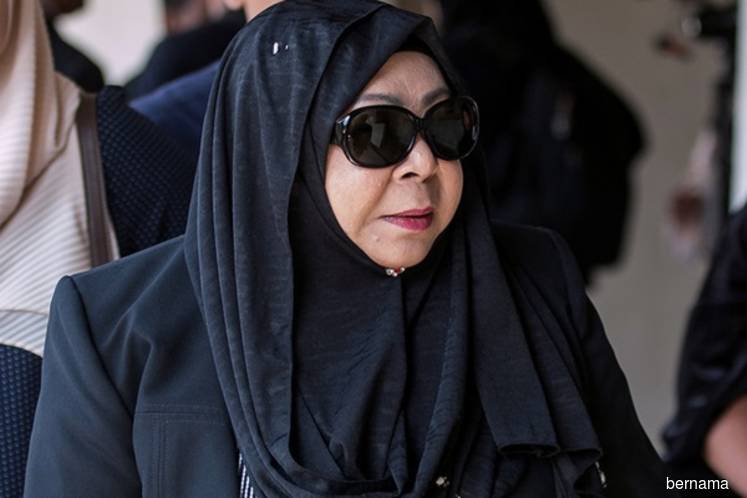 KUALA LUMPUR (April 11): Former Malaysian External Intelligence Organisation (MEIO) director-general Datuk Hasanah Abdul Hamid, who is awaiting trial on a criminal breach of trust (CBT) charge, wants the freeze on her bank account lifted. 
Hasnah, 62, filed an application at the High Court on March 28, seeking lifting of the freeze. She named the Malaysian Anti-Corruption Commission (MACC) and the government as respondents.  
The matter was called for case management today.  
The MACC had frozen Hasanah's account with Bank Muamalat last September. The former spy chief was later charged with CBT involving US$12.1 million (RM50.4 million) on Oct 25. 
In her application, Hasanah sought a declaration that Section 37(1) of the MACC Act violates her rights under Articles 5 and 13 of the Federal Constitution, and hence the section should be declared as null and void. 
She also sought a declaration that the "Freeze Order on Immovable Assets" issued by the MACC's public prosecutor pursuant to Section 37(1) of the MACC Act, is null and void. 
Section 37(1) allows the public prosecutor to direct a bank to freeze any account based on information given to him. 
Deputy Public Prosecutor Muhamad Iskandar Ahmad told reporters that the High Court ordered MACC to file in an affidavit-in-reply to Hasanah's application by April 29. 
He said the MACC received a copy of the application yesterday and needs more time to file the reply. 
The matter is now fixed for further case management on May 17, Muhamad Iskandar added.  
Senior lawyer Datuk Shaharudin Ali acted for Hasanah.  
Hasanah is charged with committing CBT by misappropriating the US$12.1 million between April 30 and May 9 last year. She was the director-general of the research division at the Prime Minister's Department at that time. 
The charge under Section 409 of the Penal Code provides for a jail term of up to 20 years, whipping and fine, upon conviction.
The CBT case will be mentioned again before Justice Collin Lawrence Sequerah on April 17.