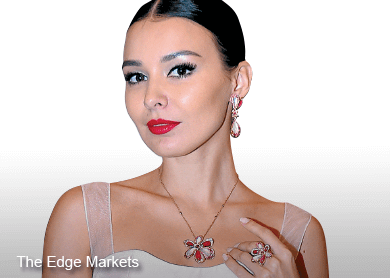 The appreciative glances from guests appraising each sparkling piece of fine jewellery modelled at Poh Kong Gallery's The European Affair was testament that the sumptuous spread of jewellery was a bedazzling one.
The jewellery retailer was showcasing the latest pieces from its curated Gallery Collection range — pieces from German pearl specialist Schoeffel and Italian brands Moraglione 1922 and Luca Carati, as well from their own Poh Kong Gallery 2015 selection.
There were collections inspired by royalty, nature and legendary dancers, brought to life with diamonds, rubies, blue sapphires and stunning South Sea pearls. Among the glittery pieces was Poh Kong Gallery's own showpiece jadeite necklace, which retails close to RM1 million.
But what stole the show was the Schoeffel Venus necklace. Premiered at this year's Baselworld, the collector's item features over 4,000 sapphires and more than 600 embedded diamonds in a rose gold coral setting, encasing 16 large white South Sea pearls, all carefully selected and matched. The Couture Collection piece retails at about half a million ringgit.
Here's a glimpse of what else the European jewellers have to offer this year:
Moraglione 1922
If there was a brand that represents the fanciful and classic European styles, it would be the Valenza-based jeweller. Started almost a century ago by craftsman Massimo Moraglione, it was the next generation, brothers Marco and Pierino, that saw the family business expand throughout Italy and beyond.
Its distinctively recognisable pieces are handcrafted, with gem stones uniquely cut to suit the design. Its two new floral collections, Letizia and Anastasia, were both launched in Baselworld 2015 to good response. "We went with the geometrical designs for the visuals … we understood that most people like florals, so it is safe," says spokesman Emiliana Caprioglio.
Letizia: Taking its name from the Queen of Spain, Letizia also means happiness and joyfulness in Italian. The concept centres on a small flower, which combines together to form a big cocktail ring, the collection's feature item. The collection comes in two colours — in pink quartz with mother of pearl or blue topaz with mother of pearl, and includes earrings, pendants, bracelets and rings.
Anastasia: The more premium Anastasia collection features pieces ideal for an elegant evening out, its design mimicking two huge flowers in either red and white or blue and green. "They are quite big and not so easy to wear daily, but have proved popular," says Caprioglio.
Schoeffel
Consisting of four main collections, the fourth-generation family-owned pearl business has long sought to evolve the perception of pearls, firstly with its skills in matching the gem's naturally formed myriad of hues, and secondly with its contemporary aesthetics.
"We play around with the colours of the pearl," says Schoeffel representative Joseph Lim, adding that this is what sets the pieces apart. "Our designs are very simple, but then they are youthful, because the colours interplay. I think it's very fresh, moving away from the conservative stereotype."
Moon Loop: The Classic Collection gets a refreshing and trendy update with the new Moon Loop range, which interprets the circular and loop geometry. Made for daily wear, the series of rings, pendants, earrings and bracelets feature one pearl — South Sea or Tahitian — as the focal point, with diamonds adorning the white gold loops.  
Fleur D'Amour: The signature showpiece comes in the form of the Fleur D' Amour flower ring, featuring a large freshwater pearl as the centrepiece enveloped by diamond-studded flower petals.
For its Collier Collection, also debuted at Baselworld 2015, an eye-catching freshwater strand is presented, both in uniformed colours or multicoloured from its new harvest.
Luca Carati
Also hailing from Valenza, Luca Carati's aesthetic is nevertheless converse to that of its counterpart, with a "purer" visual that specialises in diamonds and a design-focused contemporary yet timeless style.
Crochet: As the title of the collection indicates, white or rose gold is woven into a soft net design that feels at the same time both substantial and light. "Its unique feature is the diamonds both on the outside and also on the inside of the crochet," says the brand's representative Marleine Nehman. "So the sparkle also comes from the inside of the pendant." There are also matching earrings, rings and bracelet.
Bluebell: Inspired by the Parisian sexy chic of 1940s cabaret, the collection draws its name and designs from the renowned Bluebell girls dance troupe founded by the legendary Margaret Kelly, who was called Miss Bluebell due to the stunning colour of her eyes. Their elaborate costumes of jewels and feathers birthed an artistic rendition of fluttering shapes, the kaleidoscopic interplay of diamonds and blue and pink sapphires evoking the dazzling glitz of Le Lido in Paris.
Plie: An emblematic design signature to Luca Carati, the Plie (which means to fold or to bend in French) is the Italian jeweller's most innovative yet classic design. The modern, understated, oval-shaped pendant, which plays on strong, distinctive lines, can transform into a flower shape.
---
The pieces and collections from Schoeffel, Moraglione 1922 and Luca Carati are available through the Poh Kong Gallery range. Visit www.pohkong.com.my or call (03) 7958 8999 for more details.
This article first appeared in The Edge Financial Daily, on June 2, 2015.