This article first appeared in Digital Edge, The Edge Malaysia Weekly, on December 28, 2020 - January 10, 2021.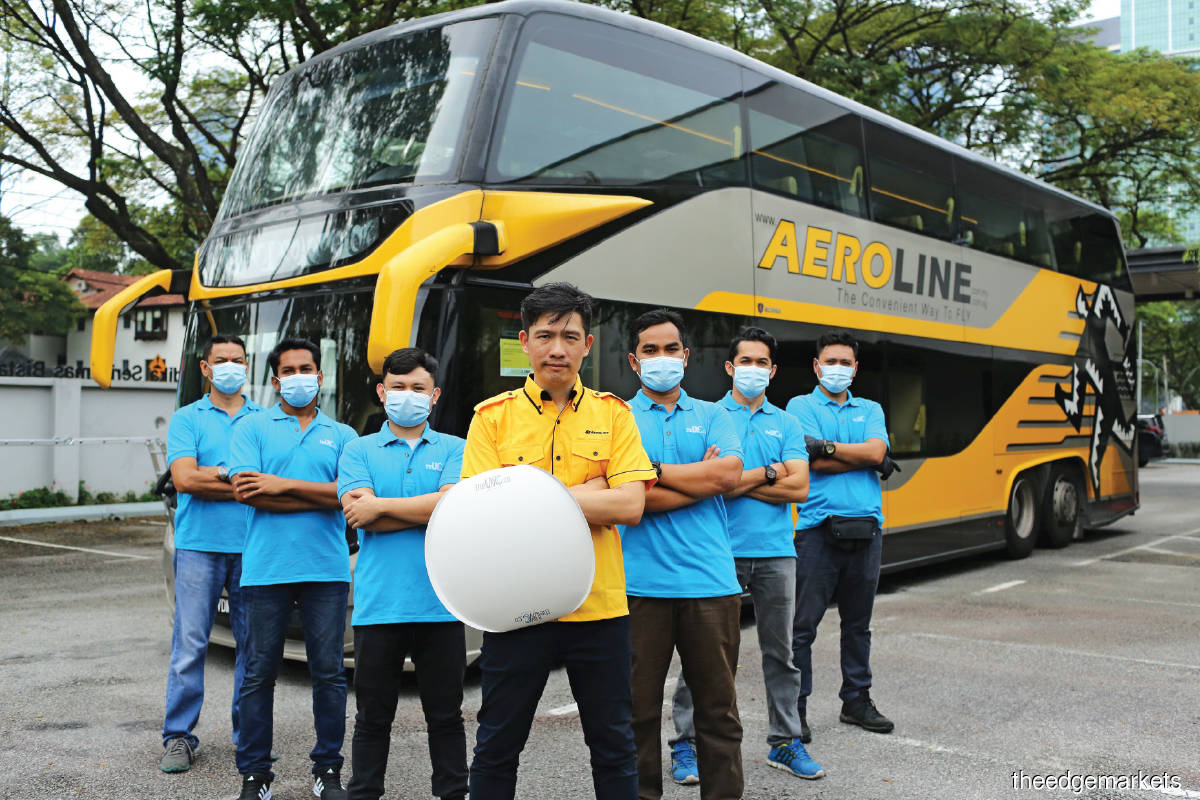 The express bus industry has been one of the most badly affected by the Covid-19 pandemic. No matter how well these companies were run, effectively grounding the buses since March has put paid to most of the companies running these services.
To survive, Airebus Sdn Bhd, which runs the luxury Aeroline buses that function like an airline complete with cabin crew, snacks and a lounge, decided to think out of the box.
"We were a bit naïve to think that every­thing could recover by December. We had a plan to keep all our staff with us, but in a way that would reduce our financial commitments. We did salary reductions, gave them a voluntary service separation and wage support, hoping that we could get them back in November for the December peak period," says CEO Law Cheok Gheen.
But by September, the writing was on the wall. When the Conditional Movement Control Order (CMCO) was announced, Law realised that he could not hold on to his staff any longer. "We reluctantly organised a Zoom call to let them know that things were not working out and we would really have to let them go."
He kept about 15% of his staff — both bus drivers and cabin crew — on standby, in case services were restarted. "Obviously now, with the CMCO, they are on very little pay."
The irony was that Airebus had just ­re­­­invested in a new fleet of about nine buses, which cost it a whopping RM9 million to RM10 million, and launched a mission statement: "Leave no one behind", which, as Law points out, is the literal translation of the Latin word "omnibus".
The company had to fork out for a new fleet because of Malaysian government regulations, which states that all bus companies have to renew their fleets every 10 years. Law has a problem with this regulation, given that bus companies in the US, Europe and even fussy Singapore are allowed to keep their fleets for 20 years, as long as they are properly maintained.
"The authorities don't want to know the details on how you can prolong the lifespan of a bus using best practices. They just give a blanket ruling and with a stroke of the pen, they determine that we can only run our buses for 10 years," he points out.
This was not the only major issue the company faced. It had differentiated itself from the usual crop of long-distance buses by collecting its passengers in certain shopping centres and hotels, rather than Puduraya and TBS (Terminal Bersepadu Selatan). Under its initial permit, which only specified that the passengers had to be picked up (and dropped off) in Kuala Lumpur, there was no problem.
In 2011, the government started revamping and renovating the bus stations and decided that all buses needed to be centralised at either Puduraya or TBS. "There was a change in the permit ruling, but by now, we had our loyal following. People loved us, and we weren't causing any traffic congestion but adding value to our pick-up points. The landlords loved the fact that we were bringing in international tourists to their hotels and malls.
"But the government just said no. According to its blueprint, it wanted us to be centralised. So we're still in a grey area."
Airebus started out with a mission to redefine the bus industry in Malaysia. The buses, especially those running from Puduraya, had a bad reputation. Lone women travellers or even anyone in the middle class were chary of using these buses for inter-state travel, preferring to fly instead.
The company, originally called Zuco Express Sdn Bhd and then Aeroline First Class Shuttle Sdn Bhd, wanted to do things differently. "We fitted our buses with less seats and nice entertainment systems. People saw the difference. Of course, we were fighting the whole industry's culture with buses that were badly run and the motto at the time of 'janji sampai', which means, 'I'll drop you where you want to go but I don't care what happens in between'."
Basically, when the company started, there was a limited pool of bus drivers who went by their own rules and held the operators to ransom. "Once they were on the road, they were the boss and not accountable to anyone. Most of them were paid cash, so when they couldn't fulfil their schedules, they would bring in their friends to replace them. The problem is that their friends were not in the company's employ."
The drivers frequently drove recklessly, beyond the speed limit and many were using drugs. It took 20 years to change their mindsets. During this time, it only took hiring one bad apple to infect all the other drivers. So they would have to be let go and the company would have to start again.
It was a struggle to implement even simple things like courtesy, leaving on time (this was an issue even with the passengers, who sometimes arrived late to find that they had missed the bus), driving within the speed limit and making only scheduled stops.
But, eventually, the company managed to imbue its staff with an airline culture of courtesy, punctuality and esprit de corps. "By 2019, there was traction and even the drivers were saying this was a great company to work for. New drivers who came in looked at our trainers with respect and admiration, regarding them as role models. We were finally getting there. Then the MCO happened and everything was obliterated."
At first, though, the company believed it could sit tight and ride it out. "We thought maybe we could hold on till June, which is one of our peak periods for the year, the other being December. But June came and went.
"Then, we thought December would be good, so we had a plan to keep our staff till then. But that was very naïve of us," he says.
However, even as the company was preparing to restart its services, it was trying to figure out how to operate an express service in the new normal. Obviously, an express bus service could not be run in the same way. People had concerns about recycled air in enclosed spaces.
"A friend in China recommended that we look at UVC (ultraviolet C light with wavelengths between 200 and 280 nanometres) lamps to clean the air inside the buses. UVC is very commonplace in China and when we researched it, we found that it was viable and inexpensive."
When the government decided to extend the MCO, Law decided to use the UVC lamps to create a new product for the indoor air environment.
"That's how we came up with the UVC.co (the brand name of its new product), which can be attached to split air-conditioning units. We registered a patent for it."
But aren't UVC lamps common? "Yes, but it depends on the way you deploy it. You have one central idea, but if you can improve the product or deploy it in a different way, you have a right to protect your idea," he says.
His idea of using UVC lamps to clean indoor air, for instance, was novel and, therefore, patentable. "UVC lamps are usually used in medical, industrial and commercial applications. But nobody has thought of using it to clean the air in cafés, retail outlets and offices, which use split air-conditioning systems."
According to Law, the company had a team of designers brainstorm and re-engineer the lamps to fit them for cleaning up the air of indoor environments. "Basically, we were trying to deploy what we had discovered on our buses in the living space of commercial areas. We designed and manufactured these new units and now they are being tested. Once the results are out, we will launch it."
Law says the company has also designed something for centralised air-conditioning systems, which require a different solution for heating, ventilation and air conditioning (HVAC). "Central air-conditioning units have cooling coils that are full of bacteria, a jelly-like substance that forms a colony, known as a biofilm. We've installed new UVC lamps in the air-conditioning system of a major shopping centre in Kuala Lumpur."
The company is retraining and reskilling its remaining bus drivers and cabin crew to sell and install the UVC lamps, as well as provide after-sales service. It has invested some RM150,000 in this new product line and Law is optimistic about its prospects. "It's going to be huge. These kinds of split air-conditioning units are ubiquitous; we're talking millions of units."
The lamps will retail for RM599 per unit and the company is also offering testing services. "It's a holistic package. We install and do air testing. I think by the end of the year, we will be ready to run with it, and if the business takes off, we can rehire our old staff. We also plan to wrap our buses with advertisements to ask: 'Is your indoor air safe?' Our buses will become our mobile billboards."