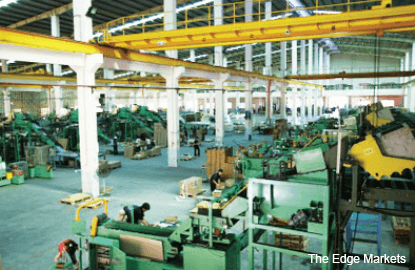 This article first appeared in The Edge Malaysia Weekly, on January 25 - 31, 2016.
LAST year, the weakened ringgit had investors chasing the shares of export-oriented companies, whose earnings received an instant boost from foreign exchange (forex) gains.
However, a few were left out of the chase at the time, including fastener maker Chin Well Holdings Bhd. It has only been in the last three months that the company's shares have garnered interest, propelling them to a record high of RM2.31 on Jan 6.  However, the stock succumbed to heavy profit-taking and closed at RM1.84 last Thursday. Still, it has gained 31% since last November.
"Chin Well could be of interest to investors now because of its exposure in other countries. It has benefited from the weakening of the ringgit against the US dollar. It is similar to the currency-themed stocks but those have rallied a lot," says a fund manager who tracks Chin Well.
The year 2015 was the year for exporters, such as furniture and rubber glove manufacturers as well as food producers. Many of them saw their shares double in value while their net profit leapt from quarter to quarter after their export earnings were converted into the local currency. In this scenario, a counter that jumped 50% would be considered a laggard.
Year on year, Chin Well's shares have increased only 37.6%. Does this mean they will rise further?
It is worth noting that about 70% of Chin Well's revenue is derived from its overseas markets with its largest contributor being Europe, where the company has gained a foothold and which alone generates half of its total revenue.
Last March, the EU extended anti-dumping tariffs on China-made fasteners for five years, until March 27, 2020. The anti-dumping regulation imposes a duty of as much as 74.1% on steel fasteners imported from China as well as Malaysia. Fortunately for Chin Well, it was one of nine manufacturers that were exempted from the duty.
Chin Well's net profit for its first quarter ended Sept 30, 2015, amounted to RM18.18 million, double what it made in the previous corresponding period. This came on the back of a y-o-y increase of 10.3% in revenue to RM140.63 million.
Though Europe remained the largest overseas contributor, sales recorded there were 0.2% lower. In contrast, sales in the local market doubled to RM43.67 million y-o-y.
Besides the stronger local demand, Chin Well also cited forex gains as a reason for its higher net profit in 1QFY2016.
Still, for all export-oriented companies, a chief concern would be whether their stellar performance will continue, considering the high base effect that will set in this year. "These companies have a higher base and higher expectations to work on this year. This year will be a test for them, which will determine if their net profit hinges on forex gains or better sales," says a fund manager.
As for Chin Well, the company has been working on expanding its customer base in the do-it-yourself (DIY) fastener segment because of the wider margins it commands. In a previous interview with The Edge, Chin Well's executive director Tsai Chi Yun had said that this segment provided pre-tax profit margins of between 20% and 25%.
In its 2015 annual report, Chin Well says it is in talks with various DIY retailers to expand its distribution network, particularly in Europe.
Besides fasteners, Chin Well also makes wire products, although these accounted for only 16.5% of total revenue in 1QFY2016. Also, margins in the latter segment are thin. Based on the company's 2015 full-year results, the net profit margin of the segment was barely 3.6%.
"We are also looking to expand our wire product clientele for downstream products of high-security fencing and gabion. We have already secured orders from Malaysia, India, the Middle East and Canada and are targeting steady orders from the Middle East and Canada," says the company in the annual report.
According to a fund manager, the Trans-Pacific Partnership agreement would open more doors to Chin Well, enabling it to trade freely with countries in the pact. "This could be a potentially attractive point for investors."
As at Sept 30, 2015, the company's balance sheet showed net cash of RM30.37 million and it had a net asset value per share of RM1.62. In FY2015, it paid a dividend of 5.84 sen per share, which translates into a dividend yield of 3.9% based on its average share price of RM1.49 last year.