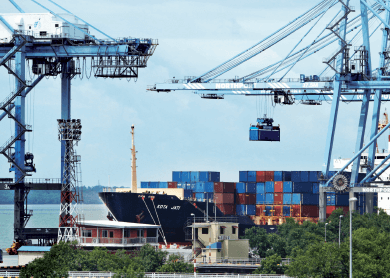 THE country's export data for March rebounded, registering a 2.3% year-on-year growth and surprising most economists who had earlier expected it to continue contracting as it had in January and February, albeit at a slow rate.
At the same time, the trade surplus expanded 71.7% to RM7.8 billion compared with a month ago.
According to the Department of Statistics (DOS), the March figures were boosted by a recovery in exports of manufactured goods, driven by a surge in electrical and electronic (E&E) product exports. An increase in non-E&E exports also aided the rebound.
The rise in E&E exports was in line with the higher global demand for semiconductors, which rose 6% y-o-y to US$83.1 billion (RM299 billion) in 1Q2015. Global semiconductor sales for March alone was also 6% higher than a year ago at US$27.7 billion, Semiconductor Industry Association's data shows.
Economists say the economic recovery in the US, coupled with a weaker ringgit, has helped boost Malaysian exports. Since last September, the ringgit has depreciated 14% against the greenback.
That said, will exports continue to grow for the rest of the year?
The prevalent weakness in commodity prices would mean that the only saving grace for the country's exports would be manufactured goods — E&E products, which account for 36% of total exports, and non-E&E goods, 48%.
"The prospects of manufactured exports look bright. There has been a number of foreign direct investments over the last few years, and perhaps we are starting to reap the benefits. There is also the factor of the developed markets, which appear to be recovering ... keeping in mind that manufactured exports are largely dependent on the economic recovery of developed markets," says an economist with a foreign bank.
Affin Hwang Investment economist Alan Tan says the leading global economic indicators seem to point towards a healthy growth momentum, which will mean that there could be continued robust demand for Malaysian goods.
"In April, we will probably see sustained E&E exports. There is still healthy global demand for semiconductors, and the economic growth in US looks healthy," he adds.
DOS' March data reveals that the country's exports to the US continued its momentum with a 17.8% increase compared with a year ago. In February, exports to the US grew 8.2%.
Meanwhile, the European economy is also showing signs of a recovery, expanding 4.5% in March y-o-y, compared with a 3.2% y-o-y contraction in February.
More interestingly, Malaysia's shipments to China grew 6.6% y-o-y in March, compared with a contraction of 21.3% in February. However, this was partly due to the effect of the long Lunar New Year holiday break that month.
CIMB Research regional economist Jarratt Ma opines that Malaysia's exports should grow for the rest of the year but at a "weak rate". He expects full-year export growth to be 4.1%, compared with 6.4% in 2014.
"You have to expect some ups and downs for the rest of the year because conditions are volatile. The key risks are the currency — whether the ringgit will continue to depreciate or see a rebound — and the uncertain commodity prices," says Ma.
Exports of major commodities fell 13.7% in March compared with a year ago. This was a milder decline than in February, which saw a contraction of 21.4% y-o-y.
"The smaller drop was reflected in a slower decline in the exports of liquefied natural gas and palm oil of 0.6% and 20% y-o-y respectively in March, compared with a contraction of 13.8% and 33% in February," RHB Research says in a report.
However, shipments of crude oil registered a larger decline of 31.3% y-o-y in March compared with 22.5% in February.
Commodity prices seem to have stabilised for now, but economists are still concerned about price volatility given the patchy global economic recovery. Crude oil prices have regained some ground from the low levels they dropped to late last year.
"Commodity prices are anybody's guess. They look stable now because they have increased a bit over the past month," says the economist with a foreign bank.
One thing that most economists agree is that export growth should continue to be sustainable this year but will be at a slower pace than last year.
This article first appeared in The Edge Malaysia Weekly, on May 11 - 17, 2015.