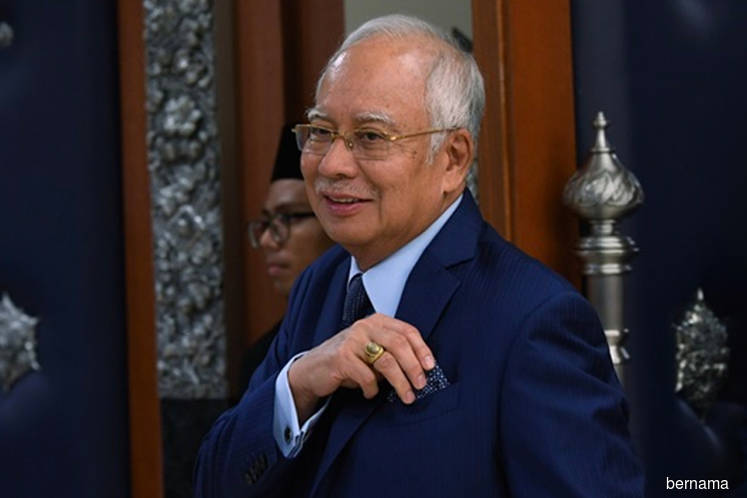 KUALA LUMPUR (Feb 11): Former Prime Minister Datuk Seri Najib Razak's trial linked to SRC International Sdn Bhd has been postponed.
According to report from Sin Chew Daily, the Court of Appeal allowed Najib's application for a stay of his trial that was due to start tomorrow at the Kuala Lumpur High Court.
The decision came after Court of Appeal's three-member panel, comprising Datuk Ahmadi Asnawi, Datuk Mohamad Zabidin Mohd Diah and Datuk Yew Jen Kie, called for a 30-minute stand down, subsequent to hearing arguments presented by the prosecution and the defence.
The seven charges — three counts of money-laundering, three counts of criminal breach of trust and one count of power abuse — relate to over RM42 million of funds belonging to SRC International, a unit of 1 Malaysia Development Bhd (1MDB).
Bernama reported that the stay was allowed following  a unanimous decision by three judges to allow Najib's application to temporarily postpone the trial pending the disposal of his appeal over the public prosecutor's withdrawal of the certificate of transfer on his seven charges.
Justice Datuk Ahmadi Asnawi who chaired the bench said the court noted that the public prosecutor's contention that the charges preferred against Najib were serious in nature and were allegedly committed by him in his capacity as the former Prime Minister of Malaysia.
He said the court also acknowledged the public prosecutor arguments that the case had attracted international and public interest and hence commencement of the trial should be on schedule, Bernama reported.
"We are satisfied that the applicant (Najib) had shown special circumstances for a stay to be granted," he said.
Justice Ahmadi said if the stay order was not granted and the trial proceeded, it would render the proceedings a nullity which would be a waste of time and a waste of public money.
"We are further of the view, we do not find evidence of delaying tactics as claimed by the public prosecutor," he said.