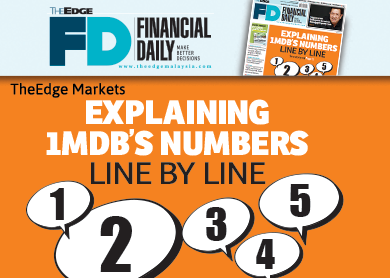 KUALA LUMPUR: The figures on how 1Malaysia Development Bhd (1MDB) had spent the RM42 billion that it borrowed till March 31, 2014, given by chief executive officer (CEO) Arul Kanda Kandasamy on Wednesday were just a pure accounting breakdown of expenses.
They do not by themselves explain why 1MDB is in the financial distress that it is in today — being on the verge of collapsing under the heavy debt burden, meaning its income cannot meet its expenses.
It had a net cash flow deficit of RM2.6 billion in financial year 2014 (FY14), and continues to have to borrow to service old debts.
The reasons why 1MDB is in financial distress are:
i) It overpaid for the power assets by RM3.29 billion which is the amount treated as goodwill by its auditors a year after purchase
ii) It overpaid by around RM500 million for the Penang land going by past transactions before its purchase in May, 2013
iii) It overpaid Goldman Sachs in fees for the three US dollar bond issues totalling US$6.5 billion, and it overpaid the interest rate for the bonds and other loans resulting in RM4.5 billion in financing cost or 10% of its debts
iv) It entered into questionable illiquid investments (Brazen Sky Ltd and 1MDB GIL [1MDB Global Investment Ltd]) totalling RM11.2 billion whose real value are in doubt
v) It entered into a lop-sided agreement that required it to hand over RM4.2 billion to the Abu Dhabi-based Aabar Investments for co-guaranteeing a bond
Why all the above happened must be investigated by Bank Negara Malaysia, the police and the Malaysian Anti-Corruption Commission. Was it incompetence or fraud, or both?
Arul's breakdown also showed how the sovereign wealth fund benefited from the injection of valuable land at a cheap price by the government for the development of Bandar Malaysia and the Tun Razak Exchange in 2012.
The parcels of land were sold to 1MDB for RM600 million.
In FY13, the land was revalued at RM2.735 billion — giving 1MDB a handsome paper profit of RM2.135 billion. In FY 2014, it again revalued the land upward by another RM896 million.
The land today is worth much more, and this is proof that the government had already saved 1MDB from its financial mess with the injection of valuable land at a cheap price.
But the months ahead will show that this is not enough, and a far bigger bailout of 1MDB is needed to prevent it from going under.
This article first appeared in The Edge Financial Daily, on June 5, 2015.