This article first appeared in The Edge Financial Daily, on September 5, 2018.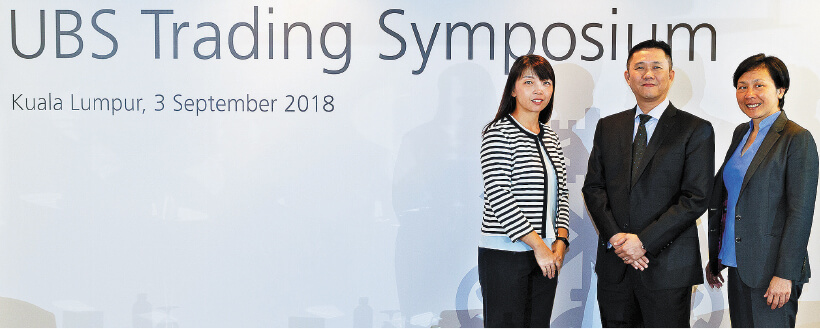 From left: Lee, Kam and Yeoh Choo Guan, managing director, head of Asean Equities and CEO of UBS Securities. Both Lee and Kam are responsible in overseeing UBS' operations in Malaysia.
KUALA LUMPUR: UBS successfully held its second flagship trading symposium here on Monday, where experts shared their insights on the latest global and regional trends on market structure and the liquidity landscape.
The symposium was held as part of UBS' two-pronged approach to advise domestic institutional investors and regulators on recent developments across the globe and future domestic developments.
In a statement, the Swiss-based multinational investment banking and securities firm said the symposium brought together over 50 top institutional investors, regulators, managers and corporates in Malaysia.
"The robust exchange of ideas we have seen today is a testament [to] the keen interest taken by Malaysian asset managers in our capabilities to provide them with offshore investment opportunities," said UBS head of equities Malaysia, Vincent Kam.
"The symposium served as the perfect opportunity for us to ensure that those involved were well informed of the upcoming changes in global regulatory environment, technology, market trends and investment opportunities in growing Asean economies," UBS head of equity sales Malaysia, May Lee, added.
The topics covered included global trading trends, Markets in Financial Instruments Directive II (MIFID II), block liquidity, the evolution of e-commerce, and potential growth trends in China and Vietnam.
From the UBS side, the panel of speakers included: UBS Global Head of Market Structure and Liquidity Strategy, Vlad Khandros; UBS head of APAC equities sales trading, Dan Murphy; UBS head of direct execution services APAC, David Rabinowitz; and UBS head of European market structure & regulation, Peter Whitaker.
There were also several guest speakers.
Among them were: Bursa Malaysia's director of securities market, Mahdzir Othman; CIMB Principal Asset Management Malaysia chief investment officer, Patrick Chang; Lazada Malaysia chief executive officer, Christopher Lejuene; and MSCI Inc's head of client coverage, Alvin Lee.