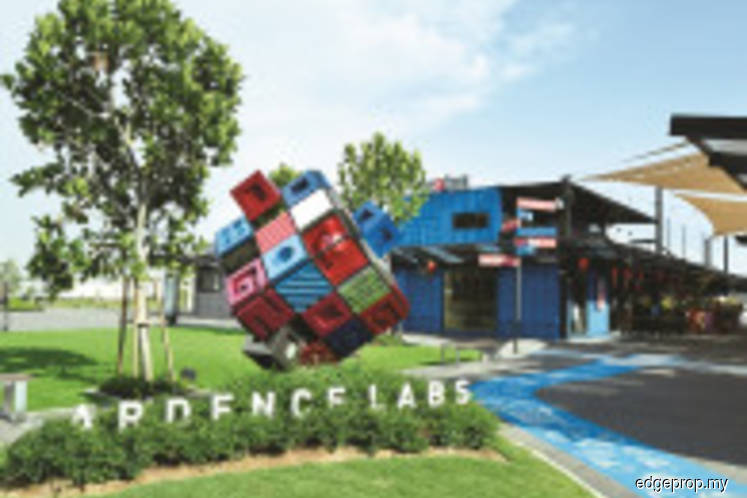 MOST developers use various media channels, brochures, show units and salespersons to help buyers imagine what their potential homes will look like.
Taking the whole thing up a notch, Eco World Development Group Bhd (EcoWorld) have been promoting a new tool, that allows customers to experience what it feels like to live in their developments. To this developer, lifestyle is not just about facilities and building aesthetics, it is also about ambience and place-making.
Lifestyle labs are the brainchild of EcoWorld executive director and Eco Ardence divisional general manager Liew Tian Xiong.
Many of the labs are housed in shipping containers. Liew explains: "It is durable and easy to move around. We drove all the way to Port Klang to choose suitable recycled containers, brought them back and refurbished them to become our labs. They are flexible and reusable."
He explained that the idea is to showcase brand personality and the envisioned future lifestyle of their townships in a cost- and time-efficient way.
"We can experiment with incorporating different elements in the township, to see whether it is viable, as well as to let people experience it before they purchase a unit or move in," he tells EdgeProp.my, and emphasises that nothing beats experience.
The developer also intends to provide a space for start-ups or existing operators to do try-outs before they decide to venture into a new market, or start their own business.
Not of the common mall fare
The first full-scale operating lifestyle lab — Ardence Labs — is located right opposite the Eco Ardence sales gallery in Setia Alam, Selangor.
It has 28 lots ranging from 290 sq ft to 2,000 sq ft. Within Ardence Labs, there's an 8-acre lake with jogging paths, an edible green house and a children's playground.
Visitors can find unique F&B offerings, as well as retail brands which are not commonly available in most shopping malls. Among them are Laughing Monkey Café, U-MAI Noodles Shop, Balloon Lab, Aroi Mak Mak Thai Restaurant, Bamboo Biryani, i1 Fitness, Cocomomo Urban Pets Hotel and Mich'sology.
"The tenants we are looking for are those which are just beginning to grow. Most of the F&B operators are new to the industry or are single outfits that are locally popular.
"We hope they could have a presence at EcoWorld townships and grow together with us," he says.
According to Liew, the lifestyle labs concept has been well-received by retail and F&B operators. For instance, Ardence Labs is currently 86% tenanted. The tenants were attracted by EcoWorld's idea of creating a unique place offering unique experiences to the public.
Ardence Labs attracts large crowds during weekends. It is estimated that more than 100,000 people visit Ardence Labs monthly since operations began in February.
This was followed by Spring Labs at Eco Spring in Johor and Grandeur Labs at Eco Grandeur in Puncak Alam, Selangor. Every Lab is designed in line with the theme of the respective townships.
For instance, the 22-acre Ardence Labs which fronts a lake, sports a contemporary theme that fits into Eco Ardence's concept. It aims to be an art and cultural commerce centre.
Grandeur Labs, which sits on a 14-acre site, was designed with a retro modern concept, which corresponds to the township's Victorian theme.
Grandeur Labs has seen 60% of the 15 retail spaces on offer rented out. The retail lots have built-ups of around 970 sq ft each.
Spring Labs which began operations last December, is designed with the season of spring in mind. The bright and colourful facade of the 12 retail lots have a vibrancy that complements the flower gardens in Eco Spring.
Moving forward, the company is looking at rolling out new lifestyle labs in Eco Forest, Semenyih, in November this year.
Tentatively, Forest Labs will have a "cabin in the woods" concept. It will offer seven units in two sizes — 387 sq ft and 774 sq ft.
"Through the lifestyle labs, we intend to stay connected with our customers, understand their needs and build new relationship with future residents, not just those in the township, but also residents in the neighbouring communities as well," Liew concludes.
This story first appeared in the EdgeProp.my pullout on Aug 3, 2018. Download EdgeProp.my pullout here for free.