This article first appeared in The Edge Financial Daily, on August 15, 2018.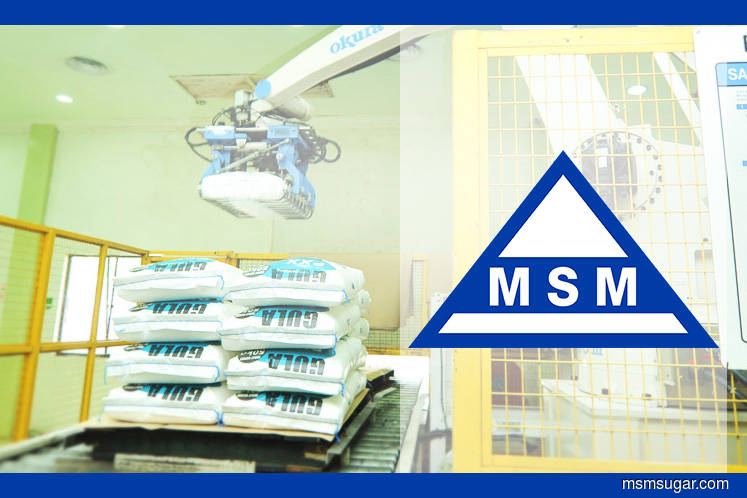 MSM Malaysia Holdings Bhd
(Aug 14, RM3.78)
Maintain reduce with an unchanged target price of RM2.77: The Sun daily reported that the government is expected to lower the ceiling price for sugar by 10 sen per kilogramme (kg), just over one year after it increased the ceiling price by 11sen per kg, following the government's promises to review both prices and approved permits for the industry.
The move will bring the retail ceiling price for coarse grain sugar to RM2.85 per kg and RM2.95 per kg for fine granulated sugar. An announcement on the reduction is expected over the next few days, according to a source.
We are not surprised by this development, given that international raw sugar prices have fallen significantly from the time the government last revised the ceiling price for sugar by 11 sen per kg, which was on March 1, 2017. We have also highlighted the possible risk of a lower ceiling price in our research report on MSM dated May 24, 2018.
To recap, the international raw sugar prices have fallen 47% from 19.5 US cents (79.9 sen) per pound on March 1, 2017 to only 10.4 US cents per pound on Aug 10, 2018. Over the same period, the ringgit against the US dollar appreciated by 9% to RM4.086/US$1 from RM4.44/US$1. Based on our calculation, this suggests that the costs of raw materials have declined by roughly 51% or 96 sen per kg since the last review.
In MSM's latest annual report, the group revealed that around 88% of its production cost is derived from raw sugar.
MSM's sugar sales volumes are sold to three market segments: wholesale, industries and export. The wholesale segment makes up 48% (or 474,580 tonnes) of total sales in financial year ended Dec 31, 2017 (FY17), while industries comprise around 38% (or 383,820 tonnes) of total sales, with exports (or 139,540 tonnes) accounting for the remaining (or 14% of total sales volumes).
The ceiling price for sugar only applies to the wholesale market, while we understand the selling price to industries are based on a pricing formula that is adjusted on a monthly basis.
We estimate that every 10 sen per kg reduction in ceiling price for refined sugar would lower MSM's revenue by RM47.45 million per annum (or 2% of FY18 total revenue), based on its FY17 wholesale sales volume of 474,585 tonnes.
However, we think a 10 sen per kg reduction in refined sugar prices is not likely to have a significant impact on MSM's profitability in view of the larger fall in raw material costs of 96 sen per kg for the same period, although there is a risk that the reduction may be larger than 10 sen per kg.
We have a "reduce" rating due to concerns over earnings risks stemming from possible reduction in ceiling prices of raw sugar, losses from its new sugar refinery and rising interest expenses due to its higher net. — CGSCIMB Research, Aug 13