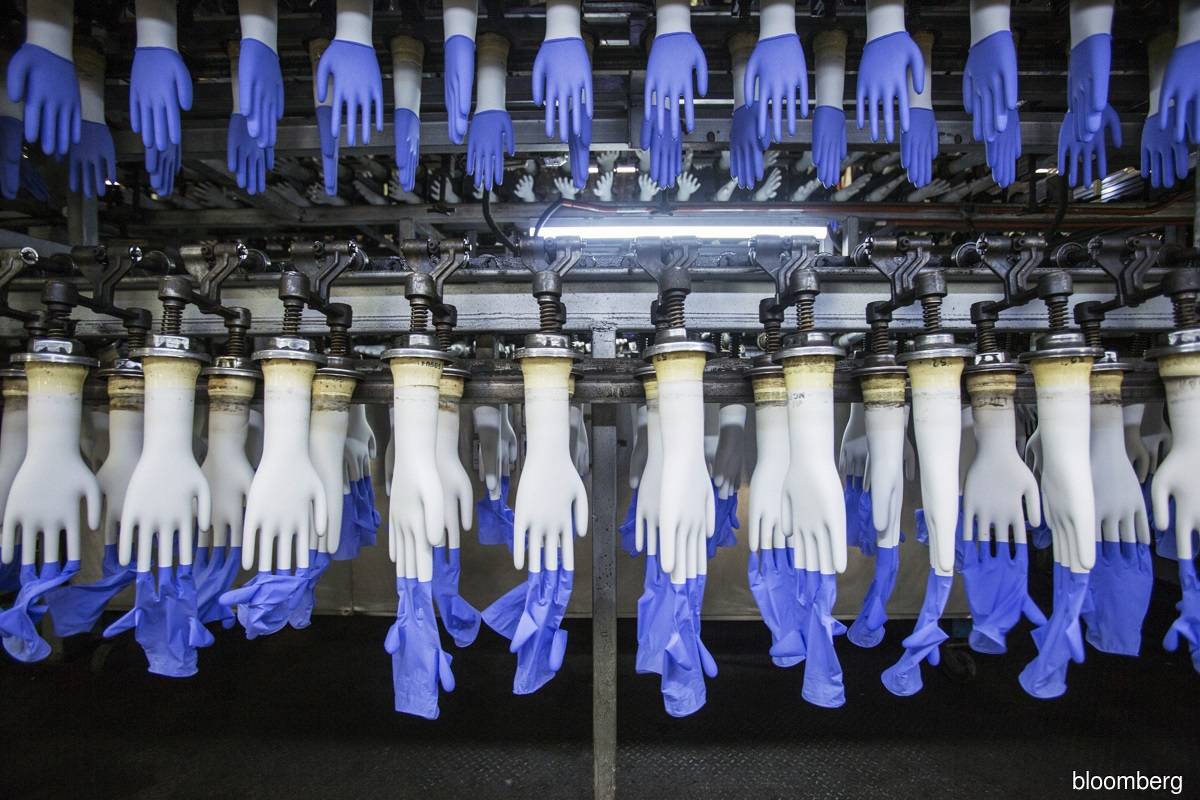 KUALA LUMPUR (Aug 11): In a year's time, the world will have a lot more disposable rubber gloves available than before as glove makers are ramping up capacity to cater to the existing soaring demand.
On top of that, there are new entrants to the rubber glove industry.
In Malaysia, all the seven public-listed companies are expanding their capacity.
Hartalega Holdings Bhd yesterday announced that it was buying land in Labu, Sepang for RM158.3 million to build additional glove manufacturing facilities (NGC 1.5), which will see its annual installed capacity increase by 19 billion pieces. The proposed acquisition will be funded by internal funds and/or existing credit facilities, according to the company's announcement.
Meanwhile, HLT Global Bhd, which specialises in producing glove dipping lines for the manufacturers, unveiled a proposal to raise up to RM324.68 million via a private share placement to fund the land purchase to build a six- to 10-acre rubber glove plant. The company's plan is to have installation of between 10 and 14 new double-former glove dipping lines.
Through the construction and commissioning of the first-phase glove plant, HLT expects to boost its rubber gloves' production from the existing one billion pieces per year to between 4.1 billion and 5.3 billion pieces per year.
They were not the only ones that made such announcements yesterday.
AT Systematization Bhd is probably the new kid on the block in the rubber glove industry. The industrial automation system and precision engineering solution player announced that it was spending RM36.15 million to instal six glove dipping lines, the first of which would be installed by November. In total, it will instal six lines to have a capacity of 928 million pieces a year.
Prior to the latest announcements, five listed glove manufacturers had already unveiled their respective capacity expansion plans over the past four months.
For example, Kossan Rubber Industries Bhd bought 4.09ha of land in Kapar, Selangor for RM40 million in July while Supermax Corp Bhd acquired 2.02ha of land for RM21.78 million, both of which are ramping up their annual capacities.
Even the smaller players are aiming to go big.
Careplus Group Bhd bought 14,770 sq m of land in Senawang, Industrial Estate in Seremban for RM5.6 million and purchased a 90% stake in property developer Centro Heights Sdn Bhd for RM3.42 million in order to convert the latter's hotel and shoplots into additional housing for workers.
Comfort Gloves Bhd also bought two pieces of agricultural land in Perak for RM1.9 million in March for expansion purposes.
Top Glove Corp Bhd so far has not announced any land purchases. However, it is already on an expansion trail adding more production lines.
As new orders flood in, it does make sense for the glove makers to expand. However, it also raises concern that a rubber glove glut could exist sooner or later when the demand normalises in the future.
Nonetheless, Areca Capital Sdn Bhd chief executive officer Danny Wong pointed out that existing players would not have embarked on the expansion path if they had not done the necessary calculations to derive what future demand would look like.
"For the next one to two years, demand will be there owing to new norms surrounding the Covid-19 pandemic," Wong commented.
He believes that the glove manufacturers would have done their homework to justify the expansions. Furthermore, in his view, there is a shift in the demand curve for rubber gloves, projecting the consumption to be higher than before even when the demand normalises.
By the same token, the fresh capacities that are expected to come on stream will also shift the supply curve sooner or later.
As the saying goes, time will tell whether demand will continue to outstrip supply, or the opposite.