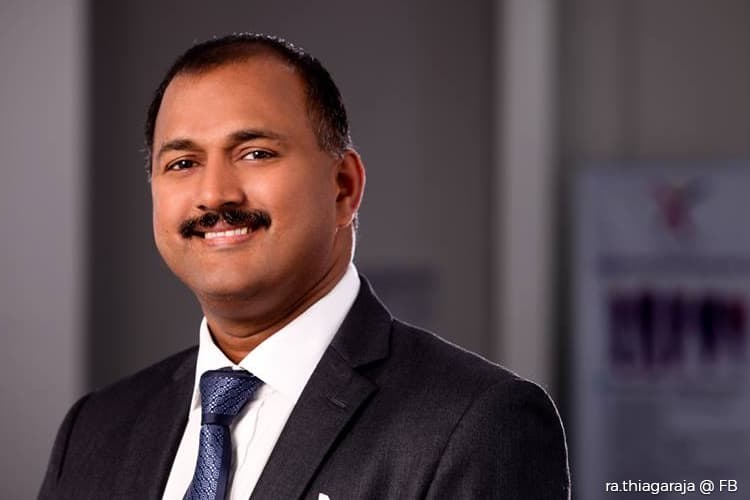 KUALA LUMPUR (June 13): A former board member of the Human Resources Development Fund (HRDF) RA Thiagaraja says he welcomes any investigation against him, including by the Malaysian Anti-Corruption Commission (MACC).
Describing the recent attacks on him as "slanderous, unfounded and completely baseless", Thiagaraja said in a statement today that he would pursue legal action on the matter.
He was responding to the allegations made on his position as the board member of HRDF during a townhall session organised by the agency in the presence of the Human Resources Minister M. Kulasegaran on June 7 and allegations made by "a certain individual" during a press conference yesterday.
Thiagaraja was elected president of the Federation of Malaysian Training Providers and Technical and Vocational Training Associations (FMTA) in 2015, a position he still retains. In May 2017, he was appointed as a board member of HRDF by then Human Resources Minister Datuk Seri Richard Riot to represent the federation, its members and the industry players.
"FMTA's task is to provide input to HRDF as representatives of the industry. For the record, no funding or allocation from HRDF was received to date by FMTA or channelled to FMTA.
Noting that the HRDF board also comprised other training providers from various associations, Thiagaraja said he viewed the action of making allegations against him alone as a personal attack on him.
Thiagaraja said he will fully cooperate with all relevant authorities in the investigation.
He said he submitted his resignation as a board member of HRDF on June 8, to ensure that HRDF is not dragged into the controversy.
Thiagaraja said he wants to take appropriate legal actions against the individuals behind the attacks, which he called "a concerted attempt to smear my name and undermine my reputation".
The Edge Financial Daily reported today that Datuk Seri Ganes, who is the chief executive officer of skills training centre SG Education Group, had submitted evidence of an alleged misappropriation of about RM300 million belonging to HRDF, to the MACC yesterday.
Ganes brought up the matter of a training provider who also sits on the board of HRDF, but did not name the provider. He said this created a conflict of interest as the board member is in a position to channel HRDF contracts to his own company.
Thiagaraja turned up at the press conference held by Ganes and said he was the HRDF board member that Ganes was referring to.