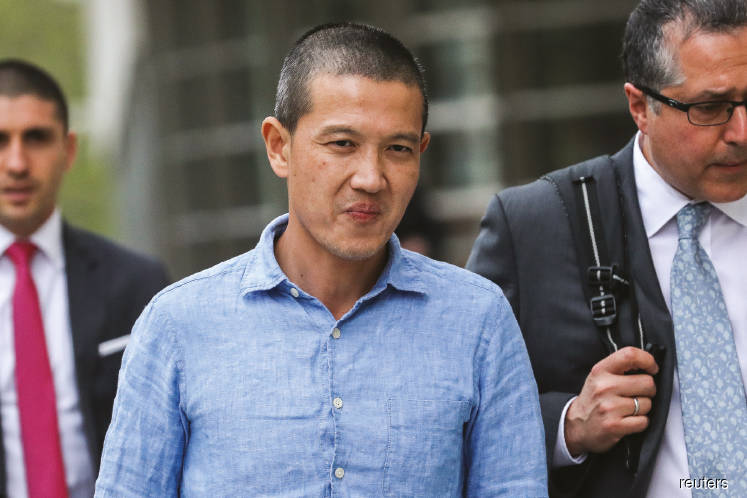 KUALA LUMPUR (June 29): The High Court here had today set Sept 4, 2020 for former Goldman Sachs Group Inc banker Roger Ng Chong Hwa's 1Malaysia Development Bhd (1MDB)-linked case mention to be updated as local authorities seek his return to Malaysia to face charges.
High Court Judge Justice Mohamed Zaini Mazlan set the date at the court today. Ng is still in the US to face 1MDB-linked charges there.
In Malaysia today, deputy public prosecutor Zaki Asyraf Zubir and Ng's lawyer Datuk Tan Hock Chuan were present at the court to inform Justice Mohamed Zaini on the progress of bringing Ng back to Malaysia.
At the last case management on May 19, Zaki said Ng was still in the US and that the US Department of Justice (DOJ) had requested an extension of Ng's extradition.
Ng is currently under temporary surrender to the US government after the DOJ requested for his extradition to charge him over 1MDB-related offences there.
In the US, Ng faces criminal charges for conspirary under the Foreign Corrupt Practices Act. Ng, whose case is being heard at the US District Court in the Eastern District of New York, has been accused of violating the Foreign Corrupt Practices Act's anti-bribery and internal accounting control provisions.
Ng also faces conspiracy charges involving money laundering.
In Malaysia, Ng pleaded not guilty on Dec 19, 2018 at the Sessions Court here to four charges of abetting Goldman Sachs over the sale of 1MDB bonds totalling US$6.5 billion (about RM27.87 billion) by omitting material information and publishing untrue statements.
Today, Tan informed Justice Mohamed Zaini that Ng's case was set for case management in July before a court in New York.
Tan said the US court will fix a trial date to hear the case there.
According to Tan, Malaysia's Attorney-General's Chambers (AGC) will be better suited to know about Ng's status and the process of his return to Malaysia as the AGC is the official channel in touch with the DOJ.
Both the prosecution and defence in the case agreed to set the start of the trial in Malaysia on Nov 9 to 13, 2020.
It will then continue in 2021 on Feb 15 to 26, March 8 to 18 and April 5 to 15.
After today's court proceedings, Zaki, however, told reporters that Ng's lawyers would have been better suited to know about his position in the US as they have close contact with him.
Read also:
Ex-Goldman Sachs banker Roger Ng's case faces setback as he has yet to return to Malaysia
Goldman Sachs in talks with DOJ to admit guilt, pay US$2 bil fine to settle 1MDB probe