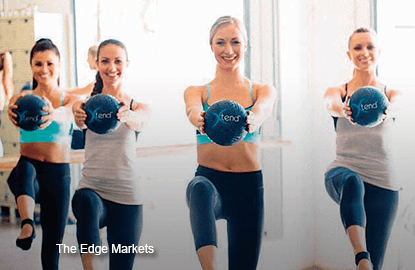 DANCE amplified — that is Xtend Barre's motto. The latest, hippest workout from the United States has finally hit our shores: a unique dance-inspired workout that combines elements of dance, ballet and Pilates to tone, strengthen and burn as much calories as possible in a single session. The class features an elegant and energetic combination of movements that enhance flexibility, improve balance and challenge the core.
Xtend Barre was created in 2007 by Florida-based Andrea Rogers, a former professional dancer and Pilates instructor. After feeling unchallenged and craving the creative element of dance, Rogers decided to invent her own combination of Pilates, dance and barre. Her classes were quickly filled up, and waiting lists started to become longer and longer, proving that her idea had struck a chord with the masses. She then embarked on a year-long journey creating choreography and base steps for Xtend Barre, and soon it seemed like everyone was jumping on the new workout's bandwagon.
At present, Xtend Barre is taught around the world — from New York and California to Australia, Brazil, London and even Malaysia. With 52 franchised locations and 131 licensed studios on five continents, the addictive nature of Xtend Barre has created a cult following and helped spawn a host of other sub-types, such as Xtend Yoga Flow (a combination of Xtend Barre and traditional yoga) and Xtend Barre Babies on Board, a postnatal barre class designed to give new mothers a dynamic workout.
Here in Malaysia, Urban Spring has become the very first establishment to offer Xtend Barre classes — starting with the classic Xtend Barre 55-minute session. Classes are conducted by qualified instructors, and are limited to 14 participants per class to ensure a personable and focused experience. Every class is geared to challenge bodies of any age, gender or fitness background, and exercises can be modified to cater to beginners or those recovering from injuries. Advanced participants, on the other hand, can request for an amplified class that is more challenging.
"It is truly exciting to be the first in Malaysia to offer this great new exercise programme. The results are amazing and I think fitness lovers are going to love the energy of the classes," said Low Wai Fun, general manager of Urban Spring. "Pilates is a great workout for creating a strong and toned body. But if you want more, Xtend Barre goes one step further. And for those who have enjoyed Pilates for a while and want that progression, Xtend Barre is the workout that you should definitely get into," she explained.
Among some of the benefits that Xtend Barre offers participants are: sculpting and strengthening of muscles without bulking up, boosting core strength, improving posture and increasing endurance. Pilates and dance practitioners in particular will find Xtend Barre an enjoyable addition to their regular workout routine.
A single class of Xtend Barre is purportedly able to burn 700 calories — a huge deal seeing as it is a massive amount to burn in a single hour. By contrast, an exhausting game of tennis will burn only 600 calories, while running for seven miles (11.27km) will only burn 100. Furthermore, the difference between Xtend Barre and working out at the gym for an hour is obvious — Xtend Barre is actually fun. With a new choreography each week, Xtend Barre offers a fresh workout every time: new music, various different exercises and varying levels of difficulty.
Today, Xtend Barre's practitioners include men, women, teens, Pilates practitioners, professional athletes, dancers, as well as celebrities like Madonna, Natalie Portman, Draw Barrymore, Teresa Palmer and Anna Paquin.
The release of the film Black Swan in 2010 is variously credited as helping to popularise Xtend Barre with those from non-dance backgrounds, as viewers could see how practising ballet helped keep the film's stars in such great shape — toned, but not bulky.
In fact, one of Rogers' goals is to help each person find their "dancer's body" without them having to actually go through dance curriculums. As a result, even non-dancers can enjoy the feeling of a dancer's natural fluidity, flexibility, power and posture.
Urban Spring is a boutique wellness and Pilates studio with state-of-the-art equipment and dedicated, experienced trainers. The venue houses a relaxation lounge, private shower and locker facilities for both men and women. Personalised, private classes with an attentive trainer are also available, as are small group classes.
Xtend Barre classes take place on Wednesdays at 10.30am, Saturdays at 11am and 2pm, and Mondays at 6.45pm. Space is limited, so reservations must be made in advance by calling (03) 2095 3998 or by sending a WhatsApp message to (012) 287 3351. For more information, visit www.urban-spring.com. Urban Spring is located at 57-1, Jalan Bangkung, Bukit Bandaraya, Kuala Lumpur.
This article first appeared in The Edge Financial Daily, on July 23, 2015.