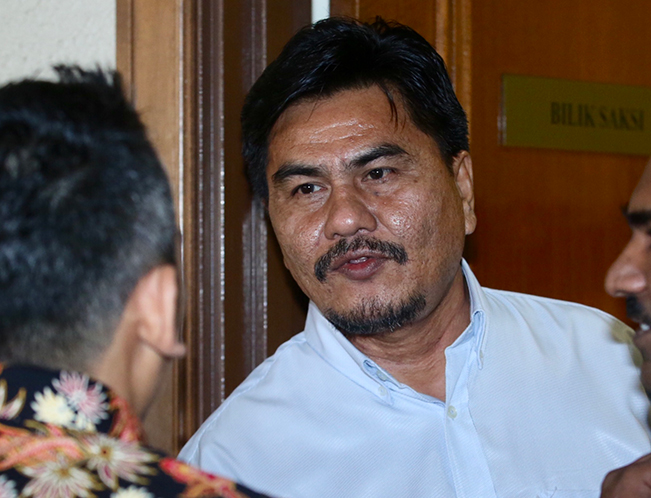 Tengku Adnan's former personal driver Nik Yahaya Nik Mustapha. Photo by Sam Fong/The Edge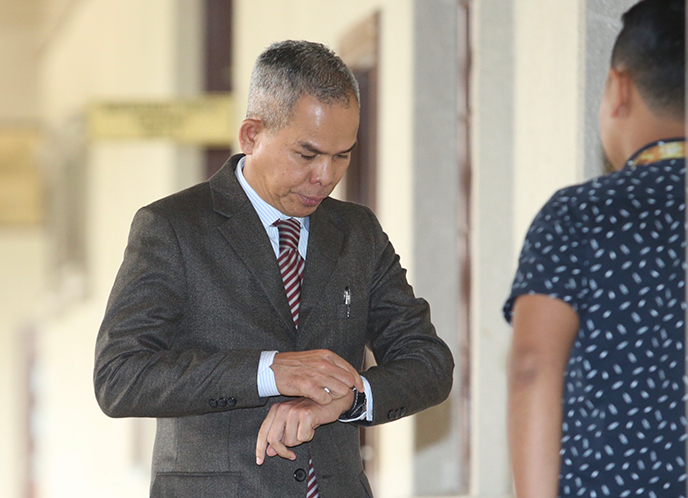 Daman Huri Nor, division secretary at the Parliament and Constitution Affairs Section in the Prime Minister's Department, looking at his watch at the court today. Photo by Sam Fong/The Edge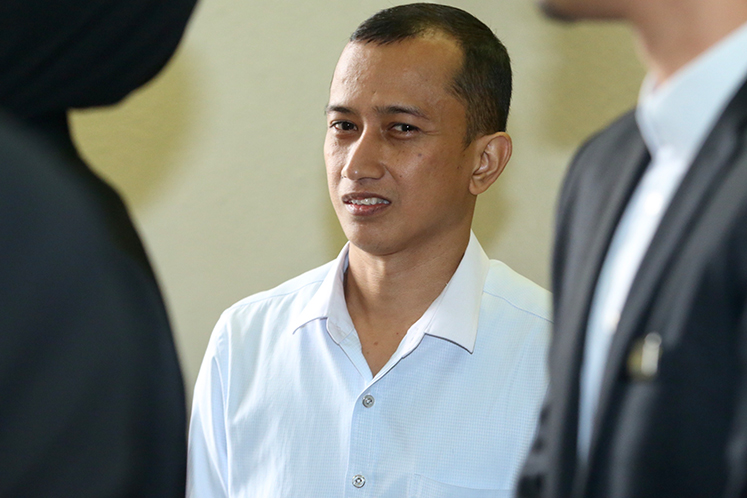 Khairolrony Kamarudin, assistant manager at CIMB Branch Taman Setiawangsa. Photo by Sam Fong/The Edge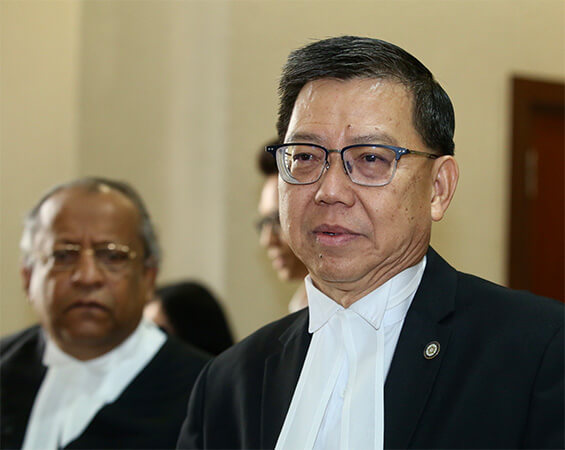 Tengku Adnan's lawyer Datuk Tan Hock Chuan. Photo by Sam Fong/The Edge
KUALA LUMPUR (July 2): A former personal driver of Datuk Seri Tengku Adnan Tengku Mansor testified today that he was instructed by the Putrajaya lawmaker to bank in a RM2 million cheque issued by property developer Aset Kayamas Sdn Bhd into Tadmansori Holdings Sdn Bhd's account in 2016.
Nik Yahaya Nik Mustapha (pictured), the prosecution's fourth witness, told the High Court that he received the Hong Leong Islamic Bank cheque from Tengku Adnan, popularly known as Ku Nan, on June 14, 2016, at the latter's office.
Nik Yahaya, 54, confirmed that he banked in the cheque bearing the number 136822 in CIMB Bank's Pusat Bandar Damansara branch.
"Datuk Seri Tengku Adnan asked me to deposit the cheque into Tadmansori Holdings' account number 8001179747," he said.
Today is the first day of Tengku Adnan's RM2 million corruption trial, where the prosecution's first four witnesses were called to prove that the lawmaker was the owner of Tadmansori.
Nik Yahaya confirmed that he worked as Tengku Adnan's personal driver for 24 years until June last year.
Earlier, the first prosecution witness, Muhamad Akmaludin Abdullah, confirmed that Tengku Adnan was the largest shareholder of Tadmansori Holdings.
Coincidentally, the assistant registrar of the Companies Commission of Malaysia (CCM) is also the first prosecution witness in former prime minister Datuk Seri Najib Razak's ongoing SRC International Sdn Bhd case involving the alleged embezzlement of RM42 million of funds.
The 36-year-old testified that the private limited company Tadmansori Holdings was formed on Aug 25, 1987. It has four directors, namely Datuk Dr Tengku Rethwan Tengku Mansor, 64; Tengku Adnan's son Tengku Iqbal Munawwir, 29; and Tengku Daud Shah, 42; as well as Tengku Adnan's wife Anggraini Sentiyaki, 53.
Based on the company's capital information, Tadmansori Holdings had an issued share capital of RM100 million, he said.
He confirmed that the shareholders of Tadmansori Holdings are Tengku Rethwan with RM4 of the issued capital, and Tengku Adnan with the remaining amount of the issued capital.
Khairolrony Kamarudin, 44, who is the CIMB Taman Setiawangsa branch's assistant manager, told the court that Tadmansori Holdings had received the RM2 million cheque issued via its account.
He confirmed that Tengku Adnan and Tengku Rethwan had applied on July 8, 1998, for a current account to be opened for Tadmansori Holdings.
When cross-examined by Tengku Adnan's lawyer, Datuk Tan Hock Chuan, the witness also confirmed that three other transactions had taken place, where RM2 million each were deposited in the company's account on June 6, 16 and 17, 2016.
Daman Huri Nor, 55, division secretary at the Parliament and Constitution Affairs Section in the Prime Minister's Department, testified that Tengku Adnan was then the federal territories minister, receiving a salary of RM14,907 and additional allowances of RM24,320 per month between 2013 and 2018.
The hearing before Justice Zaini Mazlan will continue tomorrow, with at least four more prosecution witnesses expected to take the stand.
Deputy public prosecutor Julia Ibrahim told reporters outside the court that the prosecution will call a total of 24 witnesses to testify in this case.
Read also: Prosecution: Ku Nan received RM2m in by-election 'contribution' after seeking RM6m from property developer