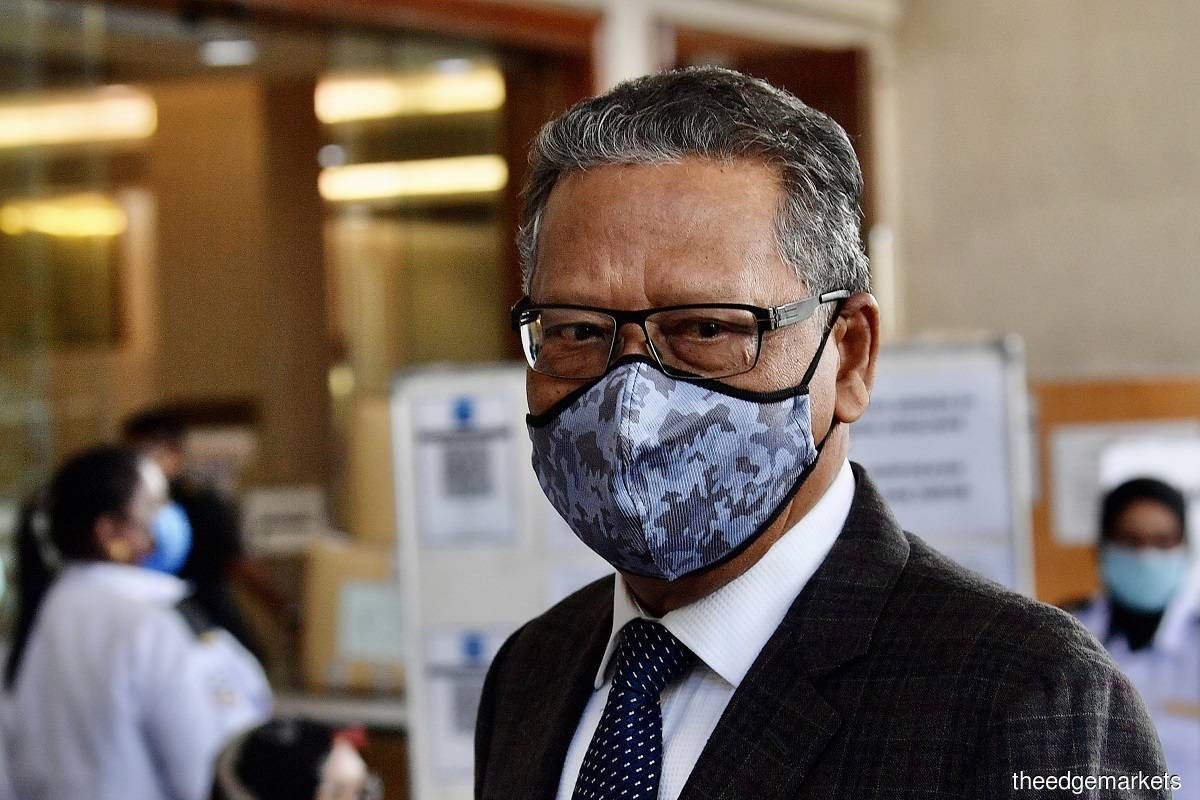 KUALA LUMPUR (April 7): Former attorney-general (AG) Tan Sri Mohamed Apandi Ali was moved to tears in the High Court here today while testifying in his defamation suit against veteran politician Lim Kit Siang whose article, Mohamed Apandi claimed, implied that the ex-AG's abetted the 1Malaysia Development Bhd (1MDB) scandal.
Mohamed Apandi was chronicling today his 2015-2018 tenure at the Attorney-General's Chambers (AGC) of Malaysia in the hearing today before High Court Judge Datuk Azimah Omar.
"I never lobbied to be the AG; I was a Federal Court judge looking for retirement but then I was appointed as the AG. 
"And this was the sacrifice I made," Mohamed Apandi added.
Mohamed Apandi, represented by lawyer M Visvanathan, said today judges retire at 66 but he was appointed the AG at 65.
As Mohamed Apandi's eyes became teary, Visvanathan asked the court for a break. 
Mohamed Apandi, who subsequently apologised to the court, also thanked the court for giving him time to explain his situation as he had "suppressed" his emotions for a long time. 
He said the role of the AG is "not a walk in the park". 
"The job had taken a toll on my health. I was admitted to IJN (the National Heart Institute) for stress [due to] work," he said.
Mohamed Apandi said today his role as the AG then was not only limited to being a public prosecutor as he was also the legal adviser to the government. 
"As far as the legal adviser's [role was concerned], I must explain that it was not limited to the federal government. 
"It's also the legal adviser for all the states in Malaysia and also the ministries within the government," he said. 
He said he had thousands of investigation papers  which he delegated to his officers, except for high-profile cases which his team handled. 
Mohamed Apandi was testifying today in his defamation suit against Kit Siang, who is the DAP Member of Parliament (MP) for Iskandar Puteri, after Kit Siang's article dated May 6, 2019 implied Mohamed Apandi's abetment in the 1MDB scandal.
It was reported that Mohamed Apandi said the article had tainted his reputation by claiming that he was directly involved in the scandal.
Today, Mohamed Apandi was moved to tears as he responded to yesterday's cross-examination conducted on him by Kit Siang's lawyers Sangeet Kaur Deo and Ramkarpal Singh.
Yesterday, Sangeet and Ramkarpal asked Mohamed Apandi if he had ever read international articles regarding the 1MDB scandal. Mohamed Apandi said "no".
Today, Mohamed Apandi claimed that Kit Siang's lawyers had failed to appreciate how busy the role of an AG is.
"I didn't have time to read local newspapers, what more foreign news [about 1MDB]," the ex-AG claimed.
During the hearing today, Mohamed Apandi also defended himself against allegations that he had covered up cases when he was the AG.
"When I dealt with an investigation, it's done objectively without being influenced [by factors including] whether the suspect was a member of a political party or [was of a certain] race.
"This emphasised my impartiality as the AG that I don't see political parties," he claimed.
The trial continued this afternoon before Justice Azimah.