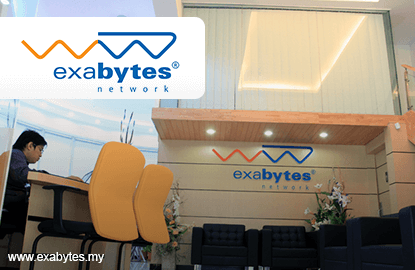 KUALA LUMPUR (March 1): Web hosting services and eCommerce solutions provider Exabytes Group (Exabytes) has acquired HT Internet Sdn Bhd ('HT Internet').
In a statement yesterday, Exabytes said its 100% acquisition of HT Internet is a strategic move to offer more comprehensive Online Solutions to its customers as a Group.
It said HT Internet and its other solution brands such as 'GROW' will continue while the HT Internet team will be integrated as part of the Exabytes Capital Group.
Exabytes' Founder and CEO, Chan Kee Siak said the company's current client base is close to 200,000 hosted website, and it was time that Exabytes is able to convincingly and confidently offer its client base the option of a Fully Managed Website and eCommerce solution, beside just the current pure web hosting services and server space.
Chan said prior the acquisition, Exabytes' existing business consisted mainly of Domain Name, Web Hosting, Cloud and Servers.
However, Exabytes' clients who have a domain or hosting account do not necessarily have a website, he said.
Chan explained that without a website, clients could not advertise and market their products online.
"We ventured into Digital Marketing services by offering Google Adwords Digital Advertising service 2 years ago.
"But there was still something missing in between – which is the ability to manage the website for the client. And this is where HT Internet acquisition fits in," he said.
Chan said that with the HT Internet team integrated with Exabytes, the company was now able to offer a complete managed website solutions that consist of Domain, Web Hosting, Web Design and On Going Website Management and Maintenance Service.
"This invariably makes Exabytes' total offerings much more complete.
"The acquisition of HT Internet does not change the course of Exabytes Group's long term strategic business plan.
"In fact, we are piloting this Fully Managed Website solutions idea first in Malaysia, and if it works well, we will also expand to offer the Fully Managed Website services into other markets such as in Singapore and Indonesia where the company already has physical presence in," he said.
Established since 2011, HT Internet manages over 5,000 domain names and primarily deals with website development, domain name and hosting, search engine optimisation (SEO) and Google advertising solutions.