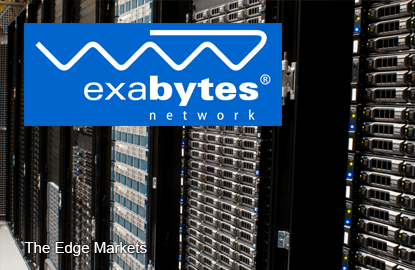 KUALA LUMPUR (July 13): In a move towards regional expansion, web hosting and e-commerce solutions provider Exabytes Network Sdn Bhd has fully acquired Singaporean hosting company Signetique IT Pte Ltd.
In a statement today, the company said the acquisition of Signetique, one of the largest Singapore-based cloud hosting providers with 15 years of experience, is expected to help boost Exabytes' revenue by 50% this year.
Together with previously-acquired USONYX Pte Ltd and Exabytes Singapore, the acquisition also gives Exabytes control over 15% of Singapore's hosting market, possibly making it the second largest hosting group in Singapore.
"All three companies will continue to operate separately, focusing on different segments of the Singaporean market," Exabytes' founder and chief executive officer Chan Kee Siak said.
"Overall, I foresee that our overseas business revenue to grow to make up 40% of our total revenue," Chan said.
The company's next target is to offer its services and expertise to the Indonesian market, in which Signetique already has an office serving Malaysian and Singaporean customers.
"By the end of 2015, we hope to launch full-fledged hosting services in Indonesia," Chan said.
Exabytes recently announced two strategic partnerships, namely its appointment as Google AdWords™ Premier SME Partner (PSP) in Malaysia and a partnership with Japanese payment gateway leaders, GMO Payment Gateway Inc (GMO-PG).
"We believe that e-commerce will multiply in growth in the next few years. The Internets potential for business has yet to be fully explored in this region and Exabytes is preparing to help the regional community with our hosting and e-commerce expertise," Chan added.
Exabytes currently holds the largest market share of 30% among Malaysian web hosting providers. The company recorded a total of RM32 million in revenue for their financial year ending 31 March 2015 (FY2014).