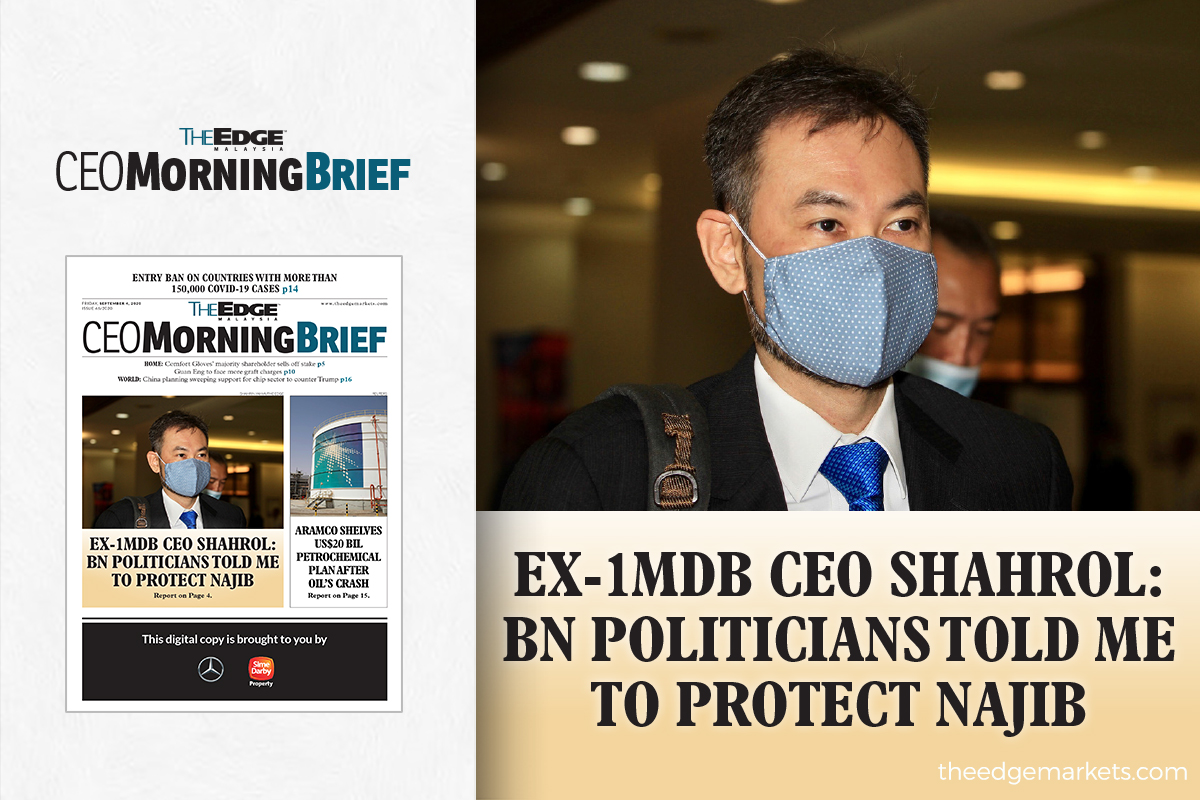 KUALA LUMPUR (Sept 3): Former 1Malaysia Development Bhd (1MDB) chief executive officer (CEO) Datuk Shahrol Azral Ibrahim Halmi testified in court today that Barisan Nasional (BN) politicians as well as civil servants of the Ministry of Finance (MoF), among others, had repeatedly told him that he must protect former prime minister Datuk Seri Najib Razak from the 1MDB debacle even if it meant taking the fall for it.
Shahrol said the notion to protect Najib, who was also the then finance minister, had come from various sources and not only fugitive businessman Low Taek Jho (Jho Low).
"It (instructions to protect Najib's name) came from everyone, not only Jho Low. Officers of the Prime Minister's Department, BN politicians who were members of the Public Accounts Committee (PAC) in Parliament whom I interacted with ... " Shahrol said.
He was answering questions from lead prosecutor Datuk Seri Gopal Sri Ram, who was conducting his re-examination of Shahrol after the defence finished their lengthy cross-examination.
Shahrol is a prosecution witness in Najib's 1MDB-Tanore trial before High Court Judge Justice Collin Lawrence Sequerah.
In the 1MDB-Tanore trial, Najib is facing four counts of abuse of power for using his position as the then prime minister, finance minister and 1MDB board of advisers chairman to receive gratification worth RM2.28 billion.
He also faces 21 counts of money laundering involving over RM4.3 billion.
According to Shahrol, three individuals in 2015 repeatedly told him that he "must protect the prime minister".
They are Najib's former special officer Datuk Amhari Efendi Nazaruddin, Datuk Seri Ahmad Farid Ridzuan — who was at the time in charge of "image branding" for Najib — and former PAC chairman Datuk Seri Hasan Arifin, according to Shahrol.
The witness said today that this occurred when the news of 1MDB's botched deals broke across international media platforms in 2015.
According to Shahrol, Najib's former media adviser Paul Stadlen also told him about the need to protect Najib from the 1MDB scandal on one occasion when Shahrol and Stadlen met in Putrajaya.
"Hasan Arifin was there. There were other BN members also in the meeting and the objective of that discussion was to protect the prime minister.
"My evidence with the PAC was influenced by these meetings when I met with them," Shahrol said.
The witness said that because Jho Low's name was removed from the trace of 1MDB and due to the fact that he (Shahrol) was instructed to protect Najib, he was set up as the fall guy to take all the blame for the 1MDB debacle.
"The mention of Jho Low was removed and the responsibility was on my shoulders," Shahrol said.
Sri Ram: Americans call it the fall guy. You were the fall guy.
Shahrol: Yes, Americans call it the fall guy. Malays call it kambing hitam (a black goat).
Sri Ram: It has been put to you that you and others have conspired to defraud 1MDB. You denied it. We take the amounts separately. The US$700 million (about RM2.9 billion) to Good Star Ltd ... did you get any amount of that money?
Shahrol: No, I did not.
Sri Ram: The next transaction — the energy transactions — for acquiring Tanjong [Energy Holdings Sdn Bhd] and Mastika Lagenda [Sdn Bhd] worth US$1.75 billion each ... did you get any money from that?
Shahrol: Not at all.
Sri Ram: The third transaction, the US$3 billion bonds issued ... you were asked about this. And did you receive any part of the money from that transaction?
Shahrol: No, not a single cent.
Throughout the cross-examination of Shahrol by the defence, they asked him whether he was involved in the conspiracy to defraud 1MDB and trick Najib.
Today, Shahrol said that Najib was the one who had benefitted from the whole scheme.
Sri Ram: In hindsight, who benefitted from these transactions?
Shahrol: In hindsight, based on documents [produced] in court and during the investigation, the beneficiaries were Jho Low, Casey [Tang], Jasmine [Loo], Tarek Obaid, Khadem [Al-Qubaisi], Patrick [Mahony], [Mohamed Badawy] Al-Husseiny as well as Najib.
Upon completion of Shahrol's re-examination by Sri Ram today, the former CEO of 1MDB was released from the witness stand.
Shahrol may, however, be subjected to a recall should the defence led by Tan Sri Muhammad Shafee Abdullah need to cross-examine him further.
The trial before Justice Sequerah continues on Monday (Sept 7).
Read also:
1MDB-Tanore trial: It was Jho Low, not Najib, who was 1MDB's shadow director, argues defence
The Edge is covering the trial live here.
Users of The Edge Markets app may tap here to access the live report.