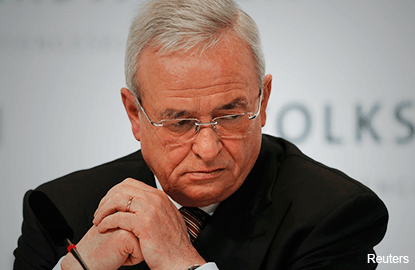 BERLIN (Jan 19): Former Volkswagen Chief Executive Martin Winterkorn on Thursday declined to tell German lawmakers when he first learned about systematic exhaust emissions cheating but said it was no earlier than VW has officially admitted.
VW has said its executive board did not learn of the violations until late August 2015 and formally reported the cheating to authorities in the United States in early September that year.
Upon being asked whether he had known about software cheating earlier, Winterkorn told the German parliament's committee of inquiry into carmakers' emissions irregularities: "That is not the case."
Winterkorn declined to be more specific about when he was informed because it was a matter that was still being investigated by German prosecutors.
"I too am looking for satisfactory answers," Winterkorn said in his first public remarks since he apologised for the scandal in a televised statement on Sept. 22, 2015, one day before he resigned as CEO of Europe's largest automaker.
VW last week agreed to pay the largest ever US criminal fine levied on an automaker to settle charges that it conspired for nearly 10 years to cheat on diesel emission tests.
In total, VW has now agreed to spend up to US$22 billion in the United States to address claims from owners, environmental regulators, US states and dealers.
"DIFFICULT TO COMPREHEND"
Winterkorn's testimony before German lawmakers lasted about two hours, with a 15-minute introductory statement followed by questions.
Winterkorn was flanked by his two lawyers who allowed him to address all questions.
Volkswagen's management board is being asked to explain how soon it informed investors of a scandal which spiralled into the company's worst business crisis.
VW is facing 8.8 billion euros (US$9.36 billion) in damage claims from investors seeking compensation for the collapse of VW's share price once the scandal broke.
Upon being asked whether he thought the diesel cheating could still be blamed on just a few engineers, Winterkorn acknowledged that more than a handful of staffers knew but said he did not know how many people were involved.
Asked why he himself had no earlier knowledge, Winterkorn said: "Software applications represent a very specific area of work in engine development."
Earlier this month, Volkswagen admitted to US prosecutors that about 40 employees had deleted thousands of documents in an effort to hide systematic emissions cheating from regulators.
Winterkorn said he too was still attempting to come to terms with the scandal.
"From outside it is difficult to comprehend how something like this could happen at a company that is so much preoccupied with quality. Even I don't."