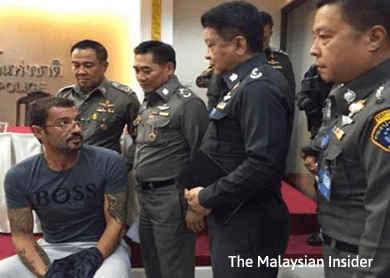 (June 25): The arrest of former PetroSaudi International director Xavier Andre Justo is suspicious and appears planned, former prime minister Tun Dr Mahathir Mohamad said today.
Not ruling out the possibility the involvement of the Malaysian government, he said that "very clever propagandists" were hard at work to "blacken" his face.
"What makes me puzzled is that he didn't commit a crime in Thailand. He committed the crime in Saudi Arabia.
"Usually, other countries don't care unless he is a terrorist," Dr Mahathir told a press conference after a buka puasa event with Perkasa in Kampung Baru.
"I guess he must be a terrorist, that's why Thailand arrested him. If it was just a matter of defrauding a company, that should be Saudi Arabia's problem."
When asked if he was prepared to apologise should authorities prove that the leaked documents on 1Malaysia Development Berhad (1MDB) had been tampered with, Dr Mahathir was non-committal.
"I will see what he says. But the circumstances appear suspicious. It seems planned. Many clever people are involved."
Dr Mahathir added that he did not know whether Prime Minister Datuk Seri Najib Razak was involved in the matter.
"I don't know, because we are finding some very clever propagandists working very hard, so now my face is blackened and my legacy all has been destroyed," said Dr Mahathir.
He also he believed the emails on PetroSaudi, which Sarawak Report published on its website earlier this year, had not been doctored.
"If you look at the series of emails, it was not tampered with," said Dr Mahathir.
"When we lie, we will get trapped by our own lies. When a follow-up lie is made, it is hard to match it with the first lie."
Justo is currently in Thai police's custody for attempting to blackmail PetroSaudi over its deals with 1MDB, and is expected to be deported once police have wrapped up their investigations, The Nation reported.
The Thai English-language broadsheet today said that as of last night, Justo was still being held by the countries Police Crime Suppression Division (CSD).
The division had on Tuesday announced the arrest of the 49-year-old at a house in the Thai island resort of Koh Samui.
Computers, hard drives and other data storage devices were seized during his arrest.
Justo was reported to have been paid some RM15 million to leave PetroSaudi and is now accused of asking for more money in an attempt to blackmail the oil company over its deals with 1MDB.
Thai media reported that Justo has denied this.
Thai police had also described Justo as an IT executive, but checks on company information available online showed that he had been a director.
After Thai media reported Justo's arrest two days ago, PetroSaudi issued a statement last night to say that it was "relieved" and that the company had been made victim of a "regrettable crime that has unfortunately been politicised in Malaysia".
Malaysian English daily the New Straits Times (NST) also carried a report yesterday stating that documents leaked on 1MDB's 2009 business deal with PetroSaudi had been edited before they appeared on the Sarawak Report website.
NST quoted an unnamed source from international cybersecurity firm Protection Group International (PGI).
1MDB also issued a statement to note that initial investigations surrounding Justo's arrest showed that some leaked emails had been tampered with.
Sarawak Report has published a series of documents regarding the PetroSaudi-1MDB joint venture in 2009, which raised questions about 1MDB's dealings and also the involvement of Malaysian tycoon Low Taek Jho. – The Malaysian Insider