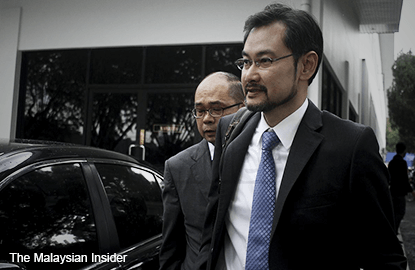 (Nov 30): After a four-hour grilling, former 1Malaysia Development Bhd (1MDB) chief executive officer Datuk Shahrol Halmi said he looked forward to further cooperation with Parliament's Public Accounts Committee (PAC).
He said he was happy to answer the questions at today's session in the panel's probe into 1MDB's accounts.
"We think we have provided them with long, lengthy answers. We look forward to cooperate further," he said when approached by reporters after the session ended at 1pm.
He declined to comment on the questions asked before the committee.
"I am not in the position to answer that. We will wait for the investigation and the report to be over," he said.
Shahrol was summoned by PAC for a second hearing today after being questioned by the panel for four hours last week.
PAC chairman Datuk Hasan Arifin last week said the panel felt more explanation was needed from the former CEO about the formation of Finance Ministry-owned investor, which took place in 2009 under Shahrol's watch.
"PAC needs more information before it meets Arul Kanda Kandasamy on December 1," Hasan had said in a statement to reporters after the hearing last week.
Arul Kanda, the current president and group executive director of 1MDB, is scheduled to meet the panel tomorrow.
Treasury deputy secretary Datuk Isa Mohd Hussain and Ivan Chen, the firm's legal department chief, accompanied Shahrol at the hearing last week.
This is the fourth hearing PAC has conducted on 1MDB.
Apart from its formation, the panel also questioned Shahrol on the company's joint venture with Petrosaudi, in which US$700 million was allegedly siphoned off to a third party company, Good Star Ltd, said to be controlled by businessman Low Taek Jho. – The Malaysian Insider