This article first appeared in Forum, The Edge Malaysia Weekly, on May 7, 2018 - May 13, 2018.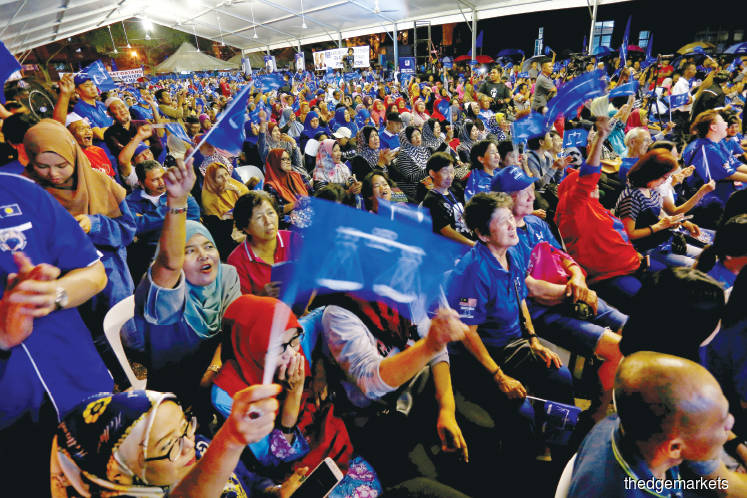 "When one with honeyed words but evil mind persuades the mob, great woes befall the state" — Euripedes, Greek Tragedian (480-406 BC)
Oh how time flies. As a retired 60-something, I have a lot of time to reminisce with my equally old friends. Time to talk about past careers, lost friends, the so-and-sos we knew before they became Datuks and Tan Sris — you know, the good old days. One of these sessions brought to my memory a dear departed friend, Rashdan.
I started work as an equities salesperson some 30-odd years ago. Through those exciting years, I have had great friends who guided me, thriving during the exuberant Nineties and surviving the less stellar markets of the Noughties. Among the many, one stood out — Rashdan — because he and I shared lasting experiences about what to do and say when dealing with despondent, hostile clients in those sometimes seemingly hopeless episodes. His imparted pearls of wisdom are as current now as they were when he shared them with me then.
We had a capital market meltdown in 1998 and the stakes were high. Foreign investments were fleeing Asian markets at volumes and velocities never seen before. The Malaysian stock market, like that of our neighbours, was badly affected. I had never felt more helpless in my life, watching my clients and friends see their portfolio values plunge. With worried looks, we followed the financial carnage through our flickering screens in the dealing room. Rashdan slowly commented, "Zakie, we need to listen to the market and our clients. Let's not second-guess them. Their concerns and fears are the feedback we need to gain their trust in these unpredictable times." He was right. We were salespeople and we thrived on trust and confidence. The market recovered later, and we were still in business, busy as ever.
That experience schooled me. It taught me that the ability to understand people's hopes, fears and motivation is the most valuable skill any human being (especially a salesman) can ever possess.
We are a few days away from the "Mother of All Elections" that is the 14th in the history of our nation. The stakes are higher and the tension continues to build. Cheap trashy dirt is being dug deep and accusations and counter accusations are streaming out as fast as the opposing cyber troopers can push the buttons on their keyboards.
But I am of the opinion that the battling politicians, the elected representative wannabes, out on the campaign stumps nationwide, are missing the plot. They are not heeding the messages that are being thrown to them from their electorate. They have not mastered the art of effective communication. They do not know how to craft their message.
As I watch the election campaign this time, I am reminded of my times in the financial foxholes and I am underwhelmed. Few of our political players seem to have actually gone out to know the people, talk to the people properly, and find out what they want. They have not given us a message worthy of our attention.
If you are a politician and you are reading this, heed this very important message: this election is not about you, friend! It is about us, your voters, and our needs. And if you really want to know, this is what we, the average Malaysian, think we need: we need to rebuild international respect for our nation, we need a thriving local economy that actually benefits the citizens, we want proper checks and balances in the corridors of power, and we want a "feel good" factor that is contagious. And those are only for starters.
As global uncertainties take hold, many of us feel that we are losing control of our destinies, our futures and even our government. Most of the people I know believe that our government has actually grown out of control. Our ministers speak, and cancel each other's messages. The list of recent verbal faux pas between them is lengthy, embarrassing and shallow to boot.
The paranoia grows because the people in power have not communicated well. A casual survey of my businessmen friends tells me that they believe the previous government had "become so large and powerful that it poses an immediate threat to the rights and freedoms of ordinary citizens". An "immediate threat" is strong language, and yet the majority of those I spoke with identified with it.
These perceptions should give every candidate for political office an epic case of heartburn (it won't), but it is completely in line with what we know about our people's fears, and perhaps shape the corresponding language of communication needed to help soothe them.
Politicians, the fears are real and palpable. To ignore them would be to disrespect the great people of this nation. People are increasingly demanding the right solutions and the right language to help them see a better tomorrow. They need to be persuaded of the better days that lie ahead of them. The politician that discovers both (solution and language) simultaneously, will win the hearts of the electorate.
There is no need for the present bitter and acrimonious campaigns that are rending our people apart. This is not the time for it. Instead, ask the people on the street (as I have done recently) what they want most after the elections and I'll bet my MG sports saloon you'll hear the words security, stability and predictability at least a few times. Politicians, you need to be able to address our people's sense of hope and fear at the same time, creating solutions that allow them to feel more stable and secure in their day-to-day lives.
To do that, my advice to you (as a wordsmith) is to focus on the needs of your listeners, not your own. A politician's words should be all about his audience. It's all about them. Always. Your soapbox lexicon should include these terms:
1. I'm listening to you;
2. I hear and understand you;
3. I respect you;
4. My commitment to you;
5. You're in control; and
6. You decide.
Allow me to explain: "I'm listening" demonstrates that you care enough about your audience to pay attention to what they have to say. If they know you're listening, they will feel engaged, empowered and appreciated. It is an active process.
"I hear and understand you" says you agree with, or at least understand, what your audience is thinking and your acceptance of their collective thoughts. It transmits that you feel their pain.
"I respect you" is simply the highest compliment that you can pay your audience, yet we rarely hear it at the ceramah or political meetings. "I respect you" makes the listener feel like a winner, and that will make the politician a winner too.
"My commitment" communicates in a serious tone that you intend to get something done. When you give your commitment, you put your reputation and your honour on the line. Politicians should never use the words "I promise" or "I pledge". Those terms have no credibility anymore; we've experienced too many broken promises and empty pledges already.
"You're in control" is, by definition, empowering. Telling people that they are in control restores the freedom they feel they have lost. Giving control to your electorate is the ultimate antidote to the present pervasive feeling of helplessness.
"You decide" is the actionable aspect of control. The Fox News Network coined a slogan early during its inception in the 1980s: "We report, you decide." The network may be mocked by its critics now, but millions of Trumpian Americans have since decided that Fox News is the cable news network they prefer most — more than all the other news channels combined.
Now that I've schooled you right, go out there and convince us that you're the right person to rest our government with.
That is what winning is all about.
---
Zakie Shariff is a member of the board of directors at Universiti Malaysia Pahang. He is also a director of FA Securities, a boutique stockbroking firm in Kuala Lumpur.
Save by subscribing to us for your print and/or digital copy.
P/S: The Edge is also available on Apple's AppStore and Androids' Google Play.