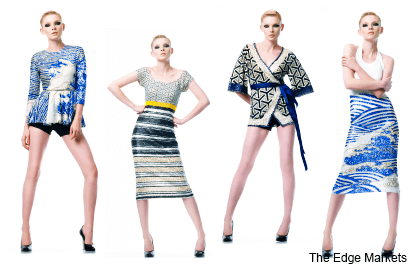 EMBELLISHED garments are almost always associated with grand dinner parties, at times worn only once — and Farah Khan's autumn/winter 2015 collection is determined to alter this general perception. It aims to promote an appreciation for beaded and sequined clothing by showing that they can indeed be worn at any time of the day. While you will still find evening wear and cocktail-appropriate dresses in her collection, you will also notice a wide selection of peplum tops, mini to midi skirts as well as kimono-inspired jackets and capes throughout.
The Farah Khan autumn/winter 2015 collection maintains the aesthetics that the brand is well known for — marrying sleek silhouettes with exquisite embellishments. One can expect to see intricate beadwork, hand sewn bead by bead by Asian artisans. The simple designs are juxtaposed against patterns and motifs to create a unique work of wearable art, quite akin to the masterpieces of renowned Japanese artist, Katsushika Hokusai, the inspiration behind creative director Datuk Farah Khan's vision for this collection.
Interest in Hokusai's works was sparked when she visited an exhibition of the artist's works at Galeries Nationales du Grand Palais in Paris, resulting in a collection that is deeply rooted in Asian art and techniques of beading and embellishment. The kimono-like structure of the jackets and capes pays homage to the artist's background while other pieces in the collection are influenced by Hokusai's works of art.
The Great Wave off Kanagawa, one of his most popular artworks, takes centre stage in Farah Khan's collection. The wave is interpreted in the clothing line through the placements and colour coordination of beads. The blue-white colour scheme and the swirling motifs on the tops, skirts and dresses represent the waves in the drawing of the artist, whose work the creative director was drawn towards.
It would be a waste if a beautiful dress is only worn once and most of us are familiar with this — that one dress (or more) hanging in your wardrobe after its first and final debut. The brand tries to rectify this by ensuring that the clothes are worn more than just once and in a completely different look each time.
Mixing and matching is not a new fashion concept and if done right, the possibilities are endless. The brand encourages paring existing pieces with new ones to create an entirely new ensemble — throw a beaded cape over a dress in contrasting colours, match a sequinned skirt with a plain top or pair two-piece clothing in varying prints to achieve a fresh look and give forgotten outfits a new breath of life. 
Farah Khan's autumn/winter 2015 collection features a wide range of clothing that is bound to appeal to an equally wide range of customers. From the long dresses in fuss-free cuts and strapless cocktail dresses to office-ready midi skirts and peplum tops as well as casual sweaters and bomber jackets, all in all, the collection reinforces the timeless glamour that is synonymous to the brand.
The new autumn/winter collection is available in the Farah Khan boutique located at Lot G13, Ground Level, Suria KLCC, from today onwards. Visit www.farahkhan.com or contact (03) 2382 0314 for more.
Picks from pre-fall
The element of versatility and timelessness that the Farah Khan clothing line strives to convey is further emphasised by the brand's pre-fall collection, which steps away from the evening gowns and cocktail dresses and focuses instead on blouses, sweaters and bomber jackets. Despite the signature embellishments and bright colours seen on these pieces, they are interestingly androgynous in nature, catering for a market of male customers who would like to add some bling to their wardrobe too. Here are some of the highlights:
1. The Queen of Hearts and the King of Spades 
Combine creative and casual with the large vibrant designs of the Queen of Hearts and the King of Spade on easy-to-pair pieces of clothing.
2. Rock and Roll 
The brand invites you to travel back in time to the years of rock and roll with the symbols that represent the fun and spunk of this era.
3. Iconic faces
Pick your favourite icon from an assortment of tops with large images of John Lennon, Marilyn Monroe and Audrey Hepburn etched on using a play of colours and embellishments.
This article first appeared in digitaledge Daily, on September 15, 2015.