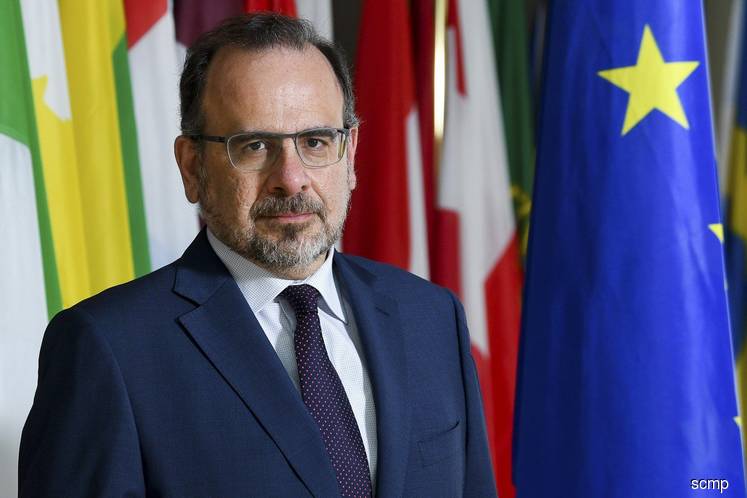 (July 11): President of European Economic and Social Committee Luca Jahier says Beijing could improve standing by making Chinese market a more fair place to do business.
'The EU is under huge pressure not to use any Huawei equipment in its roll-out of 5G networks,' Jahier says.
European Union countries will agree on collective measures to deal with potential spying risks from equipment made by Huawei by the end of the year, the head of an EU advisory body has said.
Luca Jahier, the president of the European Economic and Social Committee, which represents the views of workers' and employers' organisations, said that the EU was well aware of the security concerns about the Chinese telecoms giant's gear and took a cautious approach to the problem.
"The EU is under huge pressure not to use any Huawei equipment in its roll-out of 5G networks," Jahier — who is in Shanghai to attend this week's EU-China Roundtable — said on Thursday, referring to Washington's campaign against the Chinese firm.
"Many European operators are in the process of contracting vendors for the roll-out of 5G networks. The global debate about alleged security risks is forcing operators to consider potential restrictions on Chinese telecoms equipment in Europe," Jahier, an Italian who has been a member of the committee since 2002, said.
Each of the EU's 28 member states has decided on its own measures in dealing with Huawei, but a collective and coordinated response by the bloc has not been agreed.
"The European Commission has asked EU countries to complete risk assessments of the threat posed by Huawei and send them by mid-July," Jahier said.
"The EU will conduct its own risk assessment by October. By the end of the year, a group of key cybersecurity experts is due to agree on EU-wide measures to mitigate the risks."
Huawei is under international scrutiny for allegedly providing the means of intelligence-gathering for the Chinese government.
The United States has said that the company poses a national security threat to Western nations and recently issued an executive order to ban any electronic or digital technology that it deems a security threat, a move widely viewed as being aimed at Huawei.
European governments have taken a more measured approach.
Jahier said EU sentiment towards China might improve if Beijing puts more effort into making its home market a better place for European businesses.
"Fair competition has always been a bitter dispute in the EU-China economic relationship … There is still room for improvement to fully guarantee fair competition," Jahier said.
China passed a law aimed at levelling the playing field for foreign businesses in March, pushed through as part of trade war negotiations with the US.
Jahier said he was concerned about the practicality of such legislation and that political risks remained a worry for European investors.
"Some law experts and business consultants have expressed scepticism about how far the law would protect foreign firms' interests, given a lack of rule of law in China," he said.
"The European Union Chamber of Commerce in China highlighted other concerns, including broad terms and vague language that require clarification, as many of the articles can rather be read as policy commitments than legally binding clauses."
Jahier said difficulties with regard to intellectual property rights, forced technology transfers, securing arbitration, and the Chinese government's subsidies to domestic companies continue to affect the playing field.
"Only when the competition is fair and trade and investment relations are reciprocal can our economic relationship can be hugely mutually beneficial," he said.
Jahier said that China was the EU's economic rival and not a political adversary, but the fundamental nature of what defined bilateral relations must change to reflect reality.
"China is an economic competitor for us, not a political enemy," Jahier said, adding that the EU and China shared commitments and interests in sustainable development.
But Jahier said relations must be redefined to acknowledge China's elevated influence on the global stage, and Beijing must take more responsibility for tackling international issues.