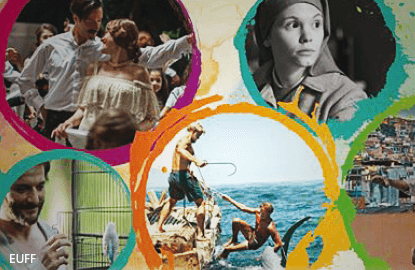 This article first appeared in The Edge Financial Daily, on October 26, 2015.
Movie lovers who are tired of the barrage of Hollywood blockbusters featuring superheroes, endless fight scenes and mindless comedy will be relieved to know that the European Union Film Festival (EUFF) is about to hit our shores again. Since premiering in Malaysia in 2000, the festival has grown to become a much-anticipated annual cultural event, giving local audiences a taste of Europe's diversity, creativity and stunning landscapes.
This year, a stellar line-up showcasing the very best of European cinematographic talents will be hitting the big screens in the form of 22 award-winning films from 18 European countries. Filmed in a variety of languages including German, French, Dutch, Czech, Danish, Finnish and Greek, the movies cover almost all genres, from drama and romance to comedy and adventure. 
At the launch of the 16th EUFF, Luc Vandebon, the ambassador and head of delegation of the European Union to Malaysia remarked, "Cinema has existed for a little more than 100 years. From those first black and white silent films to today's computer-generated imagery, the beauty of cinema has remained the same. It brings people from different walks of life together, not just on screen, but off the screen as well. 
"This element of cinema has been evident at the EUFF in Malaysia year after year. Since its inception, the EUFF has brought together film enthusiasts, students, expatriates, families and even those who are joining in for their first foreign language film experience," he said. 
Austrian The Wall (Die Wand), based on Marlen Haushofer's eponymous best-selling novel tells the tale of a contemporary Robinson Crusoe set in the beautiful Austrian mountain landscape. A woman inexplicably finds herself cut off from all human contact when an invisible, unyielding wall suddenly surrounds the countryside. Accompanied only by her loyal dog, Lynx, she becomes immersed in a world untouched by civilisation, ruled by the laws of nature. The Wall won several awards at the Berlin International Film Festival 2012, Romy Gala 2013 and the German Film Awards 2013. 
Phoenix, a German film set in the years after the WW2 follows Nelly Lenz, a Jewish singer who emerges from a concentration camp after having gone through extensive reconstruction surgery after a bullet wound. She soon stumbles upon her husband, whom is unable to recognise her. Mistaking her for a doppelganger, he hatches a plan to use her looks to access his supposed dead wife's fortune. Directed by Christian Petzold, Phoenix holds a 99% rating from critics on Rotten Tomatoes.
One of the festival's most anticipated movies is Dead Man Talking, which hails from the tiny country of Luxembourg. The film is an examination of the morality of the death penalty, and raises the question of how criminals are made, and whether or not they deserve to die for their actions. Dead Man Talking follows William Lamers, who is about to be executed for murder. Almost all of the movie is shot in an old, dreary prison where Lamers is about to be executed via lethal injection. Thanks to a loophole in the law, however, Lamers manages to save his skin by telling his "life story" which ends up being an incredible, moving tale. The lone journalist who's come to watch his execution makes Lamers' story famous, and soon he becomes a pawn for the governor, eager to win the elections. 
Kon-Tiki is the powerful true story of a young Norwegian adventurer named Thor Heyerdahl who in 1947 embarked on an astonishing expedition — a journey of 4,300 nautical miles across the Pacific Ocean on the Kon-Tiki raft. From his days living in the Marquesas with his wife Liv, Thor suspects that the South Sea Islands had been settled by ancient South Americans from thousands of miles to the east. Despite his inability to swim and his fear of water, Thor decides to prove his theory by sailing the legendary voyage himself. Kon-Tiki was nominated for Best Foreign Language Film at the 2013 Academy Awards and Golden Globes, and won the audience award at the Palm Springs International Film Festival 2013. 
Other movies in the line-up include Poland's Ida, which won the Best Foreign Language Film award at the 2014 Academy Awards, Romania's Aferim!, Spain's A Gun in Each Hand, Sweden's The 100-year-old Man Who Climbed out of the Window and Disappeared, UK's Only When I Dance and Switzerland's Someone Like Me.
The films brought to you by EUFF will be playing from Oct 29 to Nov 8 at GSC Pavilion, Mid Valley and 1 Utama, from Nov 12 to 18 at GSC Gurney Plaza Georgetown, from Nov 26 to Dec 2 at GSC CityONE Megamall, Kuching and from Dec 10 to 16 at GSC Suria Sabah, Kota Kinabalu. Tickets are priced at RM7.50 with the exception of Purgatory, which is priced at the prevailing box office ticket price. The Chair of Happiness, A Gun in Each Hand and Only When I Dance will be screened for free. 
---
For more information on the movies, show times and schedules, visit www.gsc.gom.my or www.euff.com.my.