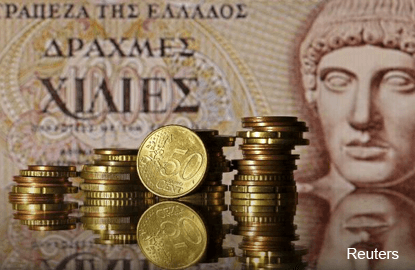 LONDON (March 8): The euro inched down to a five-day low on Wednesday, as investors eyed a meeting of the European Central Bank the next day that they expect will see policy kept loose despite rising inflationary pressures.
Market players also had their eyes on US labour market data due later in the day that should offer clues on Friday's closely watched non-farm payrolls report, though analysts said that was likely to have less of an effect on the US dollar than usual.
That is because the greenback has already rallied almost 2.5% against a basket of major currencies over the past five weeks, hitting two-month highs, as investors have moved to price in around an 87% chance of a US interest rate hike this month, up from around a 30% chance.
Hawkish comments from US Federal Reserve officials last week have left investors reckoning that a rate hike next week is essentially a done deal.
It inched up 0.1% against the basket on Wednesday to 101.93, and also gained as much as 0.2% to trade at US$1.0547 versus the euro, the single currency's weakest since March 3.
In contrast to Fed expectations, uncertainty lingers over the ECB's policy meeting on Thursday.
A Reuters poll last week found economists expect the central bank to only signal a shift away from its ultra-easy monetary policy toward the end of this year or early next, but some expect President Mario Draghi to tweak some of his language in order to prepare the ground for a winding-back of the ECB's stimulus programme in the months and years to come.
"We're expecting them to change their assessment around the risks — at the moment they have them to the downside, but we have an out-of-consensus call that they're likely to say either that downside risks have diminished or become more balanced," said BNP Paribas currency strategist Sam Lynton-Brown
He added that this scenario should see the euro trade a little more strongly, though less against the US dollar than against other European currencies, as in the bank's view, the market was underpricing further Fed rate hikes this year.
DZ Bank currency strategist Sonja Marten, in Frankfurt, said further Fed rate hikes — a hike this month would be the third in 18 months — would not necessarily drive a great deal more US dollar strength.
"When you have rate hikes, the tendency is that...as you move along in the cycle, the effect of additional rate hikes lessens dramatically," she said.
"Unless the market were to price in a significantly more upbeat picture for the US, which would imply the Fed might move much more dynamically than is currently priced in, whether they hike two time or three times this year isn't going to matter for the dollar."
The Swiss franc was little changed at 1.0135 per US dollar after retreating to 1.0170 overnight, its weakest since Jan 11, hurt by a rise in the Swiss National Bank's foreign exchange reserves, and statements from SNB Chairman Thomas Jordan that the franc was "significantly over-valued."
Sterling slipped half a percent to a seven-week low ahead of a budget statement by the UK finance minister.